German businessman takes slow train to find home away from home
China Daily | Updated: 2022-02-16 09:15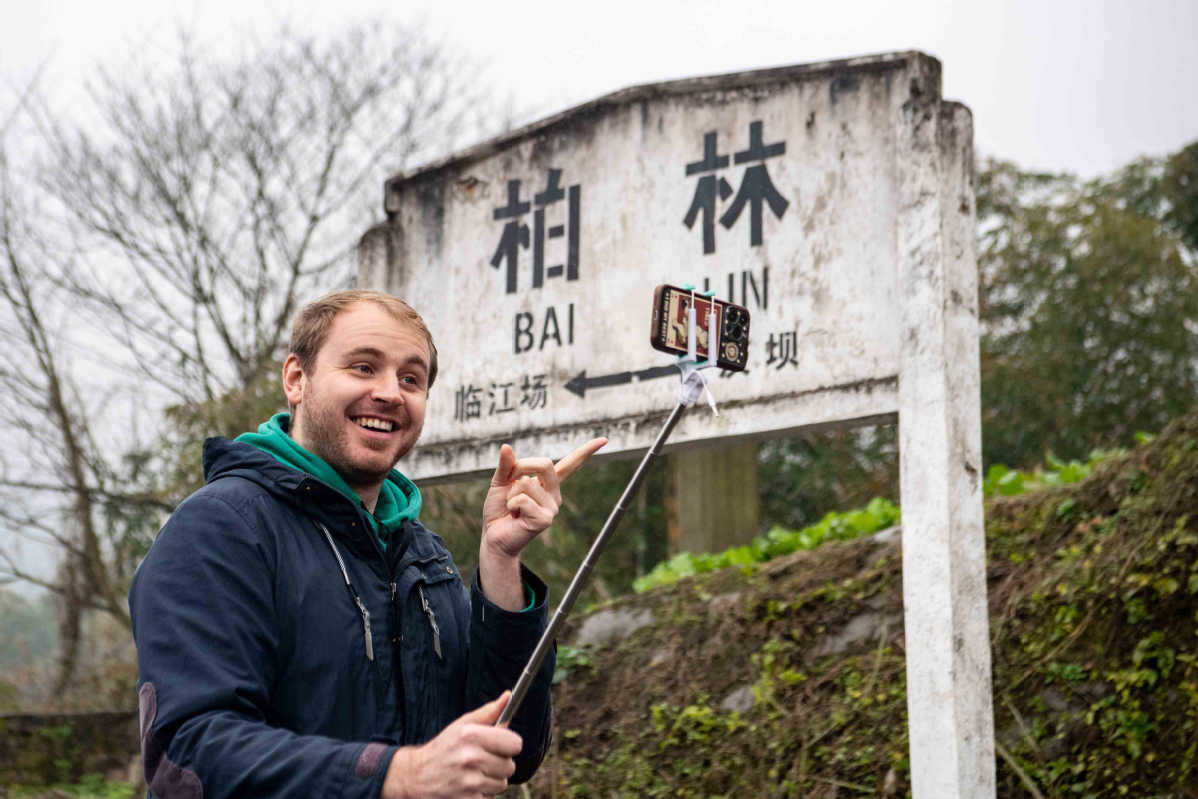 CHONGQING-Martin Hinkens, a German who owns five sausage eateries in China, began his adventure in a foreign land by coincidence.
He was told by someone that there was a place in Chongqing, southwestern China, that shared the same Chinese name as Berlin, the German capital.
After searching a map for Bolin, the Chinese name for Berlin, Hinkens was surprised to discover that Bolin did not refer to a single place, but to a train station, bus stop, village and town in Chongqing.
The train station in Bolin-or Bailin, to be exact, as bo and bai share the same Chinese character on this occasion-was built in 1952 on the first railway linking Chongqing and Chengdu, capital of neighboring Sichuan province. A slow train continues to serve the small station, whose name means "cypress forest", today.
Since he often takes high-speed trains to travel between the two cities, where his restaurants are located, Hinkens decided to take a look at the old station.
"I am home!" he posted on his WeChat social media feed, alongside a picture of himself standing under a Bailin train station sign.
As more people commented on the post, he soon realized that the train station had become famous online. Many now post pictures of the station and joke that they have taken a train to Berlin.
Taking the slow train along the route is also becoming increasingly popular among all age groups. For young people, the journey lends a retro style to their photographs, while the elderly enjoy buying fresh, cheap vegetables in nearby villages or aboard the train, as many locals carry farm produce to sell on the journey.
Hinkens said he was amazed to find the slow train now serves as a moving market for those living in the region. In addition, as the old route was built along the Yangtze River, he said it is refreshing to appreciate the views along the way.
"Nowadays, trains are too fast to leave time for people to enjoy the view," he said. "I am glad that I can have this opportunity to have this nearly forgotten experience."
The 140-kilometer train journey from Bailin to Chongqing usually takes four hours. When Hinkens wants to speed up the trip to Chengdu, about 300 km away, he opts for a Fuxing bullet train. Launched last year, the intercity bullet train can run at 350 km per hour.
The new trains are filled with intelligent and user-friendly features. Every seat has a charger and USB plug, and the screens above the seats show if they are available or not with red or green lights, Hinkens said.
"Also, if you are hungry, you can scan the QR code on the armrest and order the food online," he said.
Despite their difference in speed, Hinkens said he found the two train types have something in common.
No matter how slow or fast the trains are, they always put people's needs first, he said. For example, the bullet trains have a designed wheelchair space and emergency call buttons in the special toilets for those with disabilities. There are also Braille instructions for those who are visually impaired so that they can read which carriage they are in, he said.
Xinhua