Turkey, UAE sign agreements on industry
China Daily | Updated: 2022-02-16 09:50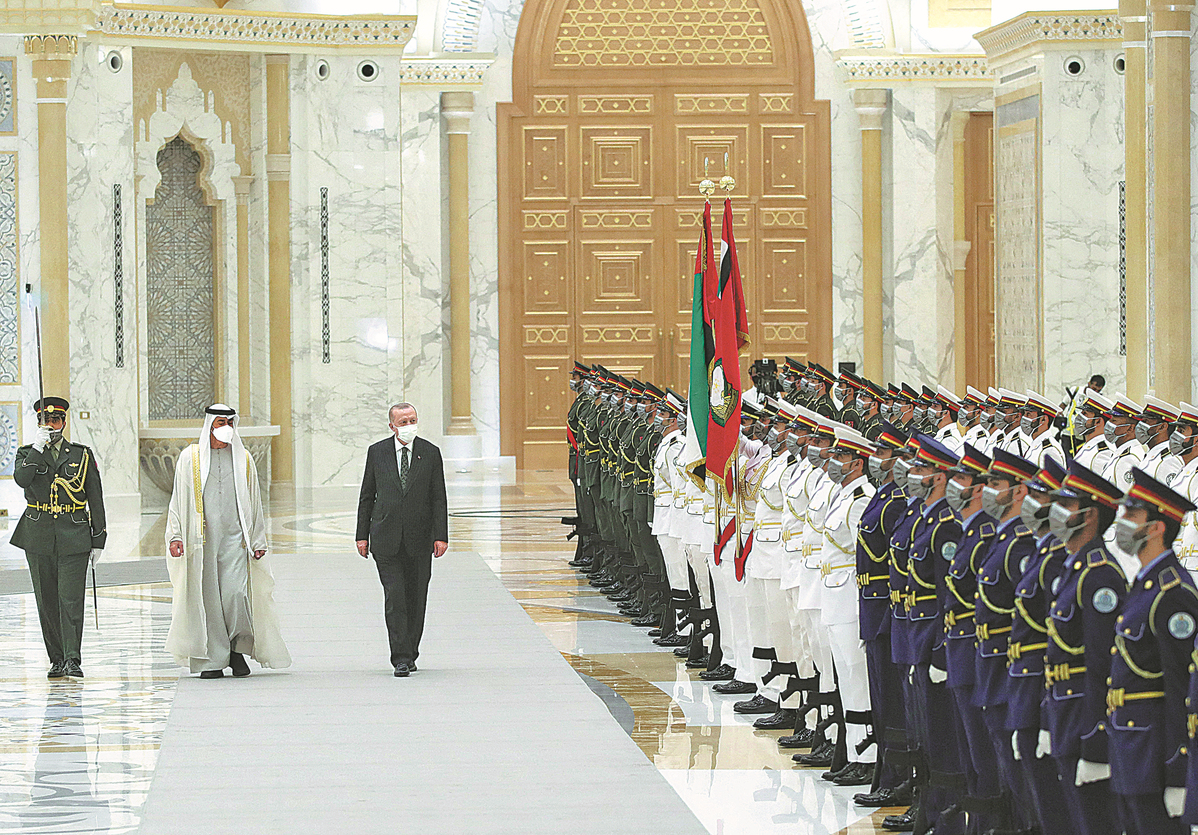 DUBAI-Turkish President Recep Tayyip Erdogan arrived in the United Arab Emirates on Monday as the countries pivot toward economic cooperation with a flurry of agreements during his first visit to the country in nearly a decade.
Emirates News Agency reported that 13 agreements, including trade, industry, health and medical sciences, land and sea transportation and climate action, were signed.
Erdogan met Abu Dhabi Crown Prince Sheikh Mohammed bin Zayed Al Nahyan, who visited Ankara in November when investment accords worth billions of dollars were signed.
"During this visit, we aim to develop the momentum we have captured with the United Arab Emirates and to take the necessary steps for ties to go back to the level they deserve," Erdogan told reporters at Istanbul's Ataturk Airport before he departed.
"The dialogue and cooperation of Turkey and the United Arab Emirates carries great importance for the peace and stability of our entire region."
Erdogan is scheduled to visit Dubai's Expo 2020 on Tuesday before wrapping up his trip.
Joint statement
The UAE and Turkey signed a joint statement on starting negotiations for a bilateral trade and investment deal known as the Comprehensive Economic Partnership Agreement, or CEPA.
Emirati Minister of State for Foreign Trade Thani Al Zeyoudi told Reuters that the UAE expected the trade with Turkey to increase substantially once the CEPA comes into effect, which he hoped could be finalized within six months to a year.
Anwar Gargash, a senior Emirati diplomat, tweeted that Erdogan's visit "opens a new positive page in the bilateral relations between the two countries".
It is "in line with the UAE's direction toward strengthening bridges of communication and cooperation aimed at stability and prosperity in the region," he wrote.
The warming diplomatic relations come as Turkey is facing economic problems and as the UAE pursues a more conciliatory foreign policy driven by economic priorities.
Last month, the two countries agreed on a nearly $5 billion swap deal in local currencies.
Erdogan said Turkey and the UAE would seek to boost bilateral trade and seek opportunities in "the complementary structures of the two countries' economies".
Turkey-UAE trade topped 26.4 billion dirhams ($7.2 billion) in the first half of last year. The UAE hopes to double or triple trade volume with Turkey, which it sees as a route to new markets.
About 400 Emirati companies operate in Turkey, the UAE's 11th largest trading partner.
Agencies via Xinhua