The making of China's Olympic mascots
By Han Junhong in Changchun and Ye Zizhen | chinadaily.com.cn | Updated: 2022-02-17 10:37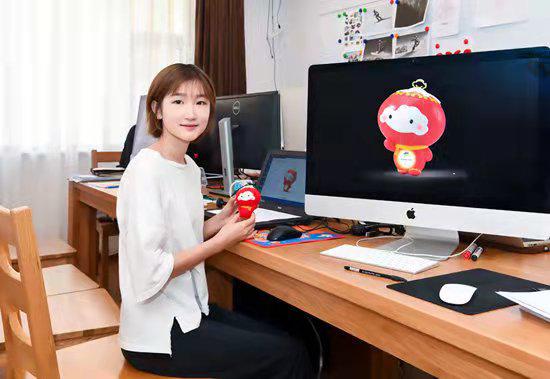 When the Beijing 2022 Paralympic Games open, mascot Shuey Rhon Rhon will be just as popular as Bing Dwen Dwen.
So says Jiang Yufan, designer of Shuey Rhon Rhon lantern figure. The Paralympic Games are scheduled to start on Mar 4.
In 2018, when she was a junior at Jilin University of Arts, Jiang received a notice from her teacher that the time for submitting designs for the mascots of the Beijing Olympics and Paralympics was open.
"I submitted two drafts — a Chinese knot and a red lantern — by the end of October, thinking it was a great opportunity to learn and practice," Jiang said.
In January 2019, a team of 16 was formed to revise and improve the design. Shuttling between Beijing and Changchun, Jilin province, the team drew more than 10,000 drafts in 300 days and nights.
"One of the difficulties we met was how to make Shuey Rhon Rhon seem more alive," Jiang said.
The team tried adding antlers and wings onto the lantern, but neither was satisfying.
"Finally we added a peace dove and the Temple of Heaven into the lantern," she said.
Good news from Beijing came in August 2021: The team's efforts had paid off, and their design, Shuey Rhon Rhon, became official mascot for Beijing 2022 Paralympic Games.
"My body was numb when I learned the news," Jiang recalled.
Born in 1998 in Yichun, Heilongjiang province, she had deep impressions of the strong festive atmosphere in her hometown, where red lanterns can be seen everywhere.
She said she hopes the lantern could warm the world, and light people's dreams. The indication matches the spirit of Olympics and is also necessary function of a good design.
The word Shuey has the same pronunciation with the Chinese character for snow. The first "rhon" indicates inclusiveness and the second indicates integration.
"The Paralympic mascot Shuey Rhon Rhon will become the face of the Beijing 2022 Paralympic Winter Games, lighting up the lives of billions around the world who will watch in awe as athletes inspire and excite the world," said Andrew Parsons, president of the International Paralympics Committee.