Indoor skiing business picks up speed
By XING YI in Shanghai | China Daily | Updated: 2022-02-18 09:20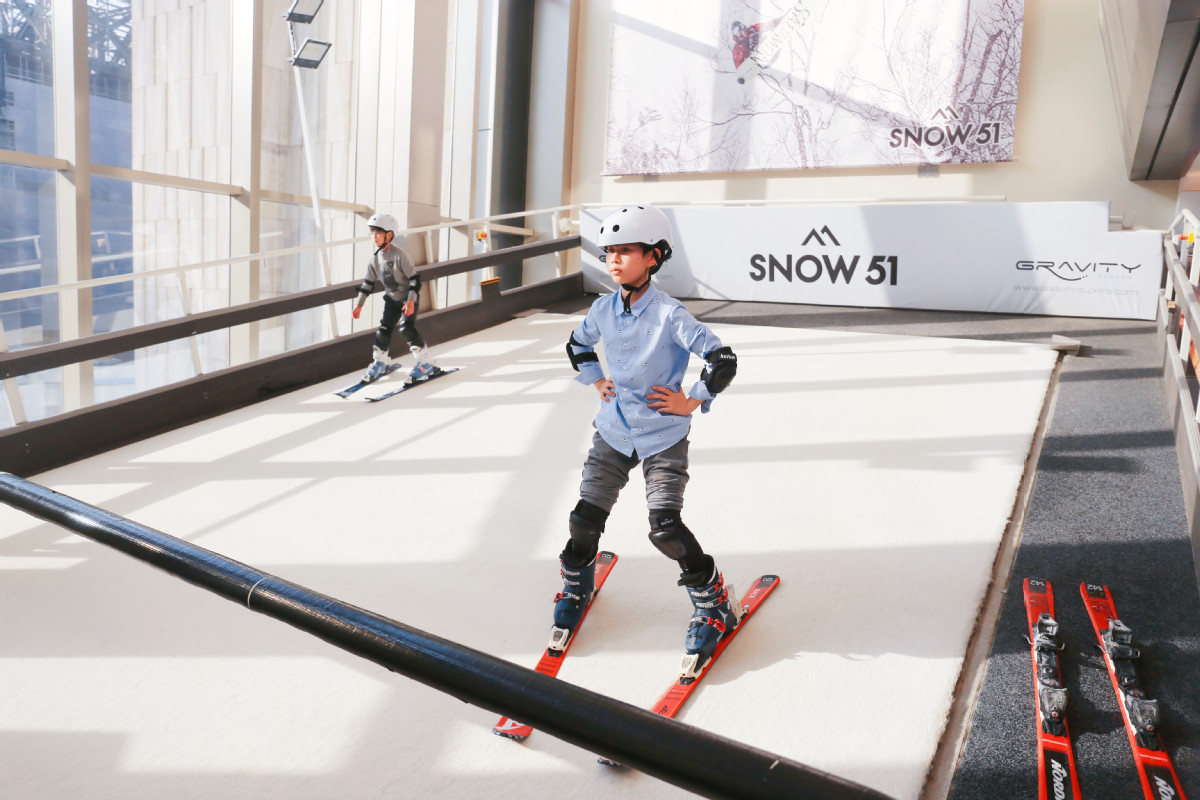 Although it rarely snows in southern China, the growing enthusiasm for skiing fueled by the Beijing Winter Olympics has made Ye Kai more confident about his business of indoor skiing.
An entrepreneur and a hardcore skier, Ye founded Snow 51 in 2018.It's a chain of indoor skiing centers that provides Alpine ski training on simulators in shopping malls instead of on top of snowy mountains.
"I have been a big fan of skiing ever since I first tried the sport in 1994, but I broke my leg in an accident when I was skiing in Hokkaido, Japan, in 2017," Ye said. "Lying in a hospital bed, I started to think how to lower the barrier of skiing and introduce the sport to more Chinese people."
The following year, Ye launched the startup with a Dutch manufacturer of skiing simulators and Austria's Schild Skiracing School to offer professional ski courses to urbanites.
In only three years, Snow 51 had opened more than 20 outlets in Chinese first-tier cities, such as Beijing, Shanghai and Shenzhen, Guangdong province. It plans a faster expansion in second-tier cities.
The company announced in April that it had received a series A round of investments totaling more than $15 million from venture capital companies, including GSR Ventures, based in Palo Alto, California, in the United States, and MSA Capital, based in Beijing.
"We will double our outlets by the end of this year and have a presence in all top 30 cities in China by 2025," Ye said.
Ye's confidence was partly bolstered by the Chinese government as the country made a pledge to the International Olympic Committee to engage 300 million people in snow and ice activities in Beijing's bid to host the 2022 Winter Olympic Games.
"With the Games being held, the whole of society is gaining more interest in winter sports," he said, adding that the company had more than 10,000 members by January.
With a cost of around 30,000 yuan ($4,720), the annual "black gold" membership entitles clients to book sessions with the center any day of the week and in any outlet around the country, and with a 13,000 yuan half-year gold pass, they can book up to 30 sessions.
"We expect to see even bigger growth for the industry in the post-Olympic era," he said.
Revenue generated in the winter sports and leisure tourism sector during the 2021-22 winter season is expected to reach 323 billion yuan, according to a report published by the Chinese Tourism Academy in January.
Snow 51 was not the only one eyeing the sizable market. Many companies have taken the plunge, with dozens of indoor skiing venues big and small mushrooming in southern Chinese cities in the last three years.
One such business is Foryou Ski, an indoor skiing chain launched by Fosun Tourism Group in 2019. It now has six branches, in Shanghai as well as in Nanjing, Jiangsu province, and Sanya, Hainan province.
Andrew Xu, executive president of Fosun Tourism, said the indoor ski centers function not only as providers of training, but also as high-frequency contact points for potential customers of the group's ski resorts.
It has partnered with local sports authorities to offer discounts to the public and organized an indoor skiing contest in the Yangtze River Delta region in July.
"After people learn how to ski on the machine, they can book ski trips to our Club Med resorts in Northeast China, Japan and even Europe," said Xu. "We want to build an ecosystem for our guests." Fosun bought the Club Med resorts company in 2015.