Hard work, many revisions made Paralympic mascot
By YE ZIZHEN in beijing and HAN JUNHONG in Changchun | CHINA DAILY | Updated: 2022-02-22 09:35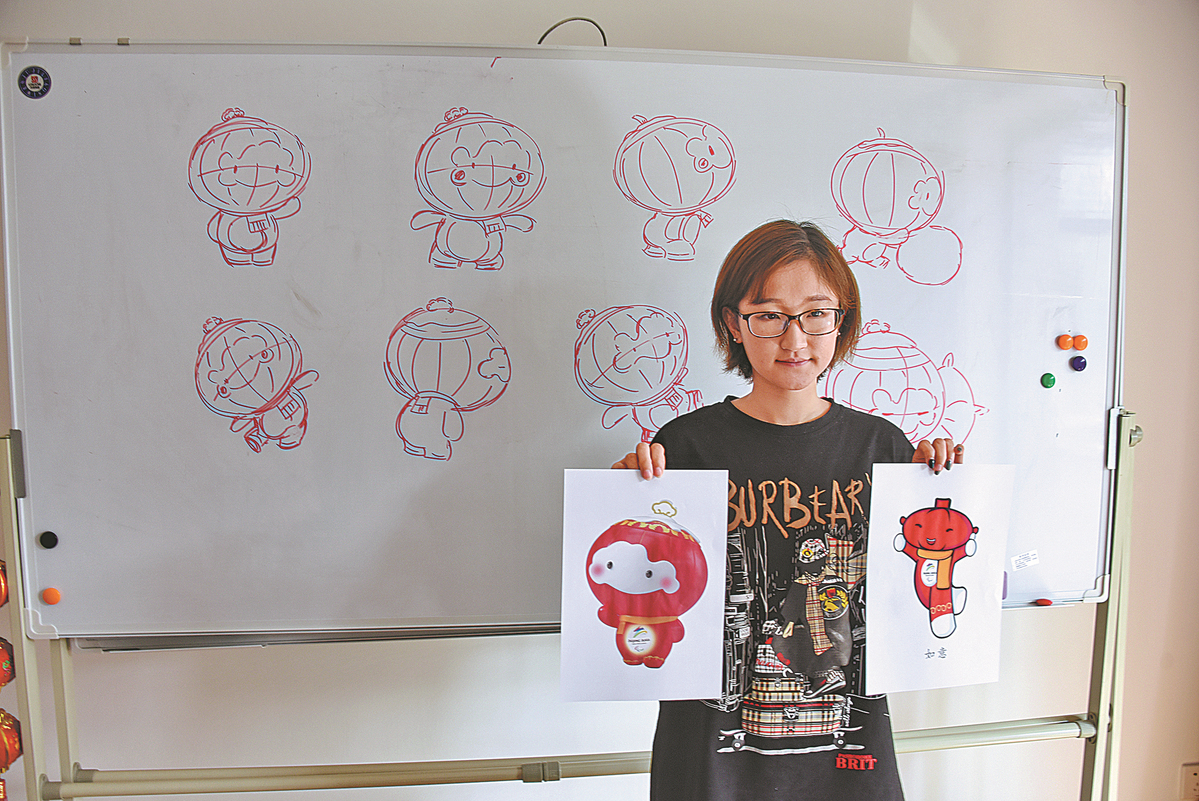 Designer hopes anthropomorphic red lantern figure will light up world's dreams
The past four years may just be the most unforgettable of Jiang Yufan's life, not only because they saw her become the designer of a Paralympic mascot, but also because the process has been fulfilling and helped her grow.
In 2018, responding to a call from her teachers, the then junior student at the Jilin University of Arts submitted a design for the 2022 Beijing Winter Olympics-a Chinese knot and a red lantern. "My original design was a deer, but I later discovered that many of my peers were also using deer in their designs, so I changed it and drew a Chinese knot and a dumpling, instead," Jiang said.
Her teacher, however, did not feel that a knot and a dumpling went together well, so Jiang revised her design again and submitted the first draft of her now winning entry, a Chinese knot and a red lantern.
"They are both objects that refer to Chinese culture, and I like them," she said.
Born in 1998 in Yichun, Heilongjiang province, Jiang was influenced by the strong festive atmosphere in her hometown, where red lanterns hang everywhere.
They became the inspiration for her design, but the process of revising and improving it was demanding.
"We shuttled between Changchun and Beijing more than 30 times between late 2018 and 2019, to show the Beijing Organizing Committee for the 2022 Winter Olympic and Paralympic Games our drafts, and we often worked late into the night," Jiang said.
One difficulty was how to make a lantern look more alive.
"Many of the former Olympic mascots have been animals, and so the organizing committee also wanted my design, Shuey Rhon Rhon, to look more lively and dynamic," she said.
Ideas to add antlers and wings to the lantern failed to satisfy either the designer or her team.
Finally, they decided to make the lantern patterned, adding doves and the outline of the Temple of Heaven in Beijing.
They didn't stop there.
To make its eyes stand out, the team added a splash of snow across Shuey Rhon Rhon's face. And the area around the Olympic emblem is able to glow.
"Lanterns glow, so we wanted Rhon Rhon to glow as well. It also suggests the lighting of people's dreams and warmth," Jiang said.
For 300 days, Jiang and her team worked on the design, but she never thought of giving up.
Then last August, she and her team got the good news from Beijing. Their hard work had paid off, and Shuey Rhon Rhon was to be the official mascot for the 2022 Beijing Paralympic Games. "My body went numb when I heard it," she said.
Referring to her 15 team members, teachers and former principal who ran the school until September of last year, she added, "I want to sincerely thank my supervisor Feng Benyuan, who encouraged me and gave me advice, as well as our principal, Guo Chunfang."
Jiang said that she hopes her lantern will warm the world and light up people's dreams. It's a sentiment in line with the spirit of the Olympics and a necessary function of a good design.
The word "shuey" is pronounced the same way as the Chinese character for snow. The first "rhon" implies inclusiveness, and the second implies integration.
"The Paralympic mascot Shuey Rhon Rhon will become the face of the 2022 Beijing Paralympic Winter Games, lighting up the lives of billions around the world who will watch its athletes inspire and excite," said Andrew Parsons, president of the International Paralympics Committee.
The Paralympic Games are scheduled to start on March 4.
Jiang hopes that once the Games open, Shuey Rhon Rhon will become just as popular as Bing Dwen Dwen, this year's Winter Olympic mascot.