Research team protects coral reefs in Beibu Gulf
China Daily | Updated: 2022-02-23 10:19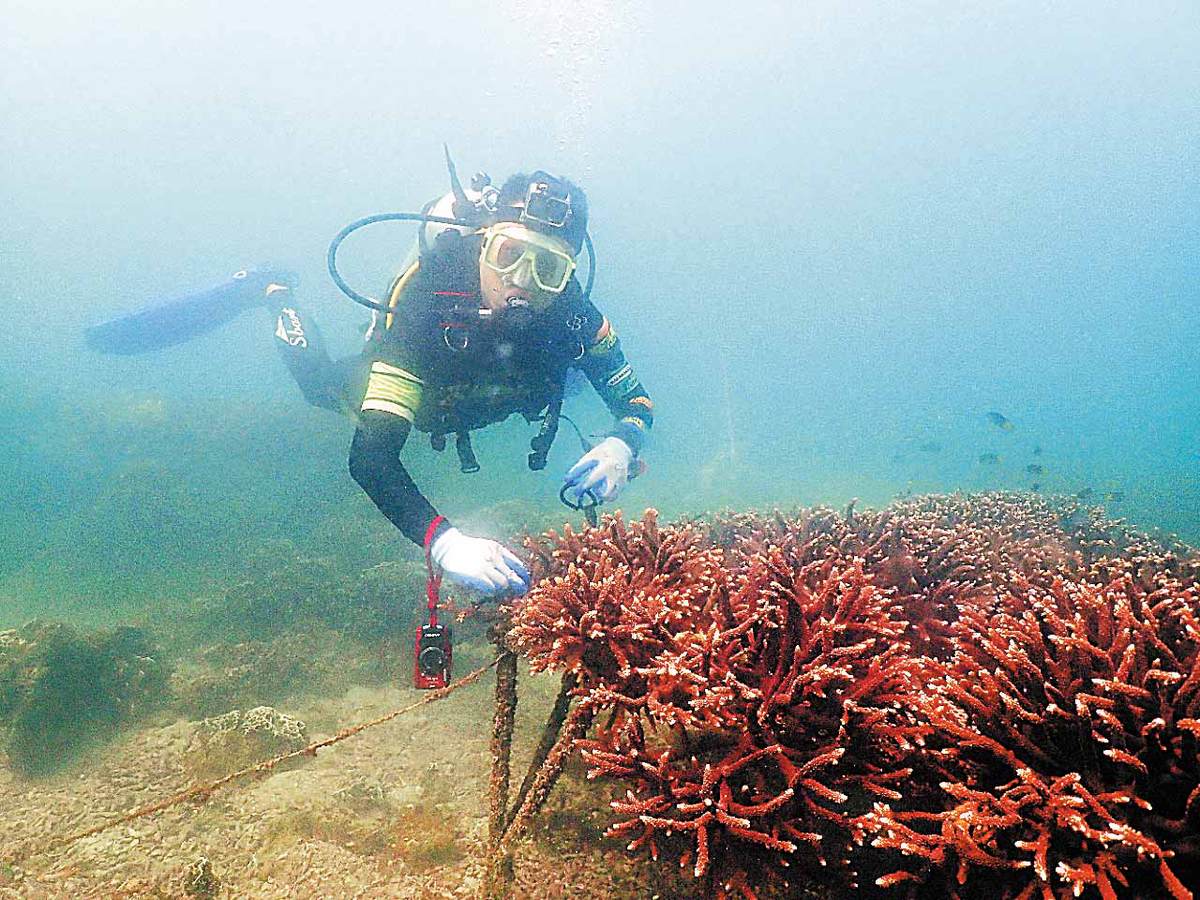 Coral expert Huang Wen has dived the waters around Weizhou Island in South China's Beibu Gulf more than 500 times as part of efforts to restore its coral reefs.
The 33-year-old lecturer leads a research team of more than 100 people from the School of Marine Sciences at Guangxi University in Nanning, capital of the Guangxi Zhuang autonomous region, that has spent six years planting, monitoring and surveying coral reefs around the island, which is under the jurisdiction of the city of Beihai.
He said the team wants to protect the coral reefs from the impact of climate change, which is degrading reefs around the world.
To accomplish their task, team members shuttle between Nanning and Beihai dozens of times a year.
"I was shocked when I saw more than half the corals were bleaching under the water near the island in 2020," Huang said. "It was like a forest being burned up.
"The temperature gauge showed it was 33 C underwater, too high for corals to live. Corals are sensitive to small temperature changes, preferring water at 30 C."
Corals turn completely white when they expel the symbiotic algae living in their tissues due to environmental stress caused by factors including temperature, light and nutrient levels. Corals can survive a bleaching event, but those that do are at a higher risk of dying, according to the website of the United States' National Ocean Service.
Part of Huang's work is fixing artificially bred coral seedlings on racks on natural reefs to help restore them. He learned how to dive after getting involved in the work in 2015.
"Corals are tiny coelenterates that can calcify into coral reefs over thousands of years," he said.
"Coral reefs provide habitats for various marine organisms, just like tropical rainforests and the creatures living in them.
"If global warming continues, Weizhou Island will become a refuge for corals due to its cooler location on the northern edge of the world's tropical coral reef area."
In a paper on the conservation potential of high-latitude coral reef refuges published in the journal Diversity and Distributions in 2014, Australian researchers wrote that, "Stringent protection of suitable reef habitat appears to be the most promising avenue to enhance the persistence of subtropical coral reef communities, and their ability to act as refuges for tropical coral reef species."
Huang and his colleagues are trying hard to maintain the "refuge".
Since 2015, they have planted 12,000 coral seedlings in more than 2,000 square meters near the Island.
"This island alone has seen the coverage rate of coral reefs in some of its sea areas that are supposed to be suitable coral habitats drop from 40 percent decades ago to less than 10 percent today," Huang said.
Coral reefs cover 28 square kilometers of the sea floor around Weizhou Island, according to the 2019 China Coral Reef Condition Report.
China has about 38,000 sq km of coral reefs, the report said, more than double the land area of Beijing, and they are mainly found in the South China Sea, which includes Beibu Gulf.
"It is not easy to plant coral under the sea," Huang said. "We need to overcome the huge resistance from water buoyancy when using tools like hammers. It is also hard to maintain your balance when working underwater.
"Coral nurseries are also distributed at different dive spots and we may sometimes get lost or encounter storms."
When the water is warm, he works about six days a week and spends up to 10 hours a day in the sea. Under the water, he also surveys, measures and monitors the conditions of corals and collects sediment and water samples.
In the next few years, his team plans to cultivate coral species that are resistant to higher temperatures.
"Climate change will lead to more frequent extreme weather, including typhoons and extreme low or high temperatures," Huang said. "We don't know when it will come so we need to avoid the risk by planting coral that can better adapt to the environment.
"The coral reefs' degradation is not only the result of natural change but also intense human activities. So we have built a coral museum on the island to educate people about its protection."