PhD cop polices busy streets
By DENG RUI and TAN YINGZI in Chongqing | China Daily | Updated: 2022-02-24 09:58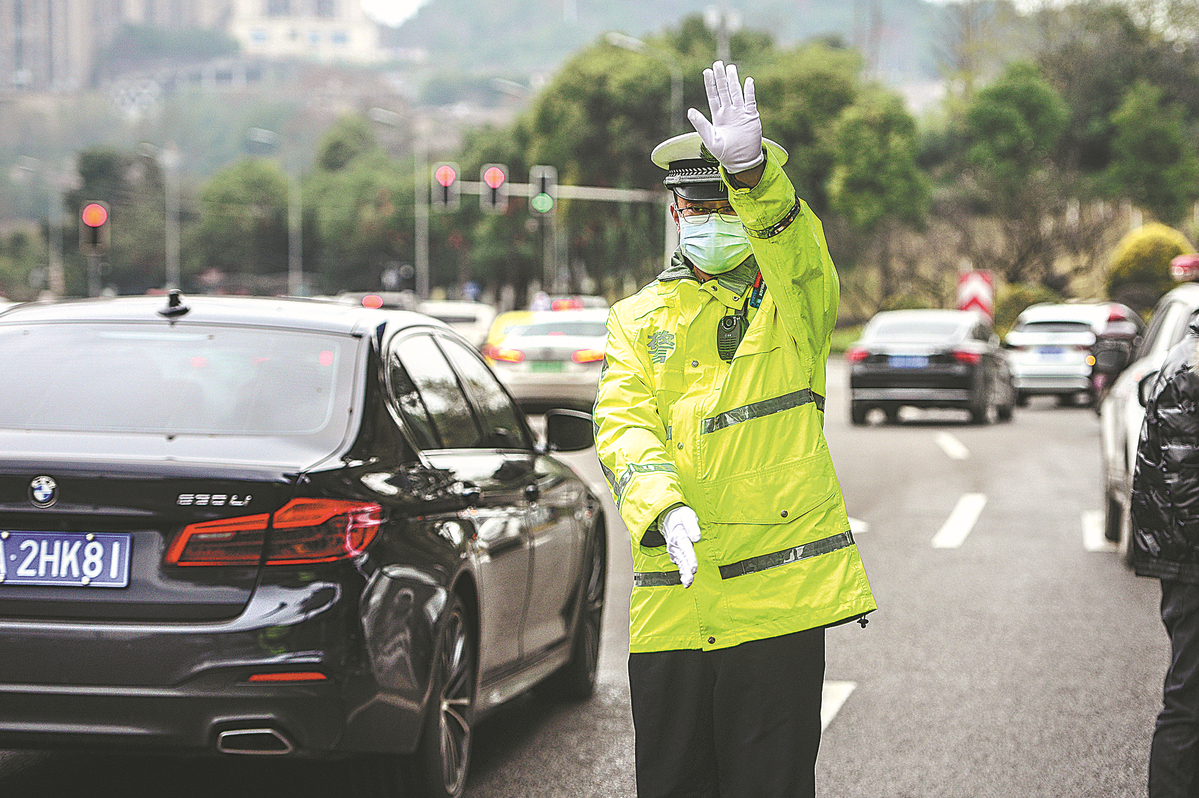 Academic expertise has helped officer tame notorious road accident hotspots
Eleven years ago, a senior engineer with a PhD decided to get a job as a traffic police officer in Southwest China's Chongqing. With his keen eye for potential danger and analytical approach to safety, he has been able to design and improve 60 traffic facilities, eliminate 52 potential dangers, publish five academic papers and produce six traffic safety patents.
That man is 37-year-old Wang Hui, an officer with the Jiangbei Traffic Police Detachment's Accident Handling Brigade. He is one of the few front-line traffic police officers in China to hold a PhD.
Born into a farming family in 1984 in Jinan, Shandong province, Wang graduated from the transportation and planning management department at Chang'an University in 2011, where he obtained his PhD in engineering. Located in Xi'an, Shaanxi province, the university is one of the country's top ranking institutes for traffic safety management.
Wang said that his former mentor Liu Haoxue, a top authority on the subject, was the one to suggest he study traffic safety.
Home to more than 5 million registered cars, Chongqing ranks third nationally in terms of the number of vehicles, according to a report from the Ministry of Public Security on Jan 11.
"Traffic is always very busy in Jiangbei," Wang said, adding that most of the district is urban.
In fact, it's one of the city's most developed areas. Jiangbei covers an area of 220.8 square kilometers, has a population of 925,800 and produced a GDP of 132.5 billion yuan ($20.9 billion) in 2020.
Statistics show that last year, Jiangbei's pedestrian death and injury tolls accounted for about half its traffic casualties.
Normally, Wang deals with 15 to 20 ordinary traffic accidents, including two to three involving injuries such as bone fractures, every day.
He said that although public safety awareness could be one influence on those figures, traffic management, planning and facilities must also be improved to reduce accidents. "When I'm on the street, I don't think of myself as a PhD graduate," the refined man in glasses said. "I'd rather be thought of as a hidden danger doctor."
Wang's rather unusual hobby is playing traffic detective. When he drives around the city after work, he pays attention to traffic facilities and planning and tries to think of ways to improve them.