With bedtime stories, teacher entertains, comforts and educates
By FENG ZHIWEI in Changsha and YE ZIZHEN | CHINA DAILY | Updated: 2022-02-28 09:11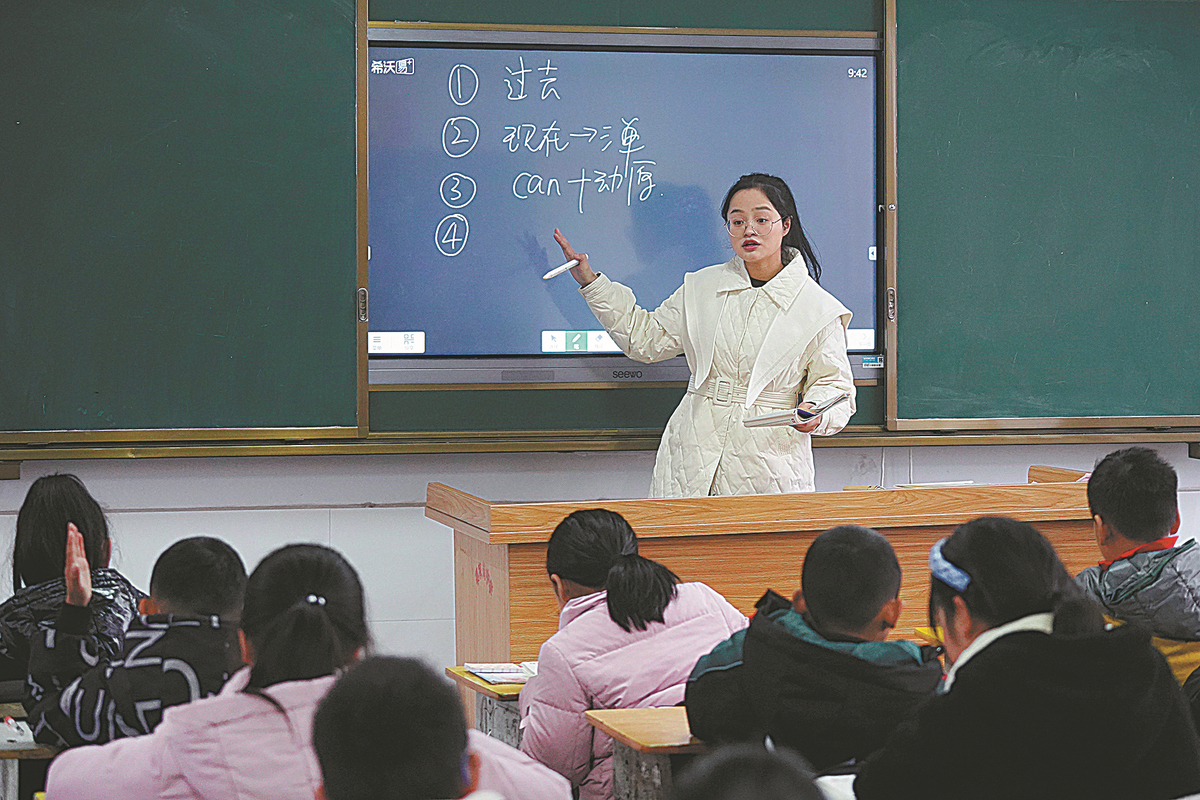 School nights for boarders at Caijiagang Middle School are never boring, because they get to listen to stories from the comfort of their dormitory.
For over 1,000 nights since 2015, Ma Xiaojuan, a teacher at the school, has been telling stories to her students, who are aged between 10 and 15.
Although a keen traveler, Ma spends her summer and winter breaks finding interesting stories to tell the students.
"The world is large enough to be explored at a later date, but the time I have to spend with each child is limited, so I want to spend as much of it as possible with them," she said.
Born in 1993 in Caijiagang town in Changde, Hunan province, Ma attended the Hunan First Normal University, graduating from the College of Music and Dance in 2015.
As a teacher at a rural school, she teaches a range of different subjects, including music and English, and is also a head teacher.
She knows all too well that school nights at rural boarding schools can sometimes be lonely.
"It reminded me of my own childhood. My parents worked away in big cities, so I know the students feel lonely sometimes. So I want to spend time with them and keep them company," Ma said.
That was how she started telling her students bedtime stories.
The stories aren't randomly chosen, and in some cases, she writes ones based on her own experiences and things that have happened around her.
"My sister is Teacher Ma's student, and she told me about her. I hope that one day, I can be her student so I can hear her stories, too," said Zhou Xiangyan, an 11-year-old sixth grader. "The stories are full of details-not just plotlines, but things of value and significance."
One day, Ma noticed that some of her students were wearing their red school scarves the wrong way. That evening, she told them a story called The Color of the Red Scarf, so that they would better understand why they all wore them.
Occasionally, Ma tells stories about famous historical figures, including Mao Zedong, Deng Xiaoping and Zhou Enlai. To tell better stories, Ma spends her free time searching book stores for inspiration, and now she has written 168 stories.
Thanks to their teacher's influence, Ma's students don't just enjoy listening, they also enjoy telling stories themselves.
"I am the fourth student in my class to tell a story in public. To do a good job, I carefully observe the way Teacher Ma tells a story when she is with us in the dorm," said the student, surnamed Zhou. "My friend suggests to me where I can slow my pace and make my voice more emotional. Story-telling has changed me. I'm more communicative with my teachers and feel closer to my parents. They praised me after watching a video of me telling my story."
Through her daily interactions, Ma gets to know each student closely. She also helps them with their daily lives and eats meals with them.
Her devotion to teaching and to her students is encouraging other teachers in Hunan.
"The nights she spends with the children shine like stars enlightening their thoughts," said Deng Yan, a professor at Hunan Normal University. "I still remember the first time I went to one of their story nights last October. Ma Xiaojuan's voice was gentle, and the light was warm," said Tian Fanghui, a peer, friend and colleague. "That night, I realized that storytelling is one way of teaching."
To record the scenes that left the deepest impressions, Tian made an oil-painting, which she has titled Story-telling. "Xiaojuan's passion for rural education and her major have greatly encouraged me," Tian continued.
For the gentle-voiced educator in Caijiagang, storytelling is something she is sure to continue to do for as long as she continues to teach.
Zhu Youfang contributed to this story.