Tencent chief underlines R&D and upgrades in traditional, core sectors
By HE WEI in Shanghai | China Daily | Updated: 2022-03-08 09:17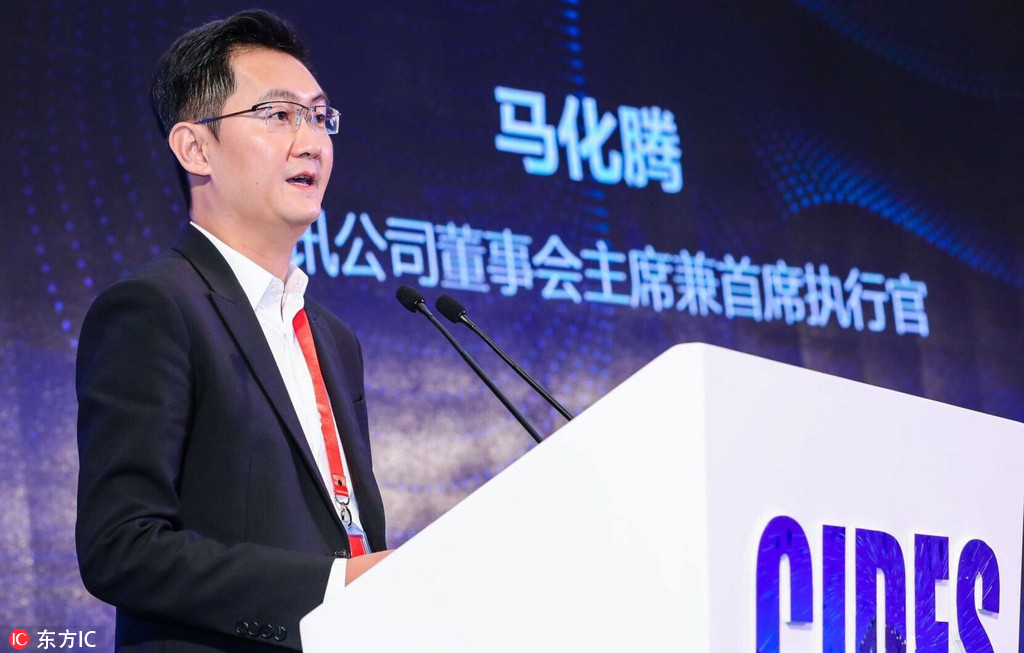 China should increase technology supply for digital transformation among traditional industries, according to the latest suggestions submitted to the ongoing two sessions.
The country should direct more digital research and development efforts to empowering core industries and key sectors, said Pony Ma, a national legislator and the chairman of Tencent Holdings Ltd.
Meanwhile, more guidance should be given to traditional enterprises regarding digital transformation, in which technology standardization should be enhanced to lower companies' adoption costs.
In his suggestion, Ma said the "systematic and all-round integration" of the digital and the real economy stands at a critical stage. Technologies like 5G, artificial intelligence and virtual reality continue to evolve, already enriching traditional industries and making supply chains more resilient.
Yet challenges remain in areas such as weak adaptability of technological applications and different industries, weak operability among various digital tools, and a lack of highly coordinated public data applications. Speculation risks might also occur in light of emerging concepts such as the "metaverse" and "non-fungible tokens".
Therefore, he called for more precise and effective digitalization support to be given to "technologically advanced" enterprises, and channeling more capital and technology into supporting the real economy.
The suggestion also referred to the coordination of security and development, identifying the need to research the governance of new generations of key internet technologies and explore digitalization and low-carbon development.
With digitalization fast taking off in China, companies like Amazon Web Services sense growing opportunities.
"This year's Government Work Report further elevates the development of the digital economy and digital trade to a strategic level," said Elaine Chang, corporate vice-president and managing director of Amazon Web Services China.
"Cloud computing, as the technical base of the digital economy, will usher in huge development opportunities."
She said adoption of cloud helps collect and accumulate data, find new insights and business opportunities, and better serve customers through the use of big data and intelligence.
It will also lend a helping hand as more companies operate globally, thus facilitating more Chinese brands like Xiaohongshu and Li-Ning to expand overseas and more multinational corporations like Thermo Fisher Scientific that are accelerating investment in China.
"We have a long-term commitment to development in China and are confident in future prospects," Chang said. "We will continue to work closely with local operating partners to accelerate the implementation of the world's leading cloud service products and functions in China, and support the digital transformation and innovation of customers."
Global consultancy Accenture said its ability to capitalize on China's market opportunity and drive its digital transformation agenda is reflected in the continued growth of its business with over 200,000 employees in the country.
"This is the result of having executed for years a strategy to rotate our business to digital and cloud, hiring and upskilling people across China, and fostering deep relationships with leading local companies and technology partners," said Samantha Zhu, chairperson of Accenture China and a member of Accenture's global management committee.
According to the latest annual China digital transformation index research by the Ministry of Industry and Information Technology and Accenture, upgrades and transformation are speeding up and deepening across all sectors, with Chinese businesses eager to make wise and rapid pivots to shape breakthrough solutions and execute at speed and scale.
"With our full-span digital capabilities, we are confident that we can further step up efforts to help our clients navigate changes, transform into thriving organizations and together create a more sustainable future," Zhu said.