New cargo line connects Qinghai, Nepal
By PALDEN NYIMA in Lhasa | China Daily | Updated: 2022-03-08 09:30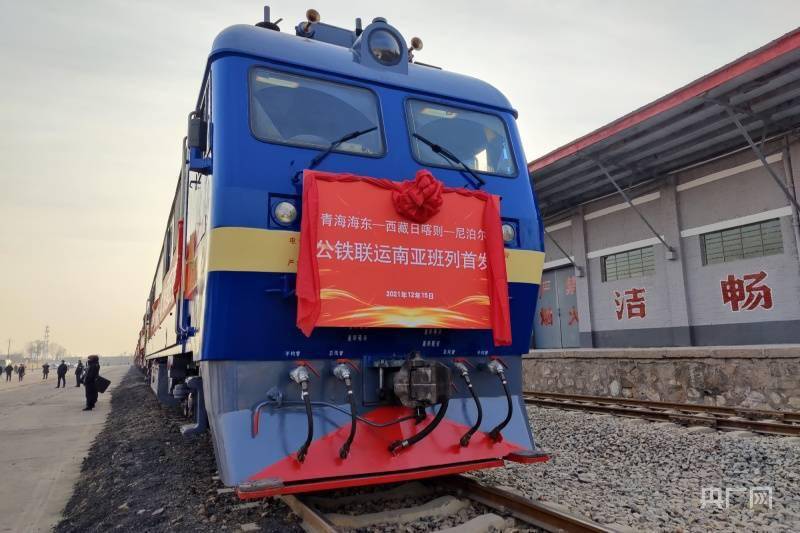 The second service of a new train and truck freight route that links Haidong in Qinghai province, Shigatse in the Tibet autonomous region, and Kathmandu, capital of Nepal, will leave Haidong soon, according to China Railway Qinghai-Tibet Group.
With a length of about 2,800 kilometers, the new corridor uses trains to ship goods from Haidong to Shigatse. Trucks are then used to ship them to the land ports of Gyirong and Zhangmu in Tibet and on to Kathmandu.
Yao Jianghong, an official with China Railway Qinghai-Tibet Group, said: "The cargo mainly includes daily necessities, medical materials and agricultural products. Thirty rail cars were loaded with more than 1,000 metric tons of cargo valued at approximately 1.8 million yuan ($282,000) for the first trip, which took six days."
The first service left Haidong in mid-December and the second, also comprising 30 rail cars, is due to set off this month or next month.
Yao said Qinghai is a strategic gateway connecting Europe and Asia and a key bridge linking China's southwestern and northwestern regions.
"Qinghai has the advantage of location, resources, industry, labor, commerce and trade in this wave of development of the Belt and Road Initiative," she added.
Guo Yang, vice-mayor of Haidong, said the new cargo channel is a major breakthrough for the city's international road and rail freight network and a new trade channel between Qinghai and South Asian countries.
"It shows that Haidong has become further involved in the wave of the new dual-circulation development pattern, which takes the domestic market as the mainstay while letting domestic and foreign markets reinforce each other," he said. "It is a new step Qinghai has made toward the Belt and Road Initiative and international economic cooperation."
Kelsang Lhamo, a member of the Tibetan ethnic group who runs a Nepali-Indian shop in Lhasa, Tibet's capital, said she was pleased with the operation of the transnational cargo service.
"The opening of the new cargo line will promote bilateral and trade exchanges between western Chinese regions and South Asian countries, and it will also contribute to the economy of Nepal and South Asian countries," Kelsang Lhamo said.
She said many people in Tibet love Nepali and Indian products such as soaps, chocolate, coffee, biscuits, handicrafts and rice, and there are many such shops and wholesale traders in the region.
"I am pleased with the opening of the new cargo line," Kelsang Lhamo said. "More China-made products will be exported to South Asian countries via the service, and that's a good thing for both sides.
"I hope more cargo services will be opened in the future, and more Nepali and Indian products will be imported to western Chinese provinces and regions in the near future via the line."