Europeans shift ground on security
By CHEN YINGQUN | China Daily | Updated: 2022-03-09 09:25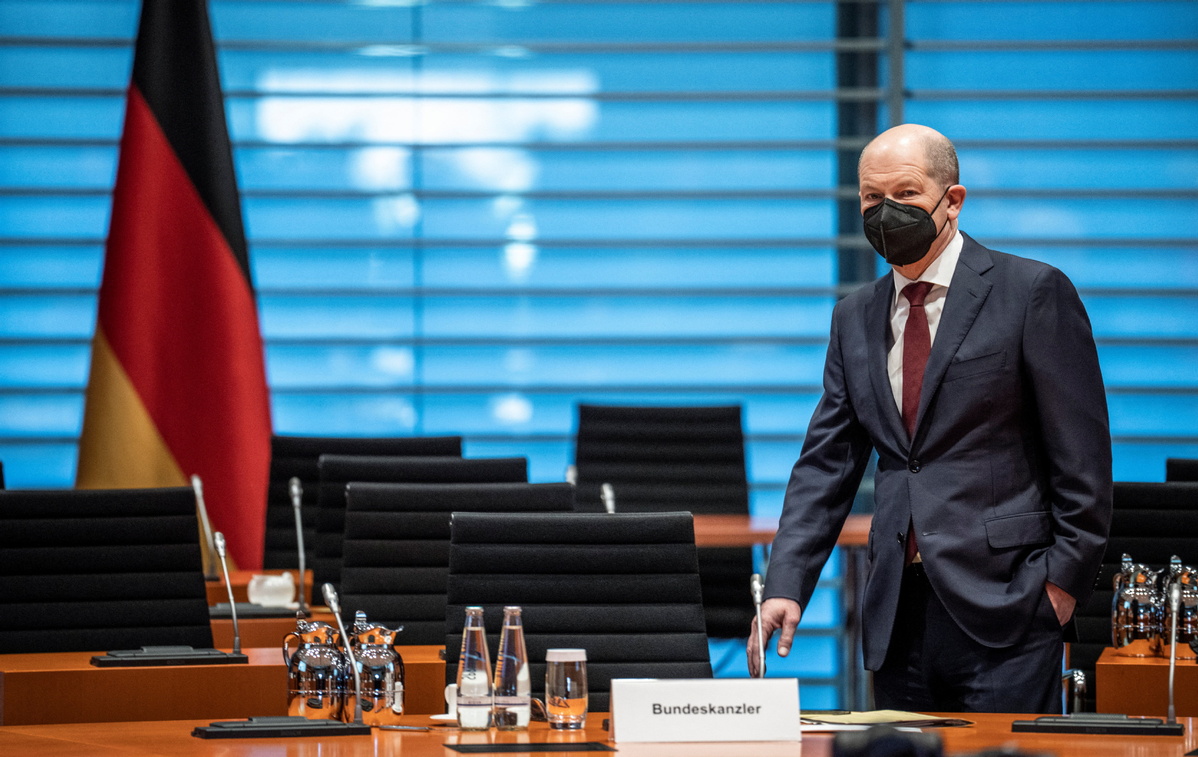 Raised defense spending, eased arms supplies triggered by Ukraine conflict
The Ukraine crisis has prompted shifts in the defense policies of many European countries and a rethink on long-held security stances, but how they will affect the European geopolitical landscape remains to be seen, analysts said.
In response to the situation in Ukraine, German Chancellor Olaf Scholz announced on Feb 27 plans for a one-time special defense fund of 100 billion euros ($111 billion) in the 2022 federal budget and an increase in the annual defense budget to more than 2 percent of the country's gross domestic product.
One day earlier, Germany made another major shift in its defense policy when it said that the country would send 1,000 anti-tank weapons and 500 Stinger missiles directly to Ukraine. It signals that Berlin has given up its long-standing policy of not sending German-made weapons to conflict zones.
On March 2, Germany's armed forces association told broadcaster ARD that the country should immediately launch a program to modernize its armed forces, known as the Bundeswehr, adding that it was necessary to look at "how to reliably drive forward a strengthening of the Bundeswehr".
Aside from Germany, Finland and Sweden have also broken with a policy of not providing arms to countries in active conflict by sending assault rifles, ammunition, and antitank weapons to Ukraine.
Austria has announced it will supply protective equipment to Ukraine and close its airspace to Russia. Switzerland, which like Austria is neutral, has decided to join the European Union in imposing sanctions on Russia. Denmark is to hold a referendum on whether it should join the EU's common defense policy in a vote set for June 1.
Ding Chun, director of the Center for European Studies at Fudan University in Shanghai, said that as the United States shifts its strategic focus and amid the changes in the regional security situation, European countries are increasingly aware of the urgency to build their own defense forces.
"Due to historical reasons such as World War II, building up the military has been extremely sensitive for German politicians, thus Scholz government's move was seen as a significant shift in its defense policy," Ding said.
Although Germany has been supportive of French President Emmanuel Macron's proposal to build a "European army", it has not taken much concrete action in recent years to help realize this goal.
More resilient
He Yun, an associate professor in the School of Public Administration at Hunan University in Changsha, said that Germany's decision was made in response to the Russia-Ukraine conflict. But it was also the result of a desire to be more resilient and self-reliant in its own defense and the defense of Europe, especially as the US pivots to the Asia-Pacific region.
"The world is in shock-the proposal has changed the key pacifist principles underpinning German foreign and security policy since the end of World War II. And it may be permanent," He said.
She added that the commitment to more military spending will mean a substantial amount of defense procurement in the near term by Germany and the development of some sort of national security strategy and coordination mechanisms to ensure the spending matches its purpose.
In the long term, it could bring a fundamental change in Germany's attitudes toward the use of force. But how that will change the world remains to be seen, she said.
Ding said that the shifts in the defense policies of many European countries, as well as their diplomatic stances, have been made by governments under domestic and external pressures against the backdrop of the crisis. These developments highlight the extent to which these countries have been profoundly affected by the crisis, the scholar said.