Determination drives academic achievement
By CHENG SI | China Daily | Updated: 2022-03-14 09:17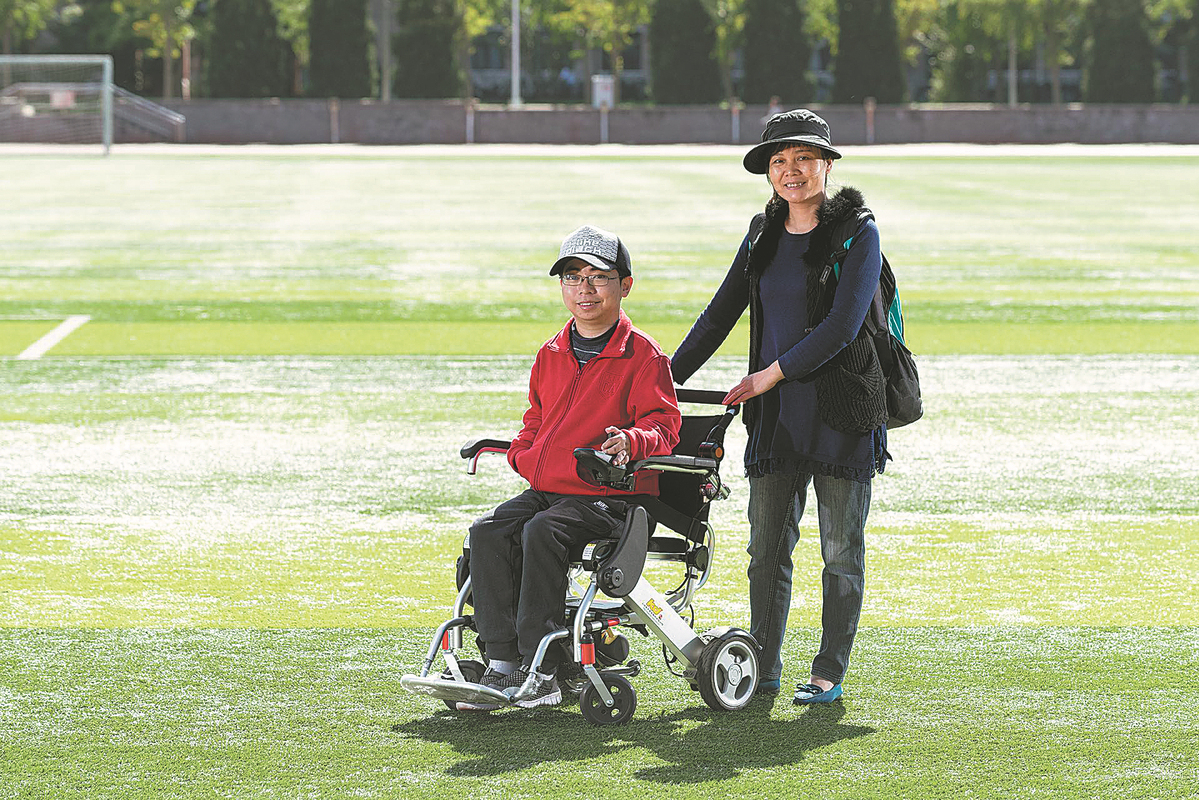 Yi Xiaoyuan has used a wheelchair for 25 years, but he has never considered himself restricted by it, and he has relentlessly pursued academic achievement and a desire to be treated just like nondisabled people.
Born in 1991 in Yuxi, in the southwestern province of Yunnan, Yi enjoyed a happy childhood until 1997, when his appetite disappeared and he began running high fevers. Two years later, he was diagnosed with systemic juvenile idiopathic arthritis, but the delay in diagnosis meant he missed the optimum time for treatment.
Moreover, the medication used to treat his condition caused the tops of his femoral bones to die off. As a result, when he was discharged from the hospital, he was told that he would never stand upright or walk again.
The news was a heavy blow to the young boy, who even had suicidal thoughts. However, he refused to succumb to the situation thanks to the companionship and encouragement of his parents.
He quickly demonstrated his resilience after being admitted to primary school in 1999, and it seemed he was on a roll until his illness worsened, forcing him to suspend his studies in 2005.
Though several misfortunes arrived in a row, Yi absorbed all the blows and maintained his determination to push on in his life.
In 2012, he was admitted to Tsinghua University by virtue of his good performance in the gaokao, the national college entrance exam, and, most importantly, his indomitable spirit.
"My mother went to the university with me to take care of me. She is the one I owe the most to," he said. "In my college life, she got everything ready before I got up, and pushed my wheelchair to the classroom. At night, she wouldn't go to bed until I fell asleep."
Thanks to his mother's care, Yi could devote himself fully to his academic work, gaining a master's in computing technology and a doctorate last year.
During his time at college, he developed a system called Jiuge, which can automatically generate poems in Chinese, and he joined a students' society to help promote awareness of accessible facilities among his nondisabled peers.
Despite his outstanding academic performance, he lacked confidence when he began looking for a job after graduating from Tsinghua in August.
"Actually, I adopted a tricky policy. I didn't mention my disability on my resume. I only told companies about my physical condition if they seemed willing to give me a job," he said, referring to his concerns that he would be judged by his disability not his abilities.
"We people with disabilities don't get fair play in the job market, because most people don't know us and they have concerns about communicating with us," he said.
"I remember that I sent six resumes and got three offers. But one of the companies that sent me an offer hesitated after learning about my physical condition."
However, in August, Yi accepted a job as a researcher with the Social Computing Group at Microsoft Research Asia in Beijing.
"My mother still keeps me company, and I'm happy with my workplace. I've received good care and respect at the company," he said. "It takes about 15 minutes to travel from home to my workplace, and the 1-kilometer journey is all barrier-free, which is super friendly."
He said he is focusing on research into artificial intelligence, specifically languages.
"I hope my research results will help push forward the construction of a barrier-free society in the future," he said.
"We people with disabilities are different from other people, but that's just like the different body shapes people have. We just want to be treated like regular people, which would be the best and ideal way, I think."
Yi said he has another special wish-that his health problems will be cured one day and he will be able to care for himself, which would enable his mother to return to Yunnan and be reunited with their other family members.