Africa view brightens on case declines, jab efforts
By EDITH MUTETHYA in Nairobi, Kenya | China Daily | Updated: 2022-03-15 07:12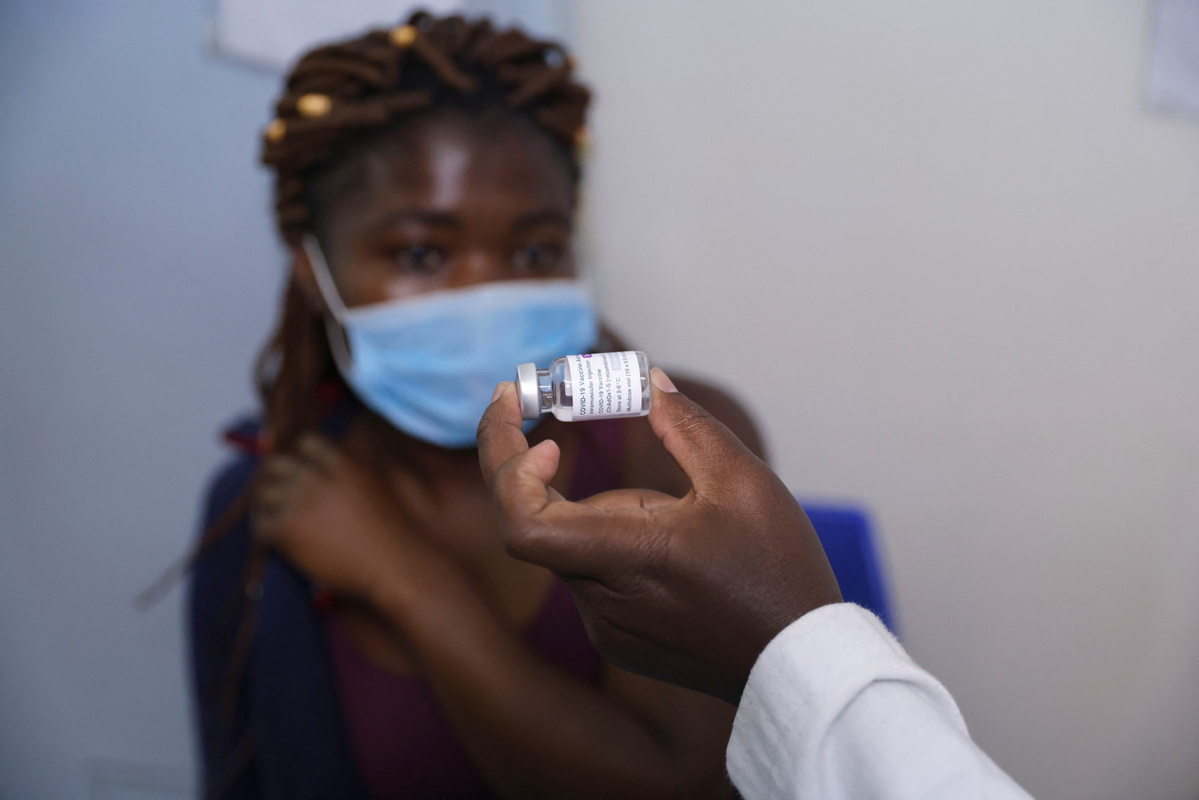 The numbers of weekly COVID-19 cases and deaths in Africa have dropped drastically, as countries relax control measures and vaccine manufacturing efforts gain pace.
According to data from the Africa Centers for Disease Control and Prevention, the continent reported 44,838 new cases on the week ending March 6, translating to a 24 percent decrease compared to the previous week.
The number of deaths also decreased to 641, compared to 1,695 reported the previous week, translating to a 62 percent decrease.
Over the month between Feb 7 and March 6, the continent reported a 25 percent average decrease in new cases and 22 percent average decrease in deaths, though the actual number of new COVID-19 cases is likely to be much higher than reported due to limited testing in many countries in the continent.
The reduction in COVID-19 infections and deaths has seen some countries lift long-standing measures.
On Friday, Kenya became the first African country to lift mandatory wearing of face masks in open public spaces after consistently reporting a COVID-19 positivity rate of less than 2 percent.
Mutahi Kagwe, cabinet secretary for health, however, encouraged Kenyans to wear face masks indoors, noting that the virus is still around.
Places of worship have also been allowed to open at full capacity, provided that congregants are vaccinated. "People are encouraged to maintain social distancing and avoid crowding in public places to ensure risk of spread is limited," Kagwe said.
He also urged Kenyans who have not been vaccinated to do so to ensure that low infection cases are maintained.
Even with the declining COVID-19 cases across Africa, John Nkengasong, director of the Africa CDC, urged African Union member states to vaccinate at scale to prevent new variants from emerging.
He urged countries to use the low transmission season to intensify pandemic control measures, increase vaccine uptake and decentralize testing. To date, Africa has fully vaccinated 13 percent of its population.
Improved rates
Though vaccination rates in Africa are still low compared to other parts of the world, the World Health Organization said the continent had recorded improved vaccination rates with new COVID-19 vaccine doses administered in the continent having increased by 15 percent from January to February.
The United Nations agency said Kenya administered 3 million vaccine doses during the two-week vaccination campaign in February.
"The campaign had a knock-on effect, with an average of 200,000 people vaccinated daily versus 70,000 per day before the campaign," it said.
To maintain uninterrupted vaccine flows as well as prepare for future pandemics, African countries are increasingly signing agreements to locally manufacture COVID-19 vaccines.
Kenya is the latest country to reach such an agreement after it signed a memorandum of understanding with Moderna on March 7.
Nkengasong said Ghana, Rwanda and Senegal have also signed agreements with BioNTech to construct factories to manufacture Pfizer COVID-19 vaccine doses.
Egypt, Nigeria, Tunisia and South Africa are also set to produce mRNA vaccines, according to the WHO.
Egypt and Morocco are already manufacturing Sinovac and Sinopharm vaccines in partnership with the two Chinese vaccine producers respectively.
Nkengasong said by producing vaccines locally, Africa will be better equipped to fight future pandemics.