Gen Z moves metaverse to the fore
By MAY ZHOU in Austin, Texas | China Daily | Updated: 2022-03-21 09:06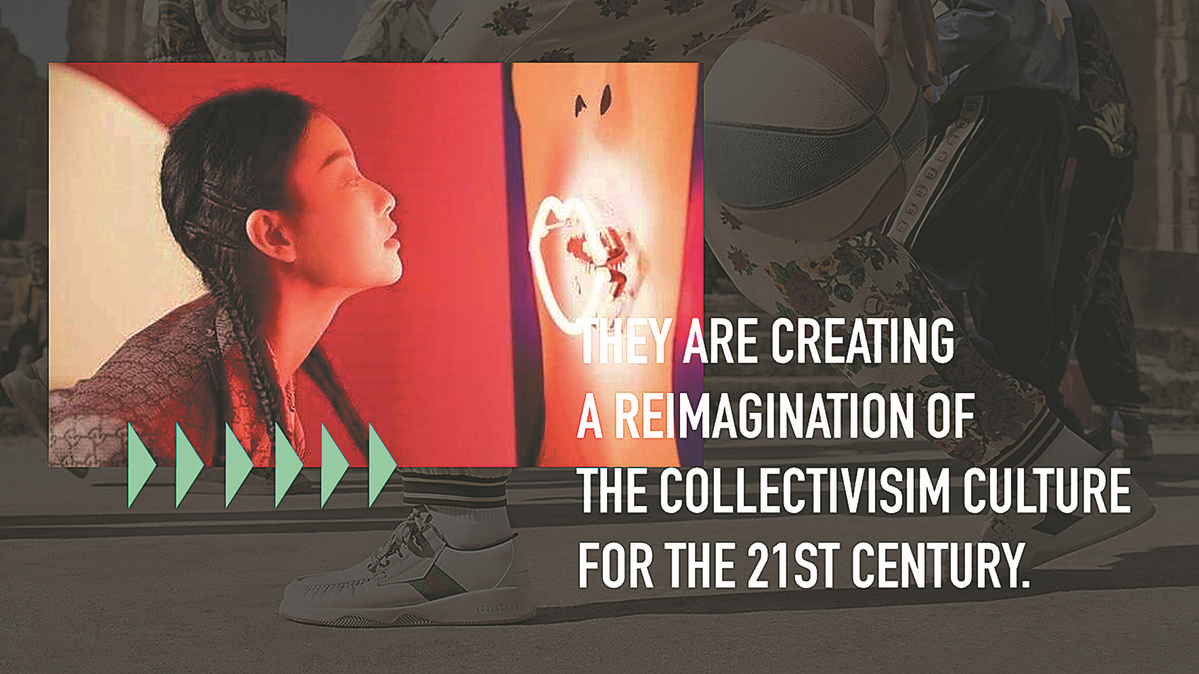 Thanks to China's young generation, the metaverse has been taking shape in China from the ground up.
That's according to Arnold Ma and Tom Nixon, founder and co-founder, respectively, of Qumin, a UK-based Chinese digital creative agency in London, as well as Dao Insights, a platform for understanding contemporary China.
They said that Facebook, which changed its name to Meta on Dec 1, doesn't really get the metaverse with its centralized platform approach, because the metaverse actually moves away from centralized platforms.
Metaverse, a term coined by science fiction writer Neal Stephenson in his 1992 novel Snow Crash, is now used to describe "a proposed immersive version of the internet accessed via virtual-reality headsets, augmented reality glasses, phone apps or other devices", as defined by The Associated Press.
Addressing an audience Tuesday at SXSW (March 11-20), the annual conglomeration of film, music, high-tech and interactive media festivals and conferences in Austin, Texas, the two tech entrepreneurs discussed how China's young generation — those born in the 1990s and 2000s and collectively called Gen Z — is shaping China and influencing the world.
Ma, who is also CEO at Qumin and Dao Insight, explained that China's Gen Z members, unlike the generation of their parents, who experienced China as an undeveloped country, have witnessed the country only as a global economy. Their vast numbers and innate confidence are bringing changes never before seen in China.
"Gen Z has only seen China where Uber, the then-largest tech startup in the world, was acquired by their Chinese rival; where ByteDance (TikTok's parent) became the world's largest startup in just five years by getting users to almost completely rely on AI (artificial intelligence) to serve themselves social content," Ma said.
Wealth has enabled Gen Z to focus on one's self and individual success, a value quite different from China's tradition, where family was the top priority.
"They are using their confidence and the focus on individual success to collectively change China's position on the global stage," Ma said.
Gen Z has turned "made in China", which some view as a negative, to "designed in China", said Ma.
"We have already seen this with the likes of DJI, Tencent and, of course, ByteDance. They are about to effect some of the biggest changes we will see in the world today."
Gen Z can point to where the future is headed, said Ma, and elements of a metaverse already are bubbling up in China.
Gaming and esports are attracting millions of fans, going from niche to mainstream.
Ma mentioned the final match of the team game League of Legends last year. About 500 million people in China watched the livestream on Bilibili — China's equivalent to YouTube. In comparison, the World Cup, the largest sporting event in the world, had an average live audience of 517 million in 2018.
"In just Shanghai alone, there are over 150 professional esports teams. China also has almost 500 million gamers, growing at 10 percent year over year," Ma said. "Gaming is less of a niche hobby, truly mainstream — comparable to football or American football."
Another streaming game, Twitch, has produced some global influencers.
"Audiences are moving away from Instagram models, and brands will follow," said Ma. "And Chinese Gen Z is a driving force behind this shift."
Companies such as Nike already have moved into the gaming world to promote their brands, Ma said.
Another trend — virtual humans as influencers — also is becoming popular in China, said Tom Nixon, director at Qumin and Dao Insights.
They are called virtual key opinion leaders (KOLs), and Bloomberg has estimated that their industry has grown 70 percent since 2017 to $960 million in 2021 in China.
"Their mostly Gen Z and millennial audience now reaches almost 390 million people," Nixon said.
For example, China's first vocaloid (a singing synthesizer software product), Luo Tianyi, created nine years ago, is a virtual celebrity with 5 million followers on Weibo. In 2019, she had a holographic concert with China's top pianist Lang Lang. This year, she was invited to perform at the Spring Festival Gala by CCTV.
For the China market, beauty giant L'Oreal created anime-style character Mr Ou as a spokesperson who cares about the environment and discusses beauty styles.
The latest popular virtual human from China is Liu Yexi, who was created on TikTok's China version Duoyin in November last year as a virtual beauty expert who can catch demons. Her first video was a mix of virtual and real characters and scenes.
"This is not just a virtual character, but a virtual character in a world, and the hashtag #liuyexi in the metaverse was viewed 471 million times," Nixon said.
Less than six months since her creation, Liu Yexi has released 12 videos and now boasts more than 8.6 million followers, Nixon said.
There is a lot of discussion about what is metaverse.
To Nixon, metaverse is "very simply convergence of virtual and physical and augmented worlds," and the virtual human Liu Yexi already plays with the convergence of both realities.
Virtual reality, AI or virtual KOLs aren't automatically metaverse, but they are metaverse ready, Nixon said.
Virtual characters such as Luo Tianyi and Liu Yexi can be taken directly into the metaverse to concerts, shops, events and such.
"We hear all around Austin about metaverse, virtual characters, virtual influencers, NFTs, gaming. All of these things are not necessarily of the future; they are here now," Nixon said, adding that individuals and brands can start creating their own virtual characters and prepare for the metaverse.