Questions raised over code in Moderna patent
By HENG WEILI in New York | China Daily | Updated: 2022-03-21 09:52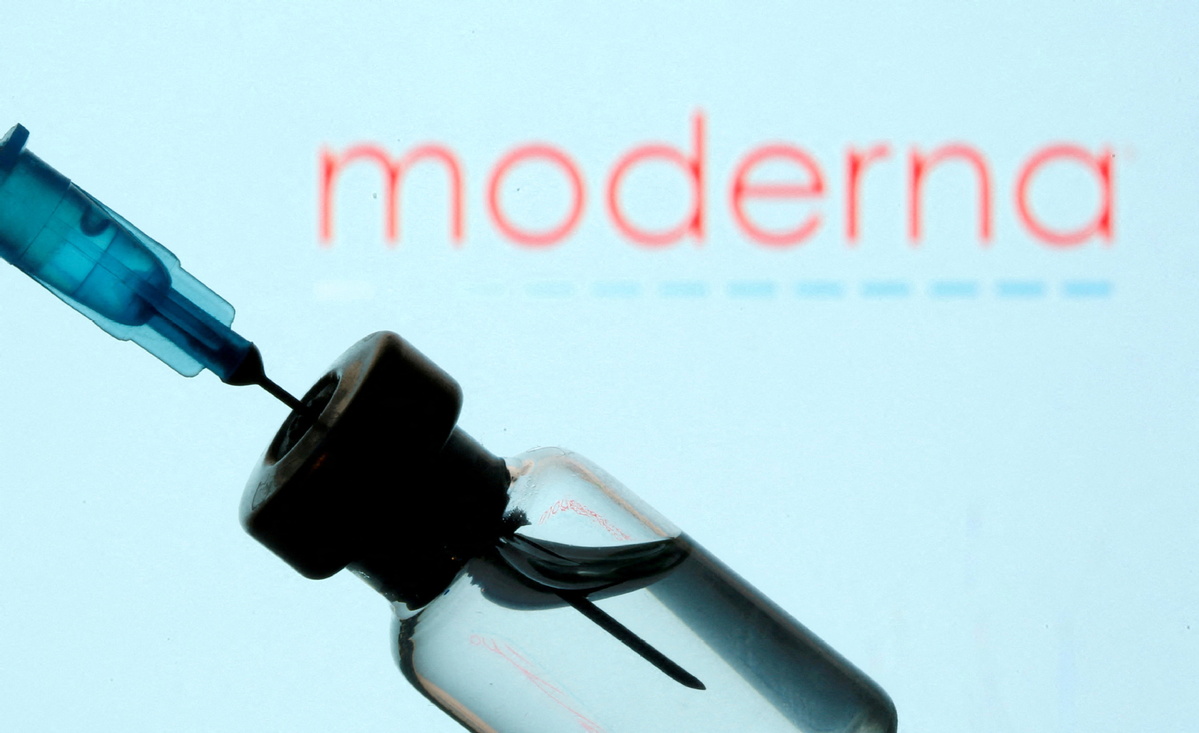 Part of its genetic sequence mirrors part of genetic sequence in virus, study says
The COVID-19 vaccine produced by Moderna Therapeutics Inc has brought the Massachusetts biopharmaceuticals company billions of dollars in sales, much of that through purchases of its shots by the US government.
But as with other vaccines, the debate over their efficacy and side effects continues, as does the debate over the origin of the specific coronavirus that causes COVID-19.
Moderna, Pfizer-BioNTech and Johnson & Johnson produce the COVID-19 vaccines administered in the United States and most of those used in the European Union.
Now, a study, MSH3 Homology and Potential Recombination Link to SARS-CoV-2 Furin Cleavage Site, by an international team of scientists that was published in Frontiers in Virology last month, has indirectly raised questions about a patent Moderna was awarded in 2017.
The team found that a tiny piece of genetic code in the coronavirus is identical to part of a gene patented by Moderna well before the onset of the COVID-19 pandemic.
The study's scientists said there is a 1-in-3-trillion chance Moderna's sequence randomly appeared through natural evolution, although others said the occurrence could be coincidental.
The lead scientist of the study was Bala Ambati, a research professor at the University of Oregon. The team also included scientists from India, Italy and Switzerland. Scientists affiliated with Michigan State University, the University of Pittsburgh and the University of South Florida were among those who conducted the research.
"Our peer-reviewed article was published as a perspective, the main purpose of which was to stimulate discussion," Ambati told China Daily. "We understood from the beginning that this match could be random chance and stated this in the article very prominently.
"What stimulated our interest was not that the sequence was from Moderna, and not that there were other matches in the BLAST (Basic Local Alignment Search Tool) database, but rather that it matched the reverse complement of a synthetic and likely human codon-optimized MSH3 mRNA.
"This led us to the idea that it was possible that there could have been recombination in a human cell line containing this mRNA and a SARS-like virus to produce the FCS (furin cleavage site). Potential experiments could come from this perspective to test this hypothesis."
Potential experiments
The team's "only interest is seeing if an experiment could be designed to test our hypothesis. If such an experiment resulted in the acquisition of an FCS, especially from a synthetic mRNA sequence, it would be quite interesting. However, there are multiple other hypotheses that propose a lab leak that are supported indirectly, that probably have a better basis at this point than ours."
Ambati said there are also "many hypotheses for a natural spillover which also have reasonable bases as well. The issue with most of these hypotheses is that they are not prospectively testable. We want to stimulate discussion amongst all concerned on both 'sides' of the issue to try to produce prospective experiments that can prove or disprove their hypotheses. That is the major purpose of our perspective paper.
"We did not wish to cast aspersions on any person, company, or country. The genetic sequence was discovered in SARS-CoV-2's (the coronavirus') furin cleavage site (FCS), the part that makes it highly efficient at infecting people and that separates it from other coronaviruses.
"We cannot control social media and what it says. For this reason, we do not participate in it. The proper scientific manner is to write an email to us or a published letter to Frontiers and ask us to respond to it." China Daily's correspondence with Ambati was by email.
The coronavirus shares a sequence of 19 specific letters with the genetic section owned by Moderna, which makes an mRNA COVID-19 vaccine. The "m" stands for messenger.
The study said: "A BLAST search revealed that a 19 nucleotide portion of the SARS-CoV-2 genome encompassing the furin cleavage site is a 100 percent complementary match to a codon-optimized proprietary sequence that is the reverse complement of the human mutS homolog (MSH3).
"In any case, the presence of the 19-nucleotide long RNA sequence including the FCS with 100 percent identity to the reverse complement of the MSH3 mRNA is highly unusual and requires further investigations," the study concluded.
SARS-CoV-2 is the only coronavirus to carry 12 unique letters that allow its spike protein to be activated by the furin enzyme, allowing it to easily spread between human cells. The furin cleavage site is located on the spike protein, the structure that binds to human cells.
SARS-CoV-2 carries all the information needed for it to spread in about 30,000 letters of genetic code, or RNA. RNA is present in all living cells. Its main role is to act as a messenger carrying instructions from DNA for controlling protein synthesis.
Moderna filed for the patent in February 2016 as part of its cancer research division. The sequence is part of the gene called MSH3 that is known to affect how damaged cells repair themselves in the body.
The patent for "Modified polynucleotides for the production of oncology-related proteins and peptides" was awarded by the US Patent and Trademarks Office on March 7, 2017. Scientists have called the pathway a potential avenue for cancer treatments.
Stephane Bancel, the chief executive of Moderna, appeared on Fox Business on Feb 24 and was asked about the international team's findings. "My scientists are looking into those data to see how accurate they are or not. As I have said before, the hypothesis of an escape from a lab by an accident is possible. … Humans make mistakes."
There is some debate about whether the match is as rare as the study claims, with other experts describing it as a "quirky" coincidence rather than a "smoking gun", the Daily Mail of London reported.
Professor Lawrence Young, a virologist at Warwick University in England, said the latest finding was interesting but said it was not significant enough to suggest laboratory manipulation.