Students proud to help fight COVID-19
By CAO CHEN in Shanghai | China Daily | Updated: 2022-03-22 09:37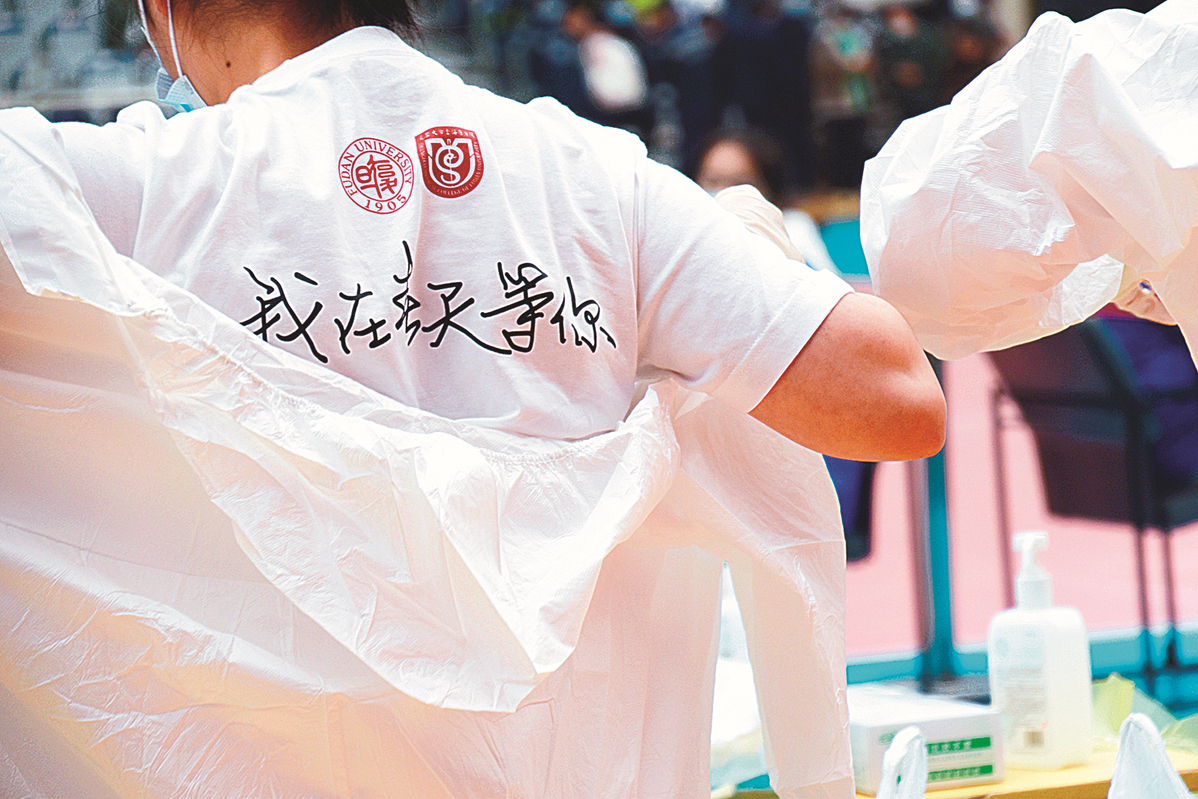 When Zhang Na kept a souvenir T-shirt from a stage play about the fight against the COVID-19 pandemic in 2020, it never occurred to the Fudan University nursing student that the shirt would one day end up in the spotlight.
Soon after the university was put under closed-loop management on March 13, a photo of Zhang performing her anti-pandemic volunteer duties while wearing a protective suit and that very same shirt-bearing the Chinese characters "wo zai chuntian dengni", which mean "waiting for you in spring"-went viral online.
"I was touched by the words as they symbolize hope," said Li Ling, the volunteer who took the photo. "The photo also demonstrates how students can take the lead in the fight against the pandemic."
As of Monday, the latest COVID-19 outbreak in Shanghai has seen more than 3,000 new local infections, most of them asymptomatic. Most universities in the city have been placed under closed-loop management and are conducting regular nucleic acid testing.
Zhang and Li are among 200 medical students volunteering at 12 testing stations at Fudan.
"Chances are scarce for medical students to get firsthand experience," Li said. "When we put on the protective suits and are thrown into a real-world situation, we naturally get to learn about our responsibilities.
"Although we are not licensed physicians yet, I'm proud to be able to contribute in some way."
Meanwhile, at Shanghai International Studies University, over 500 students have been assisting with COVID-19 testing and delivering meals to people on campus.
"When I put on the orange volunteer vest, I feel like I'm going into a battle," said student Ni Xiaoying. "I'm just filled with energy."
Students have also been volunteering in the fight against the pandemic away from their university campuses. Qian Bingru, a senior at Shanghai University of Political Science and Law, has been overseeing COVID-19 testing at an affiliated middle school in the city's Putuo district along with other students.
Besides managing the lines of people waiting for tests, she also verifies health codes and answers queries.
"Back pain and a sore throat are an inevitable part of the job, but the effort is worth it," said Qian, who spent many hours on her feet while fully clad in protective gear.
Li Mengshiming, another student at Shanghai University of Political Science and Law, has been volunteering in her neighborhood since March 10. She has been tasked with verifying residents' identities.
When asked about her most memorable moment from volunteering, she recalled one incident when emergency testing had to be conducted at midnight.
"The verification process was slowed down due to insufficient lighting equipment at the temporary testing site," she said.
"But instead of complaining, residents turned on the lights on their mobile phones to help. It was at that moment that I was reminded about how the situation will improve as long as we stay united."