Panda-loving French woman totally at home in Hunan
By FENG ZHIWEI in Changsha and YE ZIZHEN | China Daily | Updated: 2022-03-23 09:23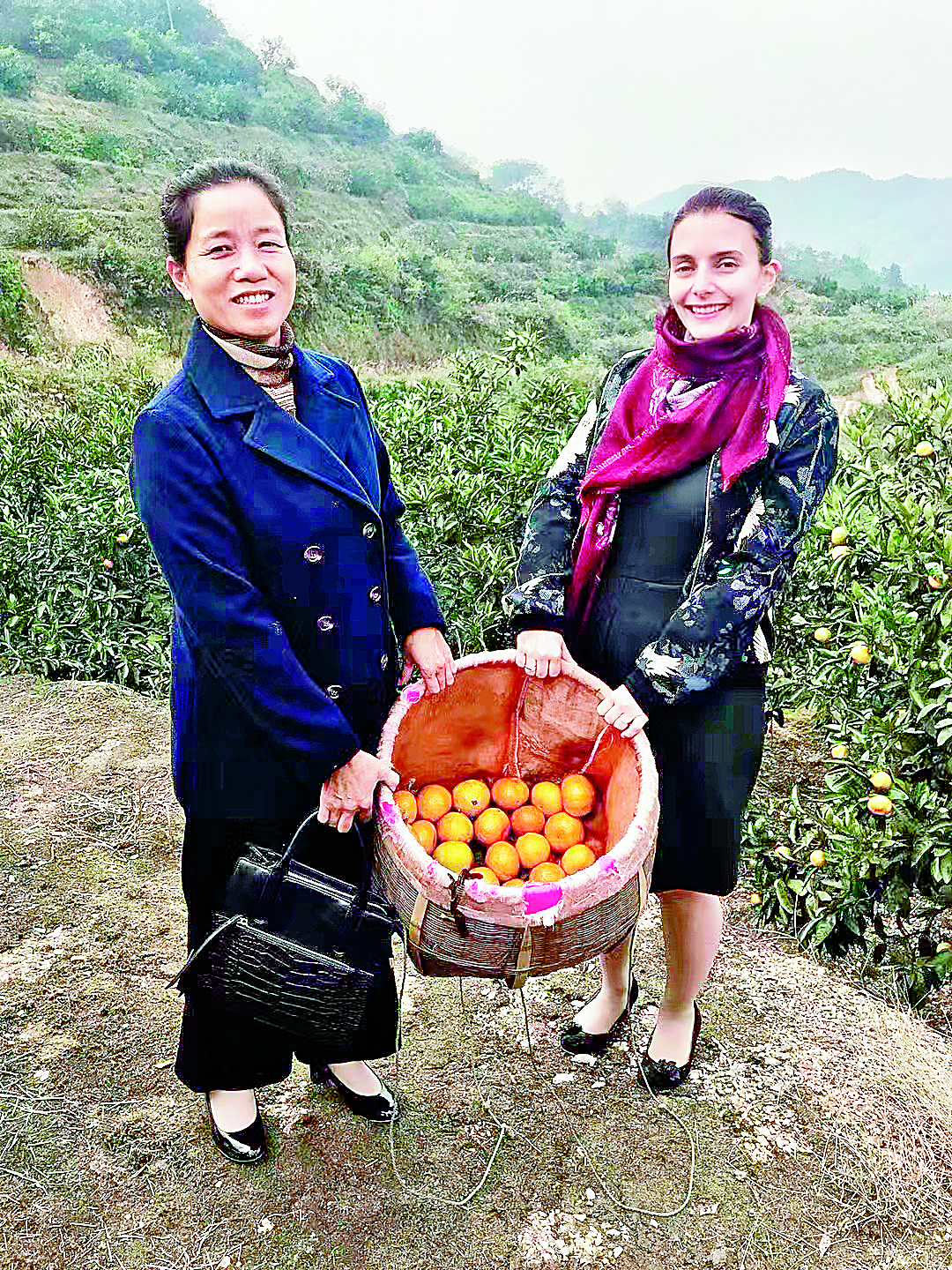 Longtime resident shares life on popular social media platform
If you were to have a conversation with Melody Pace and knew nothing about her, you would probably be surprised to learn that her mother tongue is that of Moliere, not Confucius. In fact, her Mandarin is so authentic that many Chinese hear distinct traces of Hunan province, which has become an important part of her life.
Given that Melody, born and raised on the outskirts of Paris, has spent half her life learning and refining her Mandarin, it is not surprising that she has reached the ranks of those who can legitimately be called bilingual.
As a result, she has gained a large following on social media, regaling whoever cares to listen with stories of how much she enjoys life in rural China.
In recent videos on the popular social media app Xiaohongshu, she is seen clad in pajamas commonly worn in southern China during the winter, digging for bamboo shoots, planting vegetables and dancing with her Chinese mother-in-law. She also talked about many of the other things she did in Anhua county in Hunan during the Spring Festival holiday last month.
Actually, Melody lives in the coastal city of Xiamen in Fujian province, about 1,000 kilometers southeast of Anhua. However, Anhua is a home away from home when she visits her parents-in-law several times a year. "For me, Anhua is my hometown," she said. "Every time I go back there, I feel as though I'm coming home. The air is fresh, and my mother-in-law cares very much for me, and I love her cooking."
Melody said that when she was a girl, she was nicknamed "panda".
"My parents love nature, and when I was little, they often showed me pictures and videos of animals," she said.
One of those animals was the giant panda. After her father told her that it is only found in China, she became intrigued by the country, she said. She first visited China as a high school student. "My parents wanted me to study Italian like my sister, because my father is from Italy," she said. "They tried to talk me out of studying Chinese, viewing it as too difficult. Many of my classmates joked about me learning Mandarin, but now they all think I made the right decision."
On her first trip to China, Melody stayed with a couple in Shanghai who made a deep impression on her.
"They were incredibly hospitable and really helped me improve my Mandarin. We are still in touch," she said.
Melody met her husband, Luo Mengxiang, in 2015 while she was working for the French spirit-maker, Remy Cointreau, where she is still a manager. Luo is a pastry chef.
"In France, the baguette is a daily staple," she said. "But Hunan cuisine has won me over, thanks to my mother-in-law. The good thing is that whenever I have the urge to eat a baguette or any other bread, my husband can bake some."
In one of her online videos, Melody can be seen preparing a type of spicy bacon common to Hunan and the provinces of Guizhou and Yunnan. "In fact, rural life in Anhua is not that different from where I lived in France," she said. "My grandfather had a lot of chickens in his yard, and he grew vegetables. Of course, the vegetables are different. At first, I couldn't quite understand the Hunan dialect, but I gradually picked it up. Now, I even speak with a Hunan accent myself."
One of Melody's pastimes is as a volunteer carer for giant pandas living in zoos in Sichuan province, something she also talks about in the videos. In addition to posting on social media, she has written a book about her life titled My Good Time in China, which is published by Shanghai Educational Publishing House.
"In all these things, I have three goals," she said. "Educating non-Chinese about China, educating Chinese about France and getting more people to appreciate the giant panda."
Zhu Youfang contributed to this story.