Multicultural effort creates Long Tune
By ZHANG QIONG in Wuxi, Jiangsu | China Daily | Updated: 2022-03-28 09:39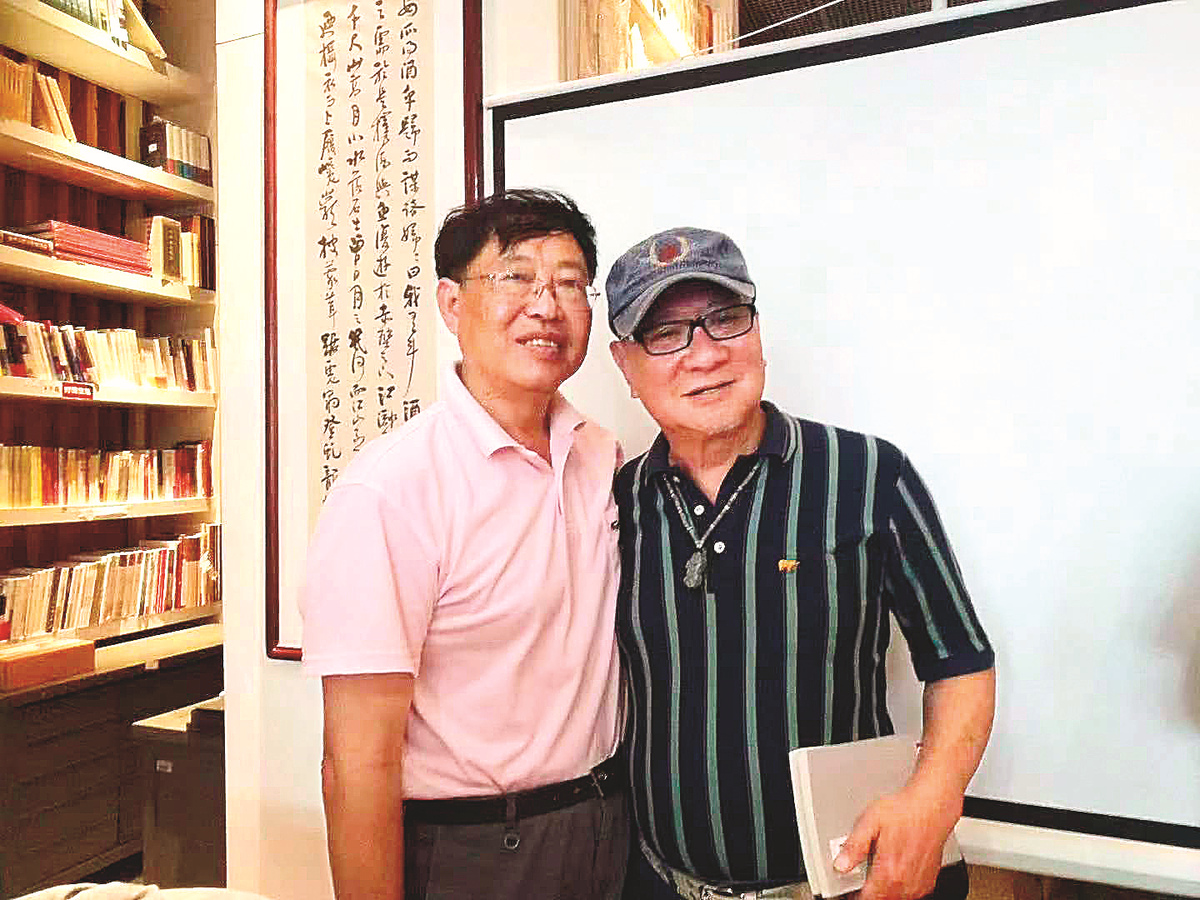 Japanese lyricist works with Chinese composer, singer on a Mongolian song
Chinese composer Li Hong was amazed to read the lyrics to a song written in Chinese by retired Japanese businessman Kawakami Sadao. The song, called Long Tune, pays tribute to Mongolian "long song". Also known as urtiin duu, it is a historic form of folk music that is performed as a lyrical chant. It is on the UNESCO Representative List of the Intangible Cultural Heritage of Humanity.
"The writing was exquisite, solemn and magnificent," said Li, a native of North China's Inner Mongolia autonomous region. She then set the lyrics to music infused with rich Mongolian musical elements.
"A deep appreciation for the folk culture of the Steppes is universal. It is easily felt and not bound by borders," she added.
Released online in early January, Ao Du, a singer with the Chinese Musicians Association, joined Kawakami and Li on the track. Developing a friendship via an online chat group for music lovers, the three artists presented the piece as "a gift" for the 50th anniversary of the normalization of diplomatic relations between China and Japan.
"We often say that China and Japan are separated only by a narrow strip of water," Kawakami said. "The hard-won friendship should be cherished both on the governmental and folk art level."
The 76-year-old, who lives in Hiroshima, was first exposed to long song on Japanese TV, which often shows programs about Mongolian customs as the country is home to many sumo wrestlers of Mongolian origin.
Songs written in the form often convey Mongolian history, culture, aesthetics, ethics and philosophy in lyrics paired with music that can range from being elegant and relaxed to grand and dramatic.
"I was fascinated the first time I heard long song," Kawakami said in fluent Mandarin. "It reminded me of the famous Chinese Northern Dynasty (386-581) poem, 'Between the vast sky and the boundless earth, flocks and herds appear as grass bends to wind'."
Kawakami said that he was so intoxicated by the melody that his lyrics flowed from him one sleepless night.
Kawakami is an old friend of China. In the 1980s, he worked at the Japan-China Friendship Association's branch in Hiroshima, where he helped arrange shows in Japan for an acrobatics troupe and for a song and dance troupe from Chongqing.
He also organized painting and calligraphy exhibitions for Chongqing artists in Japan.
He said that these activities were the prelude to the establishment of a sister-city relationship between Hiroshima and Chongqing.
In 1988, he began doing management work for a Japanese company in China, where he lived for three decades until he retired in 2019. Having witnessed China's changes over the past 30 years, Kawakami also holds a deep appreciation for Chinese history and culture.
After he retired, he published a book of lyrics about the scenic spots, folk culture and heritage sites of Wuxi in East China's Jiangsu province, where he lived for 23 years and which he came to call his second home. "The lyrics are concise and easy to remember. In this way, I want to contribute to friendly exchanges between the Chinese and Japanese peoples," he wrote in the book's foreword.
The lyricist has collaborated with three Chinese composers, including Zhang Zhishen from Harbin in Heilongjiang province and Yang Hong from Wuxi, all of whom wrote music to go with his lyrics free of charge. He feels that Wuxi has done a good job of promoting Sino-Japan friendship, regularly organizing painting exhibitions and cherry blossom festivals between the two countries.
Kawakami continues to be excited about promoting the relationship through his lyrics.
"Artistic communication needs to be done by someone. As long as it happens, there may be results," he said, adding that he is planning to introduce some of his lyrics to bands in Hiroshima with the hope that the Japanese develop a better understanding of China through songs.
Xu Ruilan, former director of the culture and art club of the Wuxi Association of Foreign Invested Enterprises, said that Kawakami's writing demonstrates the different foreign perspective and experience of things that are familiar to Chinese.