US plan to send LNG to Europe faces hurdles
By MAY ZHOU in Houston | China Daily Global | Updated: 2022-03-31 09:55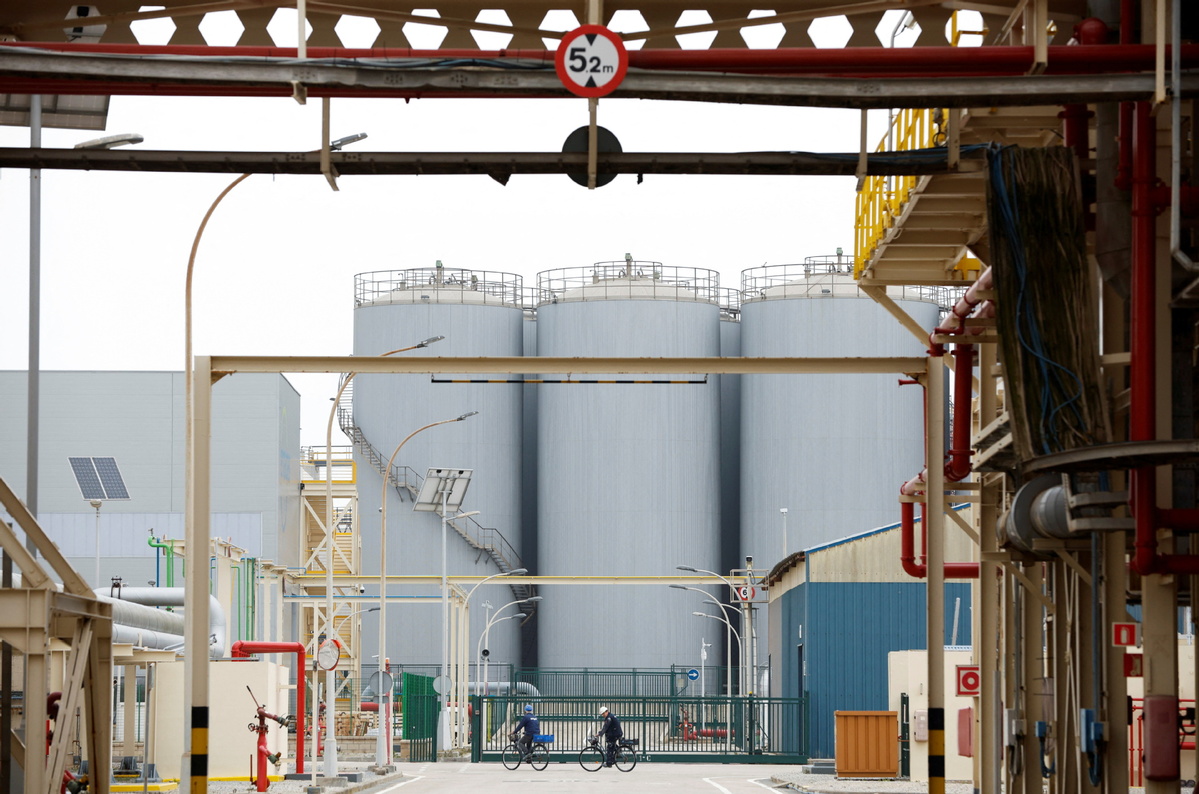 The US and EU have reached a deal to find ways to gradually reduce and end Europe's dependence on Russian energy exports and to strengthen European energy security with a focus on developing green energy. Some industry experts, however, say that it will take some pain and time to reach that goal.
The Task Force for Energy Security will be formed with a representative from the White House and a representative of the president of the European Commission as chairs, the White House announced on March 25.
The US-EU plan calls for delivery of 15 billion cubic meters (bcm) of LNG to the European countries within this year and then for the US to supply 50 bcm of LNG a year to EU countries by 2030.
The EU aims to stop being dependent on Russian fossil fuel by 2027. That goal won't be easy to attain. EU countries currently rely on Russia for 40 percent of their gas needs and imported 155 bcm of gas from Russia in 2021.
To immediately reduce some dependence on gas from Russia, the plan will implement energy-efficiency solutions such as smart thermostats and heat pumps to reduce energy demand by 15.5 bcm this year. The expansion of wind and solar energy is expected to supply another 20 bcm equivalent of gas, according to the announcement.
Already, France is ending subsidies for new gas heaters in homes and will subsidize electric heat pumps instead.
Italy, the second-largest EU consumer of Russian gas after Germany, is planning to substitute gas with coal at some power plants.
Germany, the largest importer of Russian gas, has been looking elsewhere and reached an energy agreement with Qatar. It also has signed an agreement to build the country's first LNG facility with the second one being planned. However, it will take time to build and won't be immediately available.
Poland, Italy and other EU countries also have been looking elsewhere for alternative gas supplies and have so far secured some.
The energy shift points to higher energy prices and pain for consumers.
The White House didn't specify where the first 15 bcm of LNG for 2022 will come from.
According to the Financial Times, the US exported roughly 22 bcm of LNG to Europe in 2021 and has already sent 10 bcm in the first quarter of this year to the EU, based on data from Refinitiv.
Currently, about 70 percent of US LNG exports are heading to Europe, and it will be a challenge to find the 15 bcm for this year in the US alone. As the largest LNG exporter in the world, there isn't a lot of excess capacity left in the US to export more LNG to help the EU out.
"Everybody asks what can you do in the short run to get more volume into Europe, and the only answer is to run our facilities as well and as reliably as possible," Anatol Feygin, chief commercial officer at Cheniere Energy, told The Wall Street Journal. "There's no silver bullet that makes an additional [LNG] train appear."
According to S&P Global, six major gas liquefaction facilities in operation in the US have been running at or near full capacity for months. A seventh export terminal — Venture Global LNG's Calcasieu Pass facility in Louisiana — shipped its first cargo March 1, and extra exports to the EU will likely come from there as it continues to ramp up production.
Cheniere, the biggest US LNG exporter, is expected to undergo a 10-metric tonne per year midscale expansion at its LNG terminal in Corpus Christi, Texas, at least by June. It has secured sufficient contracts tied to the project to underpin financing.
Those and a couple of other expansion projects will take some time to see new production flowing within this year and significant production increase requires new projects.
S&P Global reported that a few proposed gas projects, sitting on the sidelines due to the oil-price dip, already have the necessary federal permits.
"Any incremental LNG cargoes sent from the US to Europe are more likely a redirection of existing US LNG cargoes — and hence will do little in terms of material 'price relief,'" the FT reported Bank of America as saying.