Acting in China: An Expat's Perspective
By AJ Donnelly | chinadaily.com.cn | Updated: 2022-04-01 09:10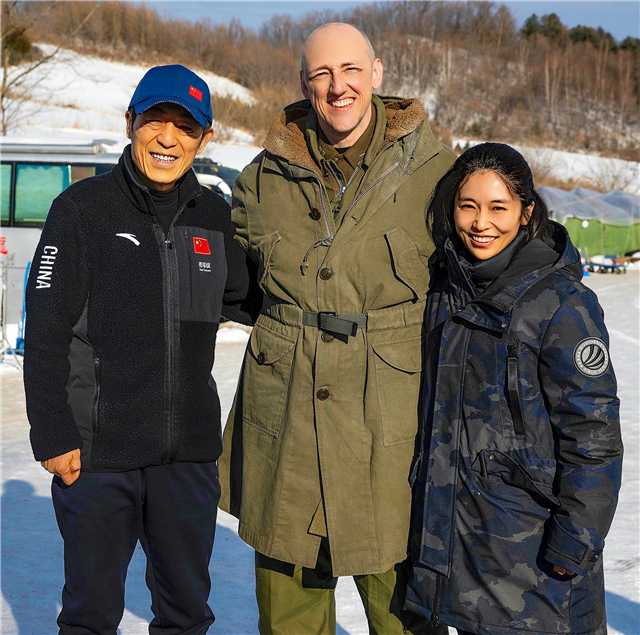 When I arrived in China on September 17th 1999, just a month after my 21st birthday, becoming an actor was the last thing on my mind. I had dreamed of being an actor since I was 7 years old, but now I was 'mature' and heading towards a whole new life in China. I couldn't think about childhood fantasies anymore. But life sometimes has a peculiar way of putting us back exactly where we should be, even if it takes a while.
When I say acting was my childhood dream, I'm not simply talking about idle daydreams. My first performance was in my primary school's play 'Goldilocks and the Three Bears', with 7-year-old me playing Daddy Bear. Even so long ago, I remember what a formative experience that was. I was a shy kid, but when I was acting, it was completely different. I had no fear, no lack of confidence. It was thrilling, even for a young me!
As I got older, started studying Chinese martial arts (and found the confidence that came with it), acting was no longer the lifeline I needed to get through each day. Life was calling me in a new direction.
Path to China
Through kung fu, I slowly learnt about a whole new world I had previously never been exposed to: China. I had a wonderful kung fu master in the UK, David Rogers. He used to tell us stories about his time studying in China, about the country, the people, and the culture. I was enthralled, and knew I had to go there. I could just feel that's where my future was, everything I felt I needed and wanted to become.
I arrived in China in September 1999, just a few weeks after my 21st birthday. For the next decade, I immersed myself in my new life in China. Aside from occasional appearances on Chinese chat shows and an appearance on a TV commercial for a local Shijiazhuang brand, I had nothing to do with the world of acting or performance, leaving behind those dreams for a more stable life. Instead, I learnt more about Chinese life, history and culture and eventually opened my own company, helping other expats experience traditional culture and learn its value. It was, and still is, a very fulfilling endeavor.
However, although I found success in business and love in a happy relationship, I knew that something was still missing, like a piece of me just wasn't there. Fortunately my then girlfriend, now wife, knew of my past passions, and when she noticed upcoming auditions for amateur theatre group Beijing Playhouse, she encouraged me to audition. I was excited about going but had no idea what to expect, so I just went along for the fun of it. But I ended up getting cast in the lead role and acting literally changed my life. For the second time!
Return to Origin
Renewed by a sense of exhilaration at being back on stage, and now finding myself surrounded by fellow thespians with on-camera experience, I started to look for other acting opportunities.
Fortunately again, my wife never let me walk away entirely. Now, since 2015, I have had roles in over 20 movies, TV productions and stage shows, including local historical dramas such as The Ying River and Southern Islands and movies that saw international release, like Sky Hunters and Wild Cards, all while running my own company full-time.
I was also honored to have starred in directors Zhang Yimou and Zhang Mo's latest movie, Snipers, which saw a release over the Chinese Spring Festival 2022 holiday period.
Snipers, filmed on location during a bitterly cold winter in China's Jilin Province, tells the story of a confrontation between Chinese and American soldiers and snipers during the War to Resist US Aggression and Aid Korea (1950-53). I play the role of American army captain Williams, who is trying to lead the battlefront assault on the Chinese snipers' position.
It goes without saying, but working with directors like Zhang Yimou and Zhang Mo is the highlight of any actor's career. They are fantastic directors, and the story of Snipers is one that I'm glad they chose to tell. It isn't an action flick, but a character-driven story, not a story of good vs evil, but of two sides, both doing what they think is the right thing to succeed. It's a movie that really makes you think.
The passion Zhang Yimou and Zhang Mo had for sharing this story, the importance they placed on making sure that every little detail was correct, their desire to not show heroes and villains, but simply two sides of an awful situation, and being around them and that environment really reminded me of why I love acting so much, why being an actor and being part of that storytelling process is so important to me. There's really nothing like it.
No pain, no gain
Of course, as glamorous and exciting as a career in film and TV may seem, it isn't without its challenges. Long days, high-stress environments and injuries are par for the course. But before I even get on set, just getting cast can be a struggle. Perhaps because of my non-stereotypical look, out of my 20+ performances over the past 8 years, 95% have been playing the villain, including most recently a 19th-century British loan shark in Guangzhou on the TV show The 13 Hongs of Canton.
Having said that, as with other industries in China, things have been developing fast in the Chinese movie industry, both in terms of the interest in Chinese productions, their overall quality, and directors willingness to look past the surface of an actor and consider what else they can become on screen. My most recent roles have all used great makeup and wigs to completely change my appearance, something that would rarely have been done a few years ago.
So yes, productions are getting much more creative, from makeup and costume, to content and storytelling. So things can change. Hopefully casting opportunities for foreigners get broader too. Comedy is really my passion, so I hope to get more opportunities to be funny in the future. With the speed that the Chinese TV and movie industry is developing, I think anything is possible. You just never know what opportunities you'll get tomorrow.
Yuan Liao(Cecilia)contributed to the story.