India sees enhanced strategic cooperation with China, Russia, experts say
By APARAJIT CHAKRABORTY in New Delhi | chinadaily.com.cn | Updated: 2022-04-08 21:15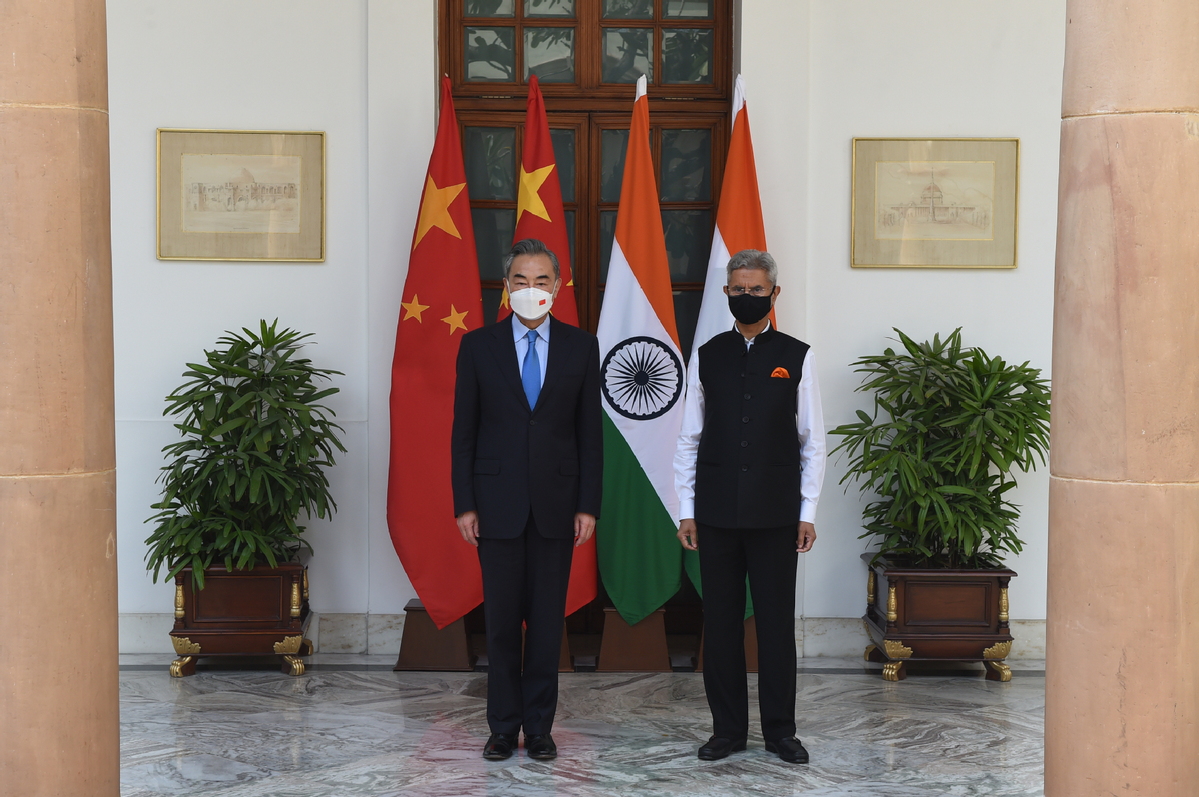 The recent visits to India by the foreign ministers of China and Russia have enhanced India's strategic cooperation with the two countries, experts said.
The separate visits by China's State Councilor and Foreign Minister Wang Yi and Russia's Foreign Minister Sergey Lavrov took place against the backdrop of the Russia-Ukraine conflict. Wang arrived in New Delhi on March 24 while Lavrov started his two-day trip to the Indian capital on March 31.
The conflict has provided an opportunity for a warming of China-India ties, said Ritu Agarwal, an associate professor at the Centre for East Asian Studies at New Delhi's Jawaharlal Nehru University.
Former Indian diplomat Virendra Gupta said the visits are part of regular strategic cooperation and the rest of the world should not see the three countries as being in one bloc.
Beyond the strategic cooperation, India seeks to boost trade ties with Russia and to ensure smooth economic cooperation with China by resolving outstanding issues, Indian diplomats said.
Russia shares a strong strategic partnership with India and they have respect for each other's national interests, Lavrov said after a meeting with India's External Affairs Minister S. Jaishankar on April 1. The two partners are seeking to further intensify their trade in the national currencies, Lavrov said, adding that "relations are strategic partnerships ... This was the basis on which we've been promoting our cooperation in all areas".
Arindam Bagchi, spokesperson for India's Ministry of External Affairs, said at a media briefing on April 7 that India has well-established economic ties with Russia and they need to be stabilized. "Our focus is on stabilizing economic relations in the current circumstances," Bagchi said.
Jaishankar and Indian Defense Minister Rajnath Singh will visit the United States for the "2+2" dialogue with US Secretary of State Antony Blinken and Defense Secretary Lloyd Austin on April 11 in Washington, DC, India's Ministry of External Affairs announced on April 7.
The visits by Lavrov and Wang have intensified the cordial relationships among the three countries, senior Indian diplomats said. They said China has moved toward India in a conciliatory note, which India sees an opportunity to resolve outstanding issues with China.
Both China and India have refused to condemn Russia's "special military operation" in Ukraine. Both abstained from voting on a United Nations resolution demanding Moscow withdraw its troops. Both have called for a peaceful resolution in Ukraine.
Beijing has faced Western pressure after it abstained from the resolution. India has also drawn flak from the United States and Western blocs over its refusal to condemn Russia and for continuing to buy arms, defense technology and crude oil from Russia.
Russia has welcomed India and China's "independent and balanced" stance. However, the US criticized India, saying that engaging in business with Russia will help fund its war.
Responding to a debate on the situation in Ukraine in India's Parliament, Jaishankar said on April 6 that "if India has chosen a side, it is the side of peace and it is for an immediate end to violence".
India is focused on stabilizing economic transactions with Russia, a "very important partner", Jaishankar said, adding India has "very candid, very direct" conversations with all partners regarding its position on the Ukraine crisis.
Russia is India's biggest arms supplier and 70 percent of India's armed forces systems are of Russian origin, experts said. Russia accounted for nearly half of India's arms imports between 2016 and 2020, according to the Stockholm International Peace Research Institute.
Trade and arms deals signed last year by Indian Prime Minister Narendra Modi and Russian President Vladimir Putin included a 10-year military and technical cooperation program. India also imports huge quantities of crude oil from Russia.
Moscow has always backed India in global forums, said Professor Sanjay Rao Ayde, head of the political science department of St Stephen's College, New Delhi.
Wang held meetings with Jaishankar and India's National Security Adviser Ajit Doval. Lavrov met with Wang on March 30 in China, the day before his visit to India.
"China does not pursue the so-called 'unipolar Asia' and respects India's traditional role in the region," Wang said in India. "If China and India spoke with one voice, the whole world will listen. If China and India join hands, the whole world will pay attention."
Wang, during his meeting with Doval, pitched China and India as two Asian powers that should stand together. Both countries sought national rejuvenation but should not pose a threat to the other, he said, according to a statement by the Chinese Foreign Ministry.
The writer is a freelance journalist for China Daily.