Remaking devices of yesterday
By TAN YINGZI and DENG RUI in Chongqing | China Daily | Updated: 2022-04-14 09:59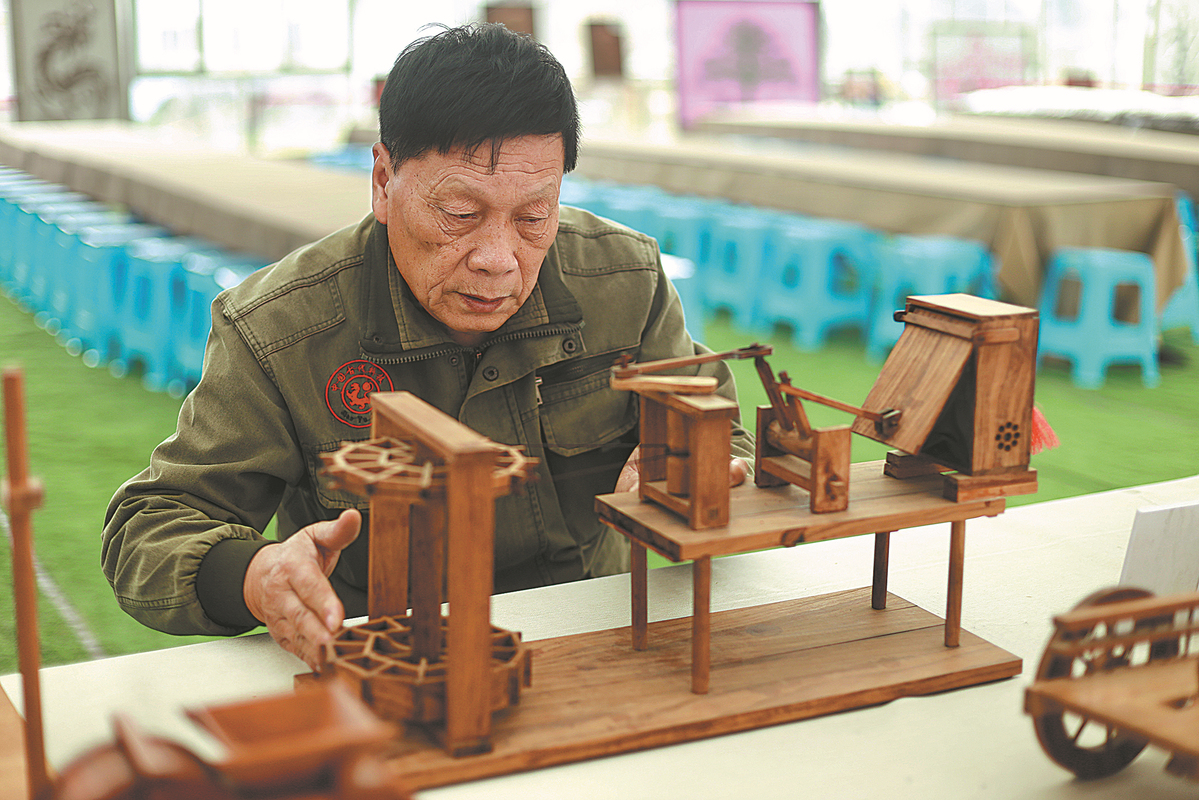 Senior's dedication to rebuilding ancient technology appreciated by students
A 75-year-old self-confessed "technofreak" who has restored dozens of full-scale ancient Chinese inventions is now trying to spark the interest of young people by offering them hands-on experience with the devices.
In March last year, Tang Jialu, who has been studying ancient Chinese science and technology for nearly 40 years, set up a research center in Chongqing for students to learn how to reproduce Chinese scientific and technological artifacts.
Located at Colorful Happy Farm in Chongqing's Shapingba district, the center contains a collection of two dozen models of ancient devices, among them a vertical-axle windmill and water-powered bellows.
Many windmills in China now mimic European designs, but as early as in the Han Dynasty (206 BC-AD 220), the country had its own style.
"That's the wisdom of our ancestors," Tang said, pointing at a picture of a restored windmill carefully filed away in one of his folders, adding that the shaft would rotate regardless of the direction of the wind and could power four stone mills simultaneously.
The sprightly man usually starts work at 8 am and finishes at 9 pm, teaching or preparing materials, and he sometimes returns to the center on sleepless nights to continue his research.
Students usually get 40 minutes of hands-on experience after a 20-minute overview of working principles from Tang.
"Studying here is much more fun and meaningful than playing with Lego," said 40-year old Li Xiang, who has taken his 10-year-old son Li Bohan, to the center twice. "It improves Bohan's hands-on skills and gives him an introduction to ancient knowledge."
Li said that he and his son have made miniatures of an ancient recliner themselves, shaping all its components and assembling it at the center.
"The teaching has paid off, and the students show a keen interest in ancient science and technology," said Wei Lai, director of Colorful Happy Farm.
Some 20,000 students and their parents had visited the center by February, including 100 university students majoring in civil engineering.
Tang was born in Beijing in 1947. In the 1980s, he left the city to work at a research institute in Chongqing's Yongchuan district. He met some foreign visitors there, and by sending them each well-chosen examples of Chinese folk craft, such as a sculpture or a painting, Tang's interest in the past grew.