Soothing sound of music works its magic
By CHEN NAN | China Daily | Updated: 2022-04-21 07:48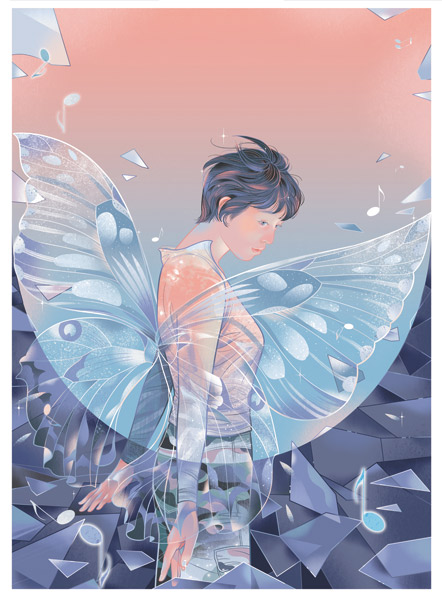 Listeners learning to ease stress during pandemic
Li Yang had often heard people say that music can heal, but didn't understand how until she experienced its recuperative powers herself.
Since the end of last month, the 32-year-old Shanghai native has had to stay home after a new round of COVID-19 hit the city.
Like many others, she has faced sleepless nights, anxiety and fear. Her upstairs neighbor tested positive for the disease, while her next door neighbor's antigen self-test also returned positive.
"I've never experienced anything like this before. I am having a hard time adjusting to being at home more than usual and feeling stressed about the situation," said Li, who before the pandemic emerged had a regular job as a civil servant.
She and her husband are now working as volunteers in their neighborhood every day, helping residents solve a variety of problems and buying food for them
After a long day, Li likes listening to music, especially soothing and relaxing sounds without lyrics. She also has taken up a hobby-learning to sing through online courses.
One of her teachers is the singer Gong Linna, who has given online vocal training to amateur music lovers since 2020.
On the night of April 12, Gong gave a 90-minute online class, which attracted an audience of more than 300,000, including Li.
The class started with Gong teaching participants breathing exercises. "Check your posture.Keep your shoulders down and relaxed. Make sure your back is straight. Breathe deep with your belly," she said while demonstrating the moves.
The veteran singer is known for her powerful voice, wide vocal range and solid performing technique. In 2010, her song Tan Te, or Disturbed, propelled her to stardom.
Written by her German husband Robert Zollitsch, the song has no lyrics and fully showcases Gong's singing skills, making her a sensation on the internet.
"I usually start the day practicing my qi, which helps rejuvenate, refresh and lift my spirits. Qi is the energy that flows through your whole body. A balanced qi movement has the power to make you strong physically and happy emotionally," Gong said during the course.
Difficult time
Due to the pandemic, Gong has spent much more time at home, during which she has learned traditional Chinese instruments such as the guqin and the pipa.
She told the course participants: "I know we are going through a very difficult time together. I sometimes also experience emotions such as anxiety and fear. I hope that singing can benefit you physically and mentally.
"I also have a tip for you-when you sing a song that you love, you can also move your body and dance to it."
Every Tuesday, Gong gives online vocal training classes from her home in Beijing. Her target audience was initially seniors, but she later attracted many young people.
"Seniors love singing. You see them singing in parks and the gardens of their communities. I also teach my neighbors to sing every weekend, but I never expected so many younger people to join me," Gong said.
She selects one song each week, especially old songs that seniors are familiar with. After her class, students practice at home, where they share their experiences and exchange ideas in WeChat groups.
During her classes, Gong also imitates the sounds of animals, such as a rooster crowing and a cow mooing, as a fun way to encourage her students to open up.
Li, the Shanghai native, is shy and at first she couldn't sing or make such sounds. However, she gradually followed Gong's instructions at home and learned to sing and make animal noises for fun.
"There are many good reasons to keep music in your life, especially now that we're living amid the COVID-19 pandemic. It's more than learning to sing a song. It's about making myself happy and optimistic," Li said.
"We are experiencing increased anxiety during the pandemic, so it's important that we don't lose the ability to enjoy our lives."
Li also plays the guzheng, or Chinese zither, a plucked stringed instrument. She mastered it when she was 25 as a way to entertain herself and relax to its soothing sounds.
"But I played it less and less, even stopping for a few years because I was distracted by many other activities, such as going to the cinema, karaoke and shopping," she said.
"I only started to play the guzheng again about two weeks ago. It brings me peace."
'Mending minds'
Chinese musicians, orchestras and performing arts organizations also have launched online programs since 2020, seeking to "mend minds" with music.
The Shanghai Symphony Orchestra recently started an online program featuring 14 of its principal players, including cellist Huang Beixing and trombone player Hao Jie. They teach children and adults with or without experience of learning music to play instruments.
Huang said: "Participants meet online several times a week to play music together. We are connected musically amid increased isolation during the pandemic."
Zhou Ping, the orchestra's president, said the online programs started in early 2020, when the ensemble's musicians sought new ways to engage with the public as concerts were postponed or canceled due to the pandemic. To date, 88 online classes have been recorded and streamed online.
"We thought about what we could do when people stay home. Many children learning musical instruments came to mind immediately," Zhou said. "We have numerous excellent musicians who are not only performers but also teachers, so why not give free lessons online?"
In addition to online classes, the Shanghai orchestra runs virtual programs such as Pre-Concert Talk, in which its musicians introduce classical music pieces. With simple and easy-to-understand instructions, concertgoers and those who may not be familiar with this genre get to learn about and understand such works.
In 2017, an 80-year-old garden villa in Shanghai was transformed into the Shanghai Symphony Museum, China's first museum for symphonic music. The facility is run by the orchestra. In the middle of last month, the museum opened an online version for audiences to experience the history of symphonic music in China.
Zhou said: "Since the museum opened to the public in 2017, it has been fully booked every day.Now that we have an online version of the institution, more people can visit it, which makes for a great form of home entertainment."
In early 2020, when cities in Hubei province were severely affected by the pandemic, Music Therapy Radio Show, an online program, was launched by the Wuhan Conservatory of Music. The show introduced programs with segments specially designed for mornings, afternoons and evenings to help ease listeners' stress and improve their sleep. The programs were also used by doctors to treat infected patients at three mobile hospitals in Wuhan, the Hubei provincial capital.
In January, when a new wave of COVID-19 hit Tianjin, some communities were locked down, including Su Nan's neighborhood. She had to stay at home for weeks on end.
"My life at that time was very tough, as I have always liked going out with friends," the 35-year-old Tianjin native said.
To keep busy, she decided to play a secondhand electronic keyboard she bought online last summer, hoping to use music to remain cheerful.
Su bought the keyboard after watching the South Korean television drama Hospital Playlist, which follows the story of five doctors who have been friends for about 20 years and work at the same hospital.
"They are good doctors and play in a band together. The show is very funny, but also touching," Su said.
"I also work in a hospital, so I can relate to the show. I learned to play electronic organ as a child, but have not played any musical instrument for several years.
"There are many free online classes teaching amateurs to play piano. I had lots of time to watch those classes and practice at home. Although my life has returned to normal, as the pandemic is under control, I still practice for an hour every day."
Su also shares her hobby with friends and colleagues, encouraging them to learn musical instruments.