The 'golden oldie' that follows me around, even in China
By James Healy | China Daily Global | Updated: 2022-04-29 09:22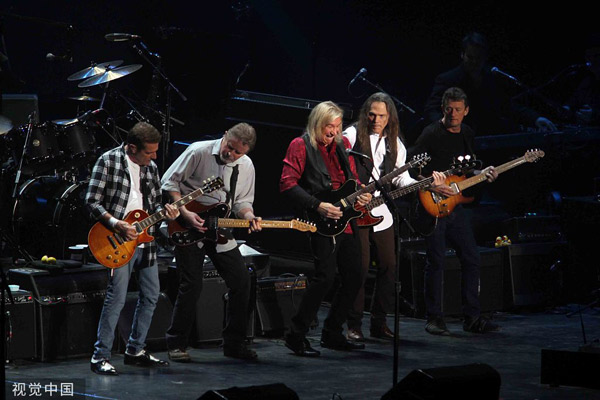 It has been said that the sense of smell is the most powerful trigger of nostalgia. The aroma of fresh bread might remind us of the kitchens or bakeries of our childhood, and the scent of lilacs may arouse memories of budding springtime romance.
However, songs from our past-"golden oldies"-can also prompt powerful recollections of people, places and events.
One song in particular continues to resonate, and it still haunts me-in China, no less-a full 45 years after I first heard it.
I lived in Nebraska when the rock band Eagles released Hotel California as a single in 1977. At that time, I'd never traveled to the fabled West Coast state.
Some two decades later, I visited California and quickly relocated there, staying for nearly 20 years. The Golden State lavished me with ample stunning sunsets, seaside jogs, wonderful music, loads of seafood, and all the good things that living beside the ocean can offer.
And always, it seemed, Hotel California popped up and reminded me that I could "check out" but "never leave" the sprawling state.
I even discovered that Joe Walsh, the celebrated rock guitarist who joined the Eagles just in time to play on their signature song, lived in Encinitas, the small surf town where I long resided.
When the painful moment arrived for my departure from California, in the wake of the layoffs that rocked the newspaper where I worked and also a divorce, I wondered if I really could muster the strength to say farewell to San Diego, Los Angeles and mystical Hollywood, all of which had become my stomping grounds.
I was sure that, true to the song lyrics, I could check out but never actually pull myself free from California's ever-endearing gravitational pull.
Nonetheless, I did cut and run, which set the stage for my eventual move to China. But before that global adventure began, I would frequently hear Hotel California at the local supermarket or on the radio back in my Nebraska hometown, and I would pine anew for the beaches and friends I had left behind.
One might think that the tug of nostalgia would ease its grip once I moved to China. However, true to the song's lyrics, "still those voices are calling from far away".
The first "haunting" occurred one afternoon when I left the office in Beijing for dinner and stopped in at a Subway sandwich shop. While waiting for my order, there wafted to my ears the opening guitar notes, on the shop's in-house music system, of the song that to this day triggers strong nostalgia and even misty eyes.
Weeks later, after partaking of a few cocktails at a bar alongside Beijing's wonderful Houhai lake, I was surprised when the house band began playing a reggae version of Hotel California, causing the air to suddenly become stuffy as I struggled to remain stoic. I simply surrendered to my fate and embraced the gush of melancholy memories.
More recently, as I prepared (a bit tipsy) to leave The Tavern, my neighborhood bar, what song should begin to play on the house speakers? You guessed it.
So, besides the catchy melody, what gives Hotel California such enduring popularity?
That's simple enough. It addresses the universal notion of being "over our heads", of being trapped by our own greed, appetite, vice or circumstances, of wanting to change elements of our life but encountering that all-too-familiar inertia.
"You can check out any time you like, but you can never leave." Who hasn't felt this sense of being mired in a place or situation, especially since COVID-19 reared its ugly head and stranded people worldwide and separated them from loved ones?
That I finally did leave California, and eventually found my way to a new land, China-which has a similar strong hold on my heart-is testament to the fact that we can actually check out, and we can leave, if only we set our heart and mind to it.
And how fortunate we are to have so powerful a force as music to show us to the door.