Rock-hard puzzle for castle enthusiast
By Wang Xu | China Daily | Updated: 2022-04-30 15:09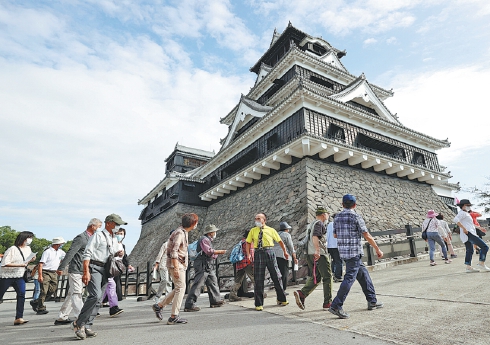 Man's passion for majestic buildings leads him to help reconstruction of Japanese landmark
Describing himself as a "castle nut",30-year-old Wang Yingjun dreamed of building a castle when he was 5 years old. His father told him "you can build one when you grow up", he recalled.
Instead of fulfilling his childhood fantasy in China, Wang began making his dream come true in Japan when he was in his late 20s. However, he was not to lay bricks for a turreted fortress from the ground up. Instead he joined a group of people to complete what could be described as the world's hardest jigsaw puzzle.
Sounding as ludicrous as it appears, Wang works with hundreds of thousands of salvaged rocks. Each has a number marked with chalk and is carefully arranged in a checkerboard pattern across a football field-sized stretch of open ground. He and his fellow volunteers are to decide the correct position of each rock so that they can eventually be placed back into one of the three premier castles in Japan: Kumamoto.
With a history dating back to 1467, the castle was gradually expanded over the years into a complex including 49 turrets, 18 turret gates and 29 smaller gates. It measures roughly 1.6 kilometers from east to west and 1.2 km from north to south.
Located in a downtown park in the quiet city of Kumamoto on the southwestern island of Kyushu, Japan, the castle has been destroyed several times by war and natural disasters. The latest of them was a magnitude 6.5 earthquake followed by a magnitude 7.3 quake two days later in 2016.
More than 43,000 houses in Kumamoto and other prefectures were damaged by the earthquakes with 50 people losing their lives and some 47,000 people forced to take refuge in makeshift homes. As of March, 95 people are still living in temporary homes, according to local authorities.