Agencies support demand for countryside tourism
By Zhu Wenqian | China Daily | Updated: 2022-04-30 15:19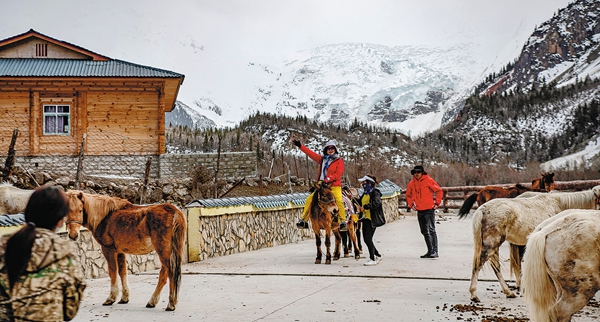 More urbanites keen on country vacations, upping village and farm incomes
Taking trips to destinations with fewer people and beautiful natural sceneries has become a trend in China since the COVID-19 pandemic, and it has fueled a niche for rural tourism, which is becoming more high-end and vacation-oriented.
More young travelers are taking journeys to the countryside, and they are showing more personalized and diversified demand. A large number of cultural tourism towns, bed-and-breakfast businesses with distinctive features, and high-end camping options have thus emerged in rural areas.
Major travel agencies are also making efforts in developing the rural tourism market, driven by the newly emerged consumption demand. In March 2021, Trip.com Group, China's largest online travel agency, launched a rural tourism revitalization strategy. It aims to build high-end farm and village resorts that integrate with rural cultures nationwide and attract more travelers.
By the end of last year, Trip.com had built eight such rural resorts in China, and they are located in Anhui, Hunan, Henan, and Jiangxi provinces and the Xinjiang Uygur autonomous region.
By the end of 2025, the company aims to bring the total number of such rural resorts to 100, it said.
"Rural tourism is a golden key to rural revitalization, and high-end accommodation products serve as the core that will drive the high-quality development of rural tourism," said Liang Jianzhang, chairman of the board of Trip.com.
In April, the Ministry of Culture and Tourism, together with five other ministries, jointly issued a guide to promote rural revitalization with the empowerment of cultural sectors.
For instance, local governments should further develop creative design, performance, music, art, handicrafts and digital culture to help revitalize rural development.
The government will help strengthen project construction and provide financial support in the related sectors. It encourages cultural institutions and employees to go to rural areas to help with local businesses.
The government will also promote more cultural talents, funds, projects and consumption to flow to rural areas, according to the guideline.
Last year, 867 million people took trips to rural areas in China, and the number of travelers jumped 55.5 percent year-on-year, according to the Ministry of Culture and Tourism.
Trip.com said its rural resorts are operated in both self-owned and jointly-owned business models. In December, the company opened a rural resort in Anyang, Henan province. The hotel is self-operated by Trip.com, and it has been responsible for site selections, renovations and providing services.
Last year, a domestic travel TV show was shot at a rural Trip.com resort in Anhui province. Now, the rural resort has set up a series of interesting activities. The resort cooperates with local inheritors of intangible cultural heritage to organize related experience activities such as embroidery, paper cutting and bamboo weaving at the site and thus has attracted more travelers.
"The core of rural tourism is to take relaxed trips, and people seek joyful and experiential lifestyles and getting closer to nature. The booming growth of rural tourism has driven the development of accommodation, camping and outdoor activities.
It is also expected to further promote the sustainable development of regional tourism in suburban areas," said Xie Xiaoqing, a senior researcher at the research institute of Trip.com.
Huang Jingru, vice-president of the GZL International Travel Service Ltd, a travel agency based in Guangzhou, Guangdong province, said the development of rural tourism serves as an opportunity for farmers to start their own businesses, and it helps them to transfer work from agriculture to the service sector. Rural tourism also serves as a new engine for agricultural industrialization.
"Rural tourism products that integrate traditional and ethnic rural cultures and provide different kinds of experiences are foreseen to be well-received by consumers. For instance, rural tourism operators can integrate local ancestral temple cultures and holiday cultures with planting, picking and rural sceneries to draw more travelers," Huang said.