Modified law boosts vocational education
By ZOU SHUO | CHINA DAILY | Updated: 2022-05-03 07:37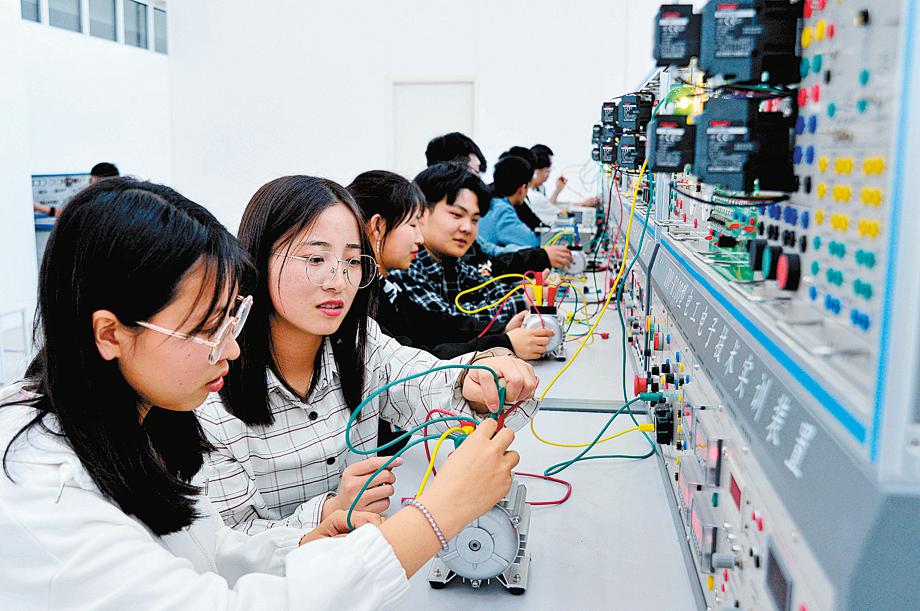 The newly revised Vocational Education Law is expected to improve the recognition and status of vocational education by stressing it is as equally important as regular education, said lawmakers and officials.
The law, which came into effect on May 1, will further integrate vocational education with regular education and facilitate vocational school students in pursuing a higher level of education and getting employment, they said. It is the first time the law has been revised since it was adopted in 1996.
Song Fang, an official with the Standing Committee of the National People's Congress's Legislative Affairs Commission, said implementation of the new law is of great significance to the high-quality development of vocational education, promoting employment and entrepreneurship, and cultivating more high-caliber technical professionals.
The law stipulates that vocational education should be further integrated with general education.
A credit and qualification transfer mechanism is expected to be built between the two forms of education, she said.
Different levels of vocational education will also be further integrated and students in higher vocational education will be eligible to apply for degrees once they meet the national requirement, she said.
To improve the status and attractiveness of vocational education, the law stressed that vocational education enjoys equal importance to regular education. It also asked government at different levels to increase funding of vocational education and strengthen the management of teachers and students to create a better learning environment, she said.
Vocational school graduates should also enjoy the same opportunity in getting higher levels of education, employment and career development as regular school graduates in the same level, Song said.
Zhang Tao, an official with the commission, said the revised law encouraged more participation from enterprises in vocational education to improve its quality.
Enterprises are encouraged to host vocational schools or cooperate with vocational schools through different ways, such as setting up trainee posts for vocational students, taking part in the compiling of vocational education textbooks, and training vocational teachers, he said.
Lin Yu, an official with the Ministry of Education, said the "equally important" provision in the new law has laid a solid foundation for the development of vocational education.
On the one hand, it is conducive to building consensus and improving recognition of the value of vocational education in the whole society. It can also spur more support and participation in vocational education and guide vocational schools to deepen reforms and pursue diverse development, he said.
The ministry will push for the integration of the curriculum, major setting and talent cultivation targets, and plans among different levels of vocational education, Lin said.
The ministry will accelerate implementing an independent enrollment exam for higher vocational education so higher vocational colleges and universities can enroll students, he said.
The ministry will also build a batch of high-quality vocational colleges offering bachelor degrees in the 14th Five-Year Plan (2021-25) period to train high-caliber vocational talent, he added.
Wang Xiaojun, an official with the Ministry of Human Resources and Social Security, said the ministry will guide authorities to prevent discriminatory requirements for vocational school graduates.