Ambassador: Sound trade ties benefit China, US
By LIA ZHU in San Francisco | chinadaily.com.cn | Updated: 2022-05-06 11:01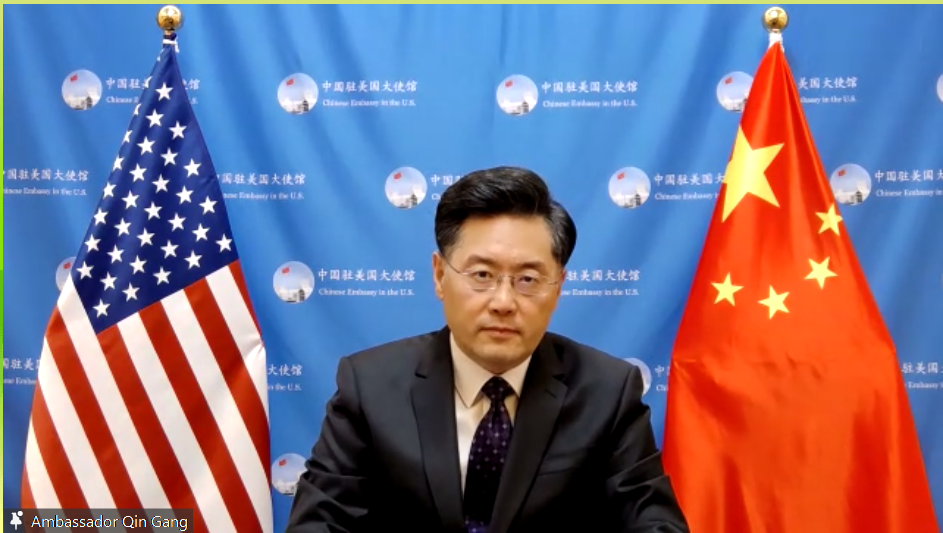 Sound and healthy trade and economic relations between the United States and China are in the fundamental interests of both nations, said Chinese Ambassador to the US Qin Gang, who also urged the US government to cancel tariffs and stop politicizing trade and business.
"We are natural partners, because our economies are highly complementary. Last year, the COVID has caused great difficulties to the world economy. But China-US trade performed well," Qin said during an interview with Forbes published Thursday.
The bilateral trade reached a record high of $750 billion last year, a 28.7 percent increase over the previous year. So far, more than 70,000 American companies are investing in China, and 97 percent of them are profitable. The US-China Business Council's data shows China's imports from the US increased by 21 percent last year.
The ambassador recently visited the US heartland states of Illinois, Iowa and Minnesota, where he met not only CEOs but also farmers and workers on farmland and in factory workshops.
"I have a very strong feeling that the sound and healthy China-US trade and economic relations are in the fundamental interests of our two peoples," he said.
Using agriculture as an example, Qin said China's importing of US agricultural products increased by a remarkable 68 percent over the previous year, to a volume of more than $38 billion.
"American farmers told me their lives very much depend on their exports to China. And I was very impressed with their way of doing modern agriculture … using modern, advanced technology to capture and store carbon on their farms," said Qin.
"Our agricultural cooperation shouldn't be limited to only, 'You sell more, and I buy more.' We should expand to the area of sustainable agriculture, how two countries can learn from each other and help each other to achieve the green and low-carbon transformation in agriculture," he said.
He said that all the business people he met were positive about China-US business relations and they all opposed tariffs; nobody wanted to leave China.
The tariffs launched by the administration of former US president Donald Trump hurt not only China but also the US, and the tariff war hasn't reduced the US trade deficit, said Qin.
"On the contrary, it brings more costs to American companies and American consumers. It cost American companies $1.7 trillion, and it cost American household $1,300 each year since the tariffs were taken into effect," he said.
Since 2018, when the trade war was launched, US exports to China in the three following years were below the level of 2017, and it has cost more than 240,000 jobs in the US.
"The tariff war does nobody good," said Qin. "I think it's time for the US administration to reconsider and to cancel it as early as possible."
Qin also encouraged small businesses in the US to take opportunity of China's huge market and fast-growing middle class.
"China has a population of 1.4 billion. Among them, 400 million are middle incomers, and this number will be growing," he said. He advised the small businesses that are interested in exploring the Chinese market to have confidence in China and do their homework and get familiar with Chinese laws and regulations, so that they can better adapt to the business environment and culture in China and Chinese society. 
On Chinese investment to the US, Qin said that over past decades, many Chinese companies have invested in the US; they have created almost 1 million jobs for Americans. However, the momentum suffered from two viruses — COVID and the political virus, he said.
"Most importantly, it's the political virus," he said. "Trade and business are being politicized in the United States. The so-called national security concept is being abused and overstretched."
Qin said that US-China trade relations have long benefited from people-to-people friendship, which lays the foundation for bilateral relations. "I think the passion and interest between our two peoples for a good relationship, for a more cooperative relationship are still here," he said. 
"China and the United States, as two big countries, as the two largest economies, they need to coordinate and collaborate and to take a leading role to make the world economy recover as soon as possible," he said.