Hospital setting for slick comedy
By CHEN NAN | China Daily | Updated: 2022-05-07 09:12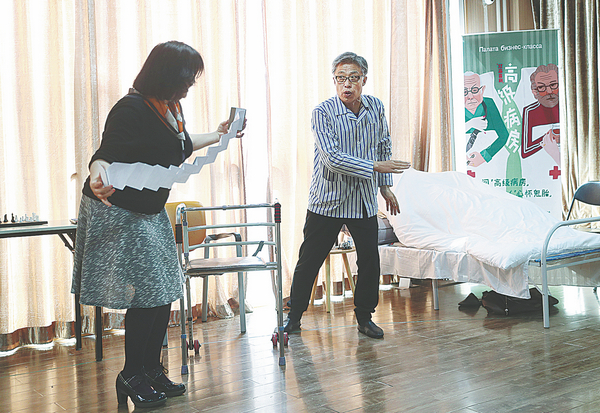 Director Xu Xiaopeng has been writing and directing original Chinese plays since he graduated from the Central Academy of Drama in 2000.
He never planned to direct adaptations until he read the script Business Class Chamber written by Russian playwright Alexander Korovkin.
The two-act slick comedy was written in 2011 and premiered in 2017.
It follows the story of a government official, Raznitsky, and an award-winning actor, Izumrudov, who are in the same hospital room. They have visitors every day. But Raznitsky has a secret. He is in an extramarital affair and lies to cover it up. Izumrudov unexpectedly gets involved in Raznitsky's lies and uses his acting skills to help Raznitsky get through his troubles.
"It's a very interesting and different Russian comedy, compared to the traditional Russian scripts I've read before. It's contemporary and constantly making you laugh," says Xu.
The Chinese play based on Business Class Chamber with the same title was scheduled to premiere at Wuhan Qintai Grand Theater, Hubei province, on May 5. Then it will undertake a national tour throughout the year. However, due to the pandemic, the premiere and national tour have been postponed.
"The Chinese adaptation is loyal to the original script, which moves back and forth between tragedy and comedy. We didn't need to localize the story because within the story, audiences can connect to their own stories, despite of the language and cultural difference," says Xu.
For Chinese audiences, one of the best known works by Korovkin is the TV drama Poor Anastasya. Born in 1963, Korovkin is also an actor. It is the first time that Korovkin's works have been adapted into a Chinese play.
Zhang Wankun, a veteran actor with Beijing People's Art Theater, plays the role of Raznitsky. Zhao Xiaochuan, also an award-winning actor with the National Theater of China, plays the role of Izumrudov.
"Chinese theater lovers have long been in love with Russian theatrical productions, such as works by Anton Chekhov and Alexander Pushkin, but this work showcases a sense of freshness, especially the humor, satire and absurdity," says Zhang, 51.
"There are many young talented people in the creative team, which made me feel younger," says Zhao. "Both Zhang and I changed our acting approaches. We tried to be more dramatic."