Thailand grapples with risk of opening
By YANG HAN in Hong Kong | China Daily | Updated: 2022-05-09 07:28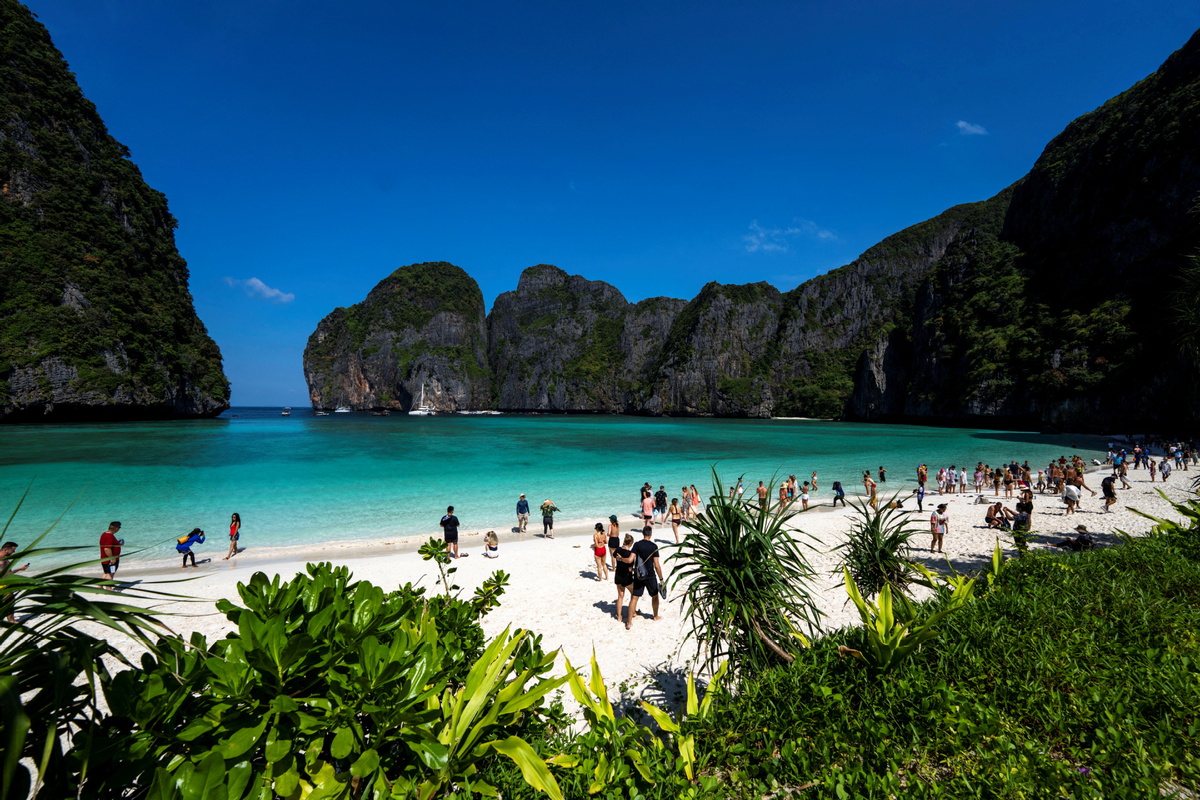 Thailand's further easing of the country's entry rules is a double-edged sword, experts say. On the one hand, it brings hope to the tourism industry, yet at the same time it could complicate how the pandemic is being handled.
Given Thailand's cancellation from May 1 of the Test and Go entry program, Yuwanee Prommaporn, an analyst with the financial services firm Maybank Kim Eng, said she expects tourist arrivals to reach 9 million this year, reaching a peak in the last three months of the year.
"Things are really ramping up, month on month," Yuwanee told China Daily, noting that the number of visitors to Thailand last month is estimated to have been 400,000; a total of 500,000 was recorded for January, February and March. The eased rules would mean that this month tourist numbers would be 50 percent to 100 percent higher than last month, she said.
Ending the Test and Go program means that fully vaccinated travelers can enter Thailand without being required to take COVID-19 tests on arrival. The country had dropped the requirement for pre-arrival COVID-19 tests last month.
Registration for the Thailand Pass is still required for inbound tourists, checking key documents including vaccination certification and advance hotel bookings. Despite all that, the government expects the number of arrivals to rise significantly with the eased entry restrictions.
Rising numbers expected
Between April 29 and May 4 alone, 213,958 travelers had registered for the Thailand Pass, the newspaper Bangkok Post said, citing the country's Centre for COVID-19 Situation Administration.
Bill Barnett, managing director of the hospitality consultancy C9 Hotelworks in Phuket, told China Daily: "There has been a noted increase (since the Test and Go has been removed) … We are seeing more Thailand Passes and hotel bookings."
However, Barnett said the required application for a Thailand Pass is a major hurdle for Thailand to be as competitive as other Southeast Asian destinations including Indonesia, Singapore and the Philippines, which have simpler entry requirements, such as a visa on arrival.
Thailand's Deputy Prime Minister and Public Health Minister Anutin Charnvirakul said on Thursday that he will propose to end the program for Thai returnees first, before lifting it for foreign arrivals.
Removing the Thailand Pass should be the priority for the government to boost the tourism recovery, Barnett said. Providing further incentives for domestic tourism operators and long-term investment in tourism infrastructure projects is also important, he said.
Yuwanee at Maybank Kim Eng said the Thai government plans to declare COVID-19 an endemic disease in July, and this will help greatly with the recovery of the tourism-related economy if things can return to normal.
Thira Woratanarat, an associate professor at Chulalongkorn University's Faculty of Medicine, told China Daily that international tourism campaigns without Test and Go may complicate the COVID-19 situation because the Omicron variant can easily be transmitted to Thailand and cause surges in infections.
In addition, high-risk groups such as the elderly and children under age 12 are still highly vulnerable to the disease because only a small proportion of them have received a booster shot, Thira said.