Dyson values failure, inexperience in creative innovation
By Hu Yuanyuan | chinadaily.com.cn | Updated: 2022-05-09 10:55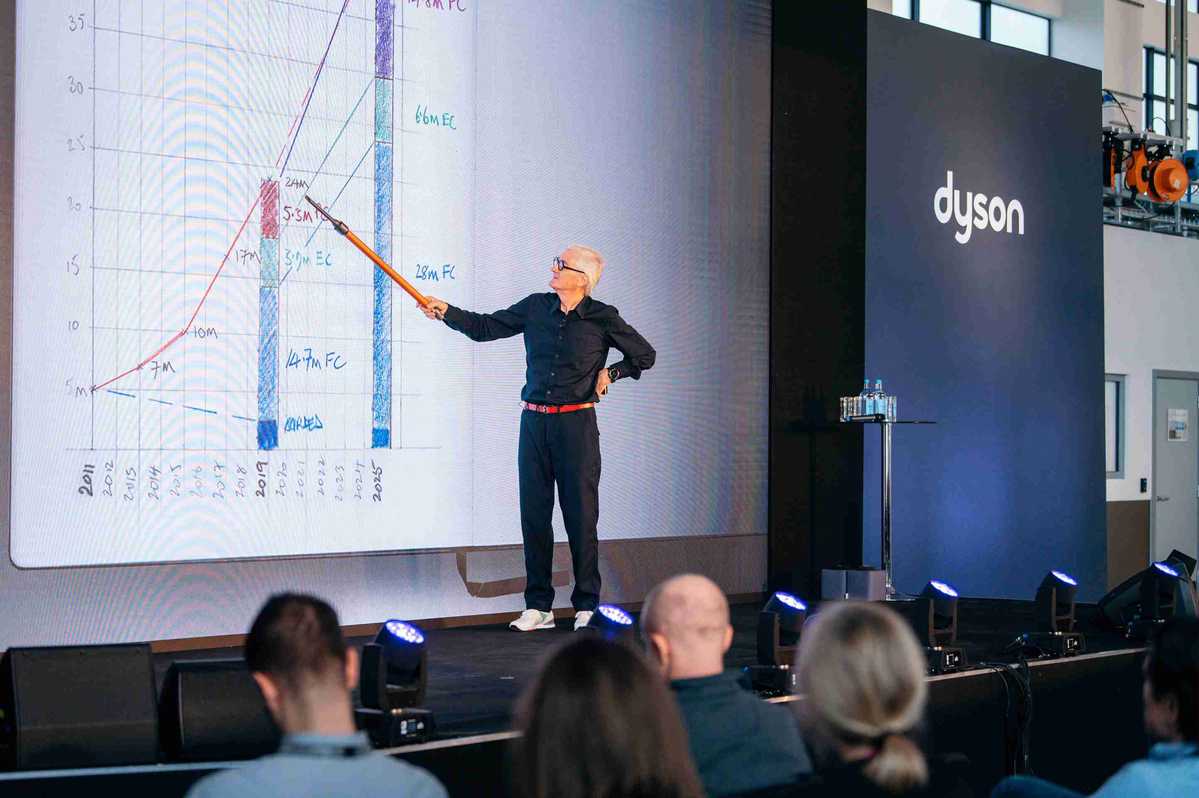 Before Dyson's first cyclonic vacuum finally succeeded in 1983, James Dyson, the founder and chief engineer of the global research and technology company, had failed 5,126 times.
"I sometimes ask myself, if I knew that I was going to build more than 5,000 prototypes, would I even start? And the answer is 'yes', and we are still doing that," said Dyson in an exclusive online interview with China Daily.
The company, which originated in the UK and is now headquartered in Singapore, produces many popular home appliances across 84 countries, such as vacuum cleaners and purified fans.
"Learning by failure is a remarkably good way of gaining knowledge, and it should not be feared by the engineer or scientist, or indeed by anyone else," said Dyson. "In fact, invention is more about failure than ultimate success."
Even in his 70s, Dyson still spends more than 90 percent of his time improving and continuing to invent different types of products.
"That is what I am excited about. Being an engineer is that you can invent things, change the way people live and make the world a better place. That is why it is such a wonderful thing for young people to do," he said.
The company is investing £2.75 billion ($3.38 billion) in the business to come up with revolutionary products and technologies, and in 2022, it will spend £600 million in technology, facilities, and laboratories.
In expanding globally, Dyson prefers to hire inexperienced staff over experienced workers.
"If you want to pioneer and invent new technology, you need to step into the unknown and, in that realm, experience can be a hindrance."
And this is also one of the major points Dyson wants to convey in his book, "Invention: A Life".
"I wrote the book because when I graduated 50 years ago, I didn't know that at the time and assumed that it would become easier with experience. But what I've learned, and it's particularly true, is that, in such a fast-moving world, experience is of little use," said Dyson.
Young people with little relevant experience are unafraid of doing something that might not work. They want to change the world. They don't rely on experience. They just look at a problem intelligently with fresh eyes, even naivety, he said.
"I'm very keen on naivety," he stressed. "When design, engineering and science are combined with new, different, or even naive thinking, intractable problems become solvable."
In China now, Dyson likes young engineers and particularly undergraduate engineers, who are very keen on learning and questioning why things are the way they are.
"From our first day in China, Dyson was always committed to inspiring the next generation of engineers," he said.
Six years ago, the company introduced the James Dyson Award, an international design competition, in China. So far, the award has inspired and encouraged more than 10,000 university students to solve real-life problems with their creative ideas.
"Last year, we welcomed 613 entries from the China market, ranked first globally." said Dyson. "I can see young people want to solve problems in two areas: one is environmental issues, and the other is disability and health issues."
Dyson has a big lab in Shanghai, with at least 50 engineers.
"It is a larger lab than we have in most other countries. It's to understand Chinese consumers, to understand what's going on and to develop technology for us," he said. "It's very important because we need all those inputs and experience of being in the market. It's different cultural input as well."
According to Dyson, the Chinese market is a wonderful market, with a very intelligent and technology-savvy consumer, who also loves good design.
"Chinese consumers are efficient and can do things well. That makes it a wonderful market for anybody who wants to develop new technology into better design," he said.
China is now Dyson's second-largest market, next only to the US market. Meanwhile, China's business environment has been improving, with more efforts being made to protect IPR, which is very important for technology companies like Dyson.
"America is one of the biggest markets as well. But now I think it's that yours is onto things much quicker. Chinese are more receptive to new ideas and indeed more fascinated by new ideas."
Dyson kicked off its local production ambitions in September 2021, and the first batch of locally produced Dyson V12 cordless vacuum rolled out from its production line in Zhuhai, Guangdong province, in November 2021.
"We manufacture in China now, and we're making vacuum cleaners in China, which is new," said Dyson. "This is the first step for Dyson to build a significant local production base to propel our China business, while progressively, support the supply needs of our global business in Asia and beyond."
More significant, the local production investment represents Dyson's confidence and optimism in its continued long-term growth in China, and is part of the company's global ambitions to double its volume and categories by 2025.
Local production also strengthens Dyson's unique position to engineer machines with the distinct needs of the Chinese consumer in mind and to bring the inventions to market even faster.
"Over the coming two years, we expect to broaden the scale of our local production effort in China, particularly in the Greater Bay Area," said Dyson.
Dyson's key areas of interest in the China market include electric motors, artificial intelligence, robotics and new technology batteries.