Inflation surge puts pressure on the US to end trade war
CGTN | Updated: 2022-05-13 12:33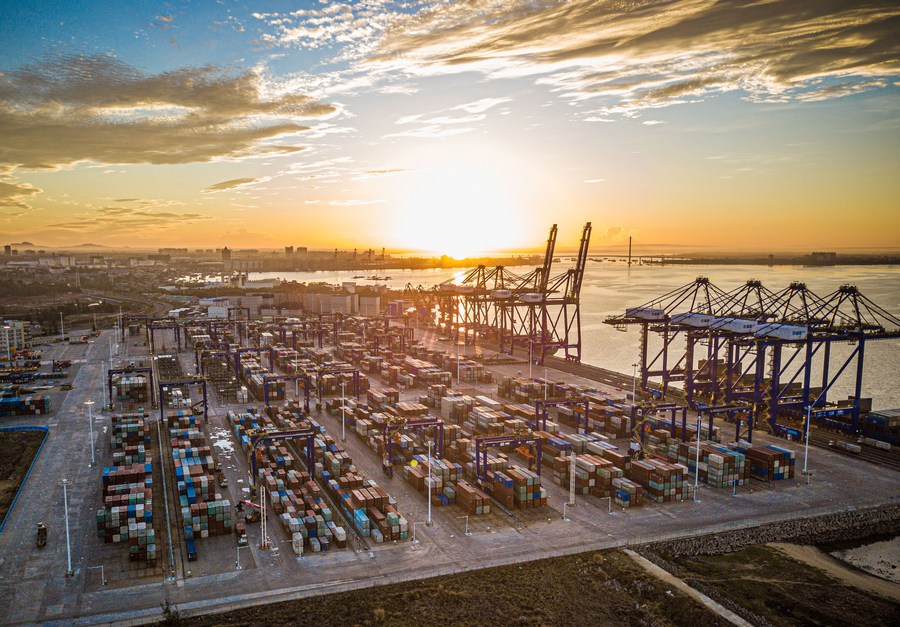 On May 11, the US consumer price index showed annual inflation remained at 8.3 percent per annum. Although the figure was 0.2 percent less than the previous month, it was also higher than expected, showing the growing strain of inflation on the US economy and consumers.
Markets reacted negatively to the news on the perception that policies from the Federal Reserve had been insufficient to stop the surge in prices, sending the Nasdaq 100 index back down into late 2020 figures.
If it wasn't obvious already, a big reason for America's inflation problem is the hundreds of billions worth of tariffs which the previous Trump administration placed on goods from China, America's largest trading partner, which have forced businesses across the board to raise prices.
The Biden administration, which politically embraced his predecessor Donald Trump's China agenda, is now aware of this problem and a debate is ongoing in the administration on whether or not to remove the tariffs. Several days ago, US President Joe Biden told CNN that "We're discussing that right now. We're looking at what would have the most positive impact" although he noted that "no decision had been made."
The trade war, which Trump waged against China in 2018-2019, a cornerstone of America's anti-China foreign policy, has been a monumental failure. The policy was both geopolitical and populist.
Envisioned by advisors such as Peter Navarro, mass tariffs on Chinese goods were intended to undermine China's manufacturing competitiveness in the view to containing its economic rise, shift global supply chains and ultimately force China to make economic concessions which favored American strategic interests.
It was claimed that such tariffs would also bring back jobs to the United States, which was crucial in their domestic marketing and the subsequent scapegoating of China for America's domestic woes. These were termed as "unfair economic practices."
But of course, none of this was true. American industries had willingly outsourced production to China based on cost-effectiveness, labor supply, supply chain and industrial capacity, and not because of "China subsidizing industry." As a result, the tariffs failed to be a game changer in undermining China or procuring benefits for the United States.
In 2021, bilateral trade between China and the US soared by 28.7 percent and amounted to $755.6 billion, amounting to a trade surplus of $357.5 billion. As American consumerism roared back from COVID-19, China proved to be the only country capable of fully meeting its consumer demand. However, the existence of the tariffs subsequently forced up costs for businesses, contributing significantly to a cycle of mass inflation.
However, despite the damage they are causing to the economy, the Trump era tariffs have nonetheless persisted as a political "sacred cow" of sorts in US politics, existing more so as a statement of opposition to China out of principle, than on their merits.
The Biden administration's decision to embrace the fullness of the Trump administration's wholesale hostility against Beijing, and to pitch that domestically, has given them little space to politically maneuver and made it difficult to pursue engagement with China even when it is in the interest of the United States to do so.
As a result, Biden's first full year in office has seen efforts at dialogue or compromise with Beijing also being followed with displays of overwhelming hostility and bad-faith actions which have failed to ease tensions.
This has placed the Biden administration in a corner in respect to tariffs. On one hand, there is a clear acknowledgement the levies have been destructive to the US economy. On the other, the zero-sum pursuit of "rivalry" against China makes unilaterally dropping such as an unacceptable concession which will be framed as weakness or appeasement, going against domestic political consensus of both opposition to China and Trump era protectionism.
With the mid-term elections on the horizon, such a pathway would almost certainly be a Republican line of attack, as will be the rising tide of inflation. This means the Biden administration may seek to compromise with China, but then respectively raise tensions in other ways in order to save political face. It is no coincidence that as this internal debate rages on, leaks have been made to several newspapers regarding potential sanctions against China, including an outright blacklisting of Hikvision citing the Xinjiang Uygur Autonomous Region, or tougher tech export restrictions on semiconductor firm Semiconductor Manufacturing International Corporation(SMIC).
Ultimately, this dilemma is demonstrative of the bind that its China policy has got it into. Facing surging inflation, the administration's struggle to simply discard a failed, destructive and bizarre Trump era policy illustrates how the need to have a practical and working relationship is. China is constantly outflanked by an irrational obsession with rivalry and geopolitical struggle, which often ironically, as is certainly the case here, results in America's own detriment.
Tom Fowdy is a British political and international relations analyst and a graduate of Durham and Oxford universities. He writes on topics pertaining to China, the Democratic People's Republic of Korea, Britain and the US.