Opera troupes find ways to survive pandemic
By Chen Nan | China Daily | Updated: 2022-05-16 07:28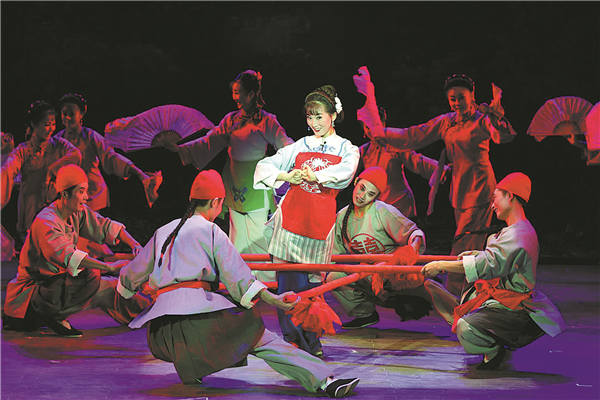 Livestreamed shows provide performers with additional income
For three decades, Huangmeixi Opera singer Liu Lihua has performed at locations ranging from outdoor areas in small villages to grand theaters in big cities.
After the COVID-19 pandemic emerged, Liu, head of Huangmeixi Opera Troupe of Huaining county, Anhui province, started to hold online meetings to discuss ways to keep theater staff members and artists busy.
The theater company typically stages about 120 shows at villages and schools in Huaining each year and also performs in nearby cities. The sudden halt to the regular performance schedule made Liu pause to consider the troupe's future, before she realized that online platforms could provide a stage for the ensemble.
Since January, Liu's troupe, which has a history of 66 years, has staged livestreaming performances nearly every night. From 7:30 pm to 10:30 pm, the artists, mainly young people, either wearing makeup and costumes or their everyday clothes, perform classic and popular Huangmeixi Opera pieces on the Douyin short-video platform, where they also share their stories about learning the ancient art form and showcase their daily practice sessions.
The performers, who quickly attracted a large fan base, now have nearly 700,000 followers on Douyin. Much to their surprise, an estimated 10,000 viewers log on every night to watch their shows. The viewers are from areas where Huangmeixi Opera is popular, such as Anhui and Hubei provinces, and also from overseas.
Liu said: "I read messages left by the viewers during the livestreaming broadcasts. This is a totally new way of interacting with audiences." She added that in the theater, her audiences chiefly comprised seniors, but the livestreaming shows are mainly watched by young people.
One fan posted: "I had never listened to Huangmeixi Opera, and had no idea that the songs were so beautiful. I am 25 years old and I really enjoy the songs. This is definitely not an art form for older people."
Performing virtual shows has become an important new strategy for the company as it fights for survival due to canceled rehearsals and performances, Liu said.
Unlike some companies that offer livestreaming content from their previous shows, performers from Huangmeixi Opera Troupe of Huaining county sing in different ways.