Musician finds composure
By Chen Nan | China Daily | Updated: 2022-05-16 07:52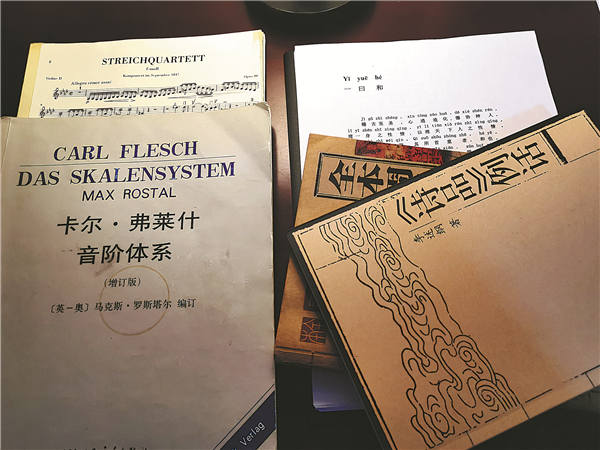 Violinist uses time in hotel room to tune into a classical experience, Chen Nan reports.
When Ma Weijia went to buy breakfast at a restaurant near his home in Beijing, the violinist didn't expect that it would lead to the start of a quarantine.
At 5 pm, April 30, he was informed that a patient, who had tested positive for COVID-19, was in the same restaurant on April 25, the same day as Ma, so the violinist was a secondary close contact.
After Ma was informed of the quarantine, it was announced that all restaurants had been requested to suspend dine-in services starting May 1, and only offer takeouts instead, as the city fights the latest COVID-19 resurgence.
It raised a pressing question: What supplies should Ma have on hand to carry him through the quarantine?
Not knowing what to expect, Ma packed everything he could think of. The first things he added to his list was his violin, music scores, tea, teapot, and books.
"Frankly, I was very nervous. I never expected that I would experience a quarantine, but I was not afraid because I tested three times after April 25, and all were negative," recalls Ma, who, at 2 am on May 2, went on a bus to the quarantine hotel along with others, who had also had indirect contact with infected patients.
The hotel Ma was in is located in downtown Beijing. The hotel is old with simple decor, and his room was about 10 square meters. Ma spent two hours cleaning his room as well as making it as comfortable as possible.
Three meals were provided daily in plastic bags (in the morning, afternoon and evening) and were left on a chair outside the door for Ma to collect. Through that same door, medical staff members swabbed his nose and throat as part of the daily nucleic acid testing requirements, as well as checking his body temperature twice a day.
"It was much better than I thought. Everything was fine, except I was not allowed to leave the room," says Ma, adding that people quarantined in the same hotel had WeChat groups in which staff members helped them solve various problems and offer necessary supplies, such as face masks, water and garbage bags.
In the morning, after his breakfast, temperature check and daily nucleic acid test, Ma would make contact with family and friends. After lunch, he would read books, have his tea, and start to play the violin. After dinner, he would continue to play the violin for two more hours.
Carl Flesch's Scale System, the principal scale study for violinists, is a must for Ma's everyday practice. Bach's sonatas for unaccompanied violin and music pieces by Chopin and Niccolo Paganini were also among the music scores Ma took to his hotel room.