People with dementia hit hard by COVID's physical, mental impacts
By BO LEUNG in London | China Daily Global | Updated: 2022-05-16 11:43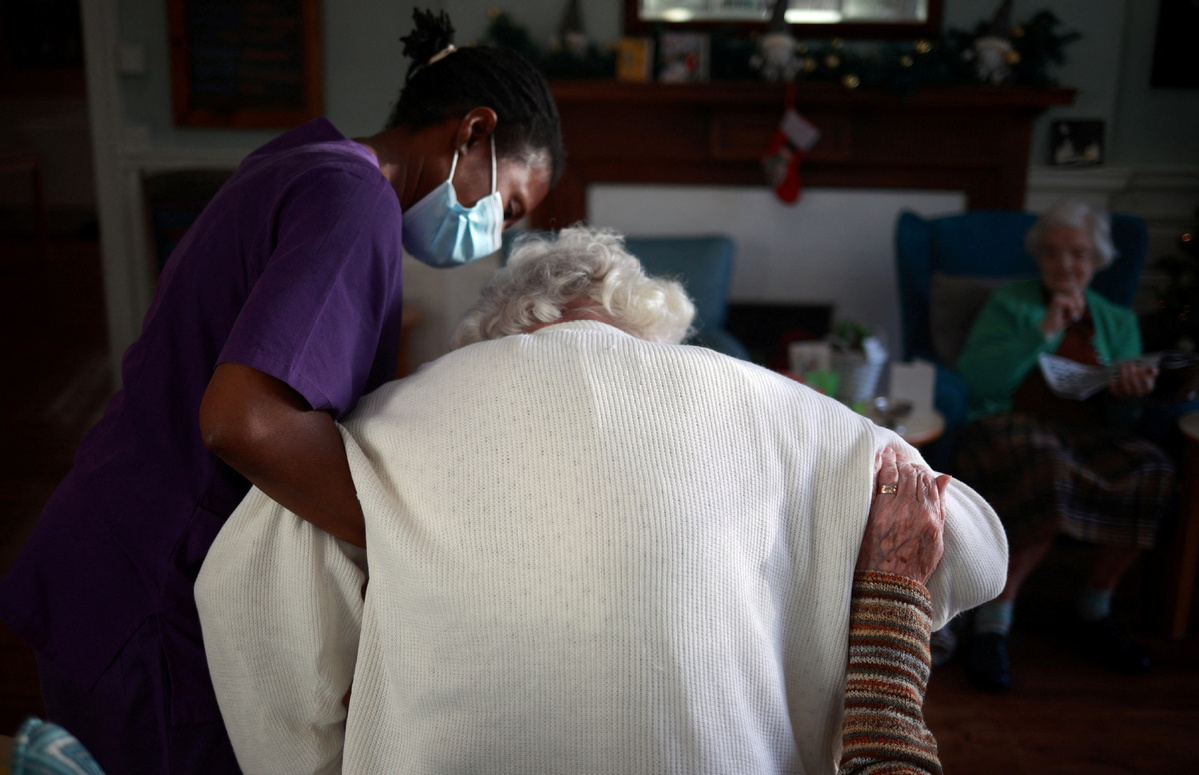 In June last year, Chris Walton's mother went into a care home, and his main concern was her physical well-being.
Already a year and a half into the pandemic, which had already hit care homes hard in early 2020, Walton, 46, and his brother made the decision to have their mother live in a care home in northeastern England.
Walton's mother, who was living with him during most of the pandemic, has advanced dementia.
"When she did go into care, it did take some adapting to not being able to see her as regularly, to having to wear full personal protective equipment," he said.
Walton said he initially had concerns after hearing about homes not being prepared or having the right equipment, and the high death rate. But he felt that because his mother went into care late into the pandemic, the care homes would be better equipped.
"The first few weeks, contact was in bubble rooms with a window separating you, which was sad but understandable-it was a double-edged sword of being frustrating to a degree but more so a reassurance that she was being looked after well and was safe," Walton said.
Due to her dementia, she was mostly unaware of her surroundings, he said.
"If she was able to understand, I would have found that more upsetting, but strongly felt that her safety and well-being were more important, and personally I was happy knowing that she was OK," Walton said, adding that the home reassured him by giving him regular updates.
According to the Alzheimer's Society in the United Kingdom, about three-fourths of care home residents have dementia, and over a fourth of the people who died with COVID-19 from March to June 2020 had dementia.
The charity said the ways in which people with dementia have been affected by the pandemic include a decline in mental and physical health, fear and confusion about their own well-being, and the impact of friends and family not being able to visit, although those with dementia don't always understand why.
James Lewis, CEO of Action for Elders, said there was a huge problem with loneliness, isolation and lack of physical activity during the COVID-19 pandemic. Action for Elders is a charity that works to make older people's lives better and aims to end loneliness by offering local support with physical, mental and social programs.
"Long-term residents of care homes had no access to communal areas due to restrictions, so they could not socialize with fellow residents or take part in vital exercise and social activities such as those provided via our Balanced Lives programs," Lewis said.
"Social shielding measures also meant no visitors were allowed, so residents were cut off from their friends and families," he added. "There was a hugely negative impact on the workforce due to illness. Staffing issues saw them struggling to cope, and the needs of residents were not being met."
Meanwhile, Walton praised the staff at the care home where his mother lives for adapting to the pandemic.
Early on in the pandemic and lockdown, many care home workers struggled to find and obtain the right personal protective equipment, or PPE, such as masks, gloves and aprons.
"Obviously the news in the press about the lack of PPE, the emotional impact of residents not being allowed to see family members, the wearing of PPE/masks, was worrying, but was allayed quite quickly personally when I was able to visit the home," Walton said.
However, Walton said he worries about the lifting of some restrictions too early. He said that the home his mother live in had COVID-19 outbreaks a few times and his mother, who is fully vaccinated, also caught the virus.
"I'm more concerned that she might be exposed to a greater level of risk, now that most measures have been lifted, although the home has maintained a full PPE policy for visitors, which provides some assurance," he said.
Lewis, of Action for Elders, said the main challenge now is to keep people safe.
"Now that outside providers are allowed back into care homes, services like ours can come in and work with residents. We were only able to deliver our Balanced Lives exercise programs online before restrictions were lifted," he said.
This has "helped to keep people active and mobile, rather than staying bedridden or isolated", Lewis said. "It's absolutely vital that care home residents can take part in exercise and social classes. This is the best way to beat loneliness and isolation and add to the quality of life."
boleung@chinadailyuk.com