China refutes G7 statement, demands no interference
By MO JINGXI | CHINA DAILY | Updated: 2022-05-17 09:17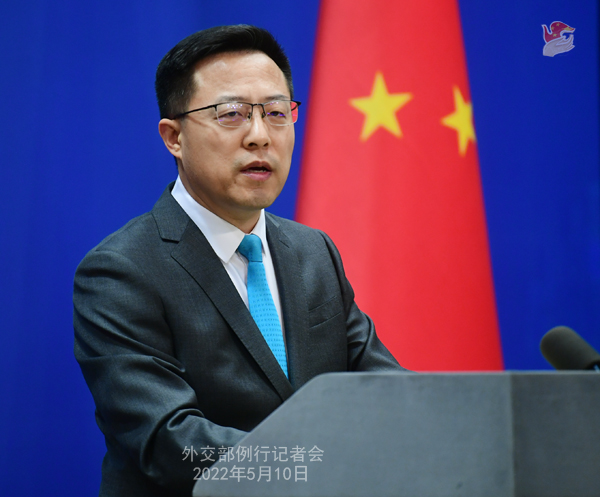 Beijing has pushed back on the "malicious smearing" made by foreign ministers of the Group of Seven on its domestic affairs, urging the group to stop creating and spreading lies and rumors.
"China's positions on issues relating to Hong Kong, Xinjiang and Taiwan, as well as maritime issues are consistent and clear. In fact, we have already expressed firm opposition to the G7 presidency," said Foreign Ministry spokesman Zhao Lijian on Monday.
He said the so-called communique released on Saturday after a G7 foreign ministers' meeting disregarded China's firm opposition and objective facts, gravely interfered in the country's internal affairs, and is full of attacks and smears on China.
"We urge the G7 to respect China's sovereignty and refrain from bullying other countries with rules defined by a certain clique or bloc," said Zhao during a regular news briefing in Beijing.
The group should bear in mind the peace and development of the world, instead of stirring up color revolutions in other countries, illegally sanctioning other countries or engaging in long-armed jurisdictions, he said.
"We also urge the G7 to fulfill its due international obligations, uphold true multilateralism and focus on global governance," Zhao said.
He also said the group should play a positive role in responding to global challenges and promoting world economic recovery, instead of engaging in bloc politics and small cliques with its Cold War mentality and ideological biases.
Zhao also refuted the G7's preposterous remarks on China's position on the Ukraine issue, saying that China always makes independent judgment based on the merits of each matter.
He said China is opposed to imposing unilateral sanctions on other countries without the authorization of international law and the United Nations.
"Sanctions are not effective ways to solve problems," Zhao said. "Instead, they will speed up the spillover of the Ukraine crisis, thus bringing new complicated problems."