Joint industry-oriented education key to intelligent manufacturing
By MA SI | China Daily | Updated: 2022-05-17 10:01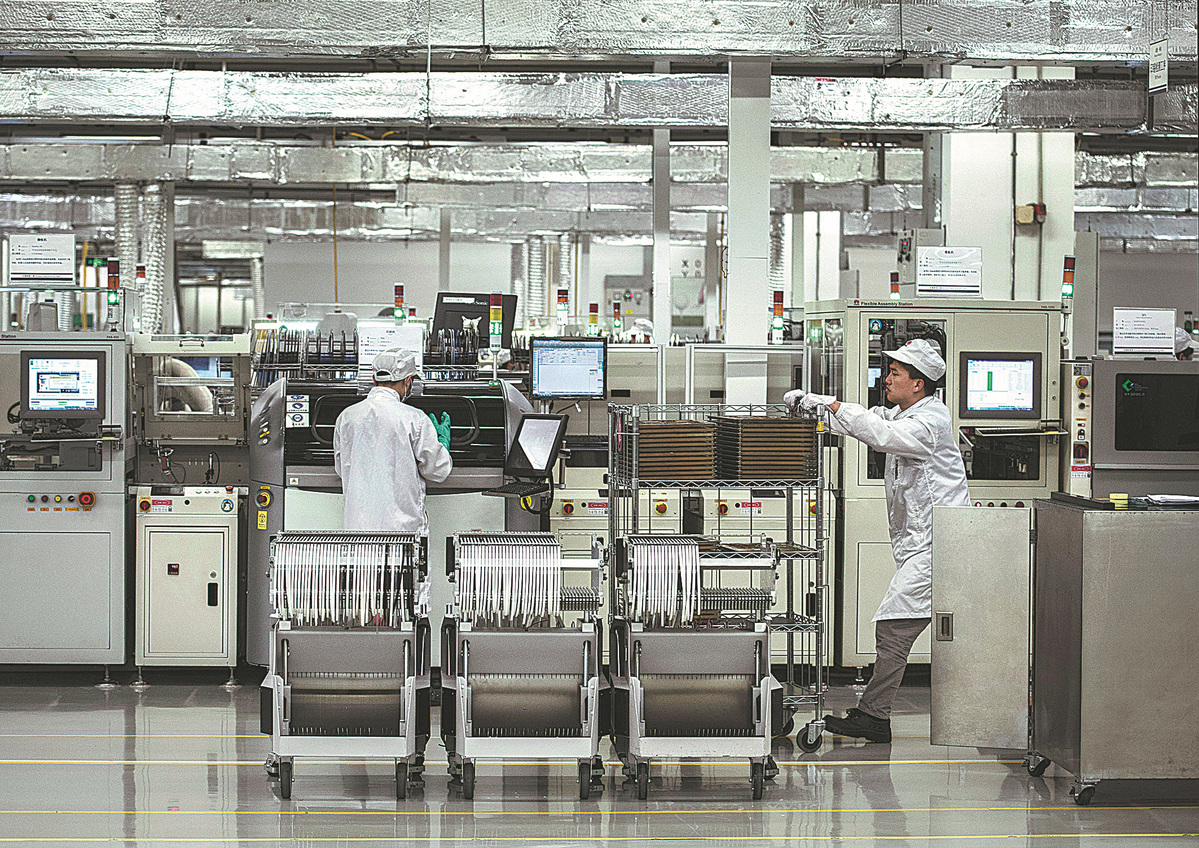 Liu Baomin, deputy director of the institute of vocational and technical education center at the Ministry of Education, said earlier that vocational education during the 14th Five-Year Plan period will need to provide talent support for high-quality economic development.
Deepening school-enterprise cooperation is at the core of vocational education. And more efforts are needed to improve the standards of vocational education institutions to ensure quality, Liu said.
Research shows that women have been more negatively impacted by the COVID-19 pandemic than men, so companies are also working to help women in China improve their digital skills and embrace the digital future.
US tech giant Microsoft Corp, for instance, is partnering with a number of companies and organizations to empower women in multiple ways, as the pandemic has accelerated digital transformation worldwide and women face more challenges in both life and work.
Last year, it launched an initiative in partnership with management consulting firm DDI, which has helped more than 1 million women in China improve their digital skills and embrace the digital future by the end of 2021.
By bringing corporate leaders together in the Women Digital Future joint initiative, Microsoft and participating companies seek to empower women in this accelerated moment of digital transformation, so that they cannot only leverage the power of technology to achieve their own dreams but drive incredible value and creativity within their industries and society as a whole, thus unleashing greater impact in the digital age. These initiatives focus on four areas, namely, thought leadership and insights, awareness and inspiration, digital upskilling, and inclusive leadership.
Mindy Yeh, DDI Asia senior vice-president, said the company's global survey shows that there are nearly twice the number of female leaders at the top 20 percent of financially performing enterprises than in the bottom 20 percent. Moreover, they boast notable advantages in terms of collaboration, synergy creation and growth culture.
Cecilia Qi, general manager of pharmaceuticals and vaccines at GSK China, who is also a representative of the initiative's founding parties, said: "Digital transformation is both an opportunity and a challenge for women. This is especially the case in the new normal, which requires companies to provide women with more support to help them achieve better work-life balances and continue to attain success as they continue forward in their career."
"Success is gender neutral, and I believe that in the future, society will be more supportive and inclusive of women and empower them with more diverse and equal career opportunities," Qi said.
As Chinese companies increasingly go global, they also plan to help cultivate digital talent beyond their home turf to more areas. Huawei Technologies Co, for instance, said in November that together with its partners, Huawei will invest $50 million over the next five years to develop 500,000 digitally savvy individuals in the Asia-Pacific region.
Jeffery Liu, president of Huawei Asia-Pacific, said: "Cultivating innovative information communications technology, or ICT, talent ecosystems is fundamental to digital transformation. Leveraging shared innovations with win-win outcomes, we can harness the power of ICT skills to fly us into a digital future."
Huawei also signed a memorandum of understanding in November with the ASEAN Foundation, a body of the Association of Southeast Asian Nations, to fill the digital talent gap.
Datuk Sri Mohamed Mentek, chair of the ASEAN Digital Senior Officials Meeting, said, "I believe collaborations such as that between Huawei and the ASEAN Foundation to implement the Seeds for the Future Programme is the right step towards building a sustainable digital talent ecosystem in the region and we look forward to more such initiatives moving forward."
The ASEAN Seeds for the Future will also help contribute to achieving the objectives of the ASEAN Digital Masterplan 2025, which are to increase the capacity of youth in the region to participate in the digital economy and to create a digitally inclusive society in ASEAN.ASEAN Seeds for the Future was launched in early 2022, inviting youth aged 15-30 in ASEAN member states to immerse themselves in a virtual journey of capacity building in leadership and digital skills.