Companies welcome new financial policies and fee reductions
By SHI JING in Shanghai | CHINA DAILY | Updated: 2022-05-18 07:41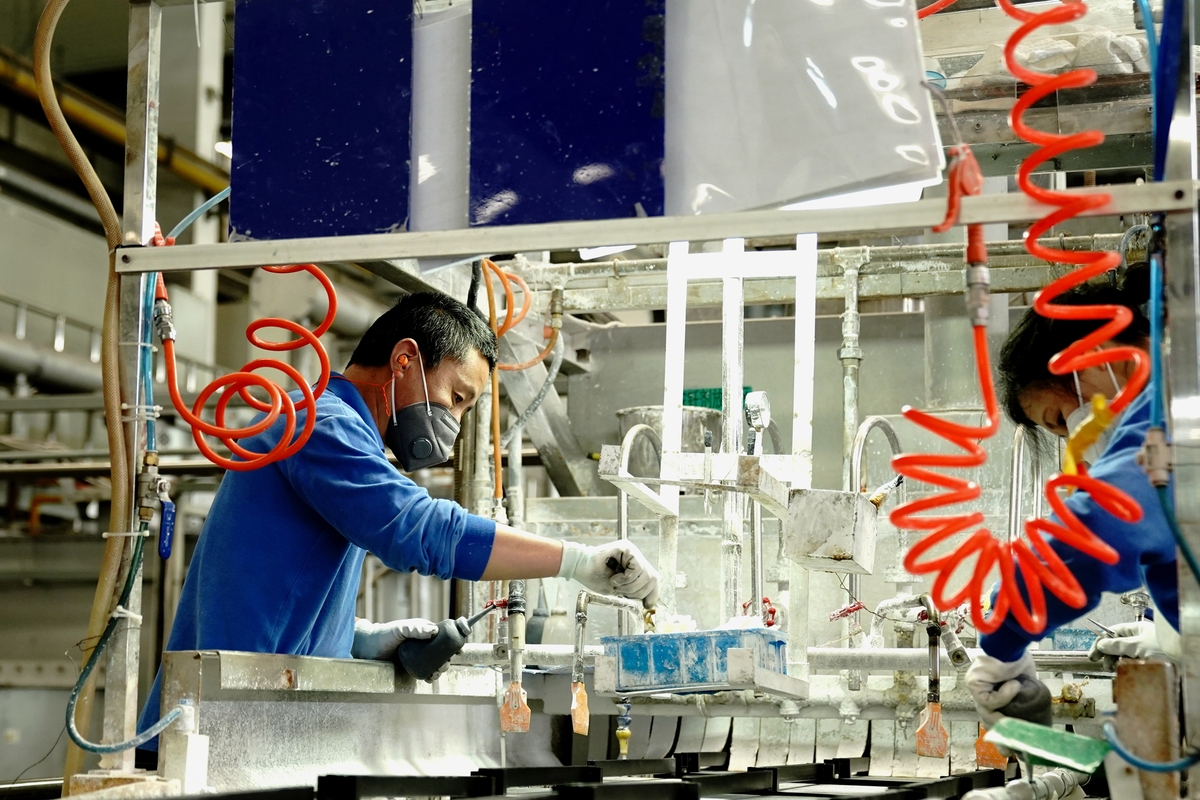 Shanghai Sansi Electronic Engineering Co, a leading LED display and lighting business, is known for a large number of sophisticated projects, including the high-resolution exterior LED displays in Times Square, New York.
In November 2020, the company was recognized by the Ministry of Industry and Information Technology as a "little giant company", indicating its special role in a niche sector, high market share, and innovative capacity.
The company's headquarters in central Shanghai's Minhang district carries out most of the research and development work with a 900-strong team. Following the city's lockdown, which was introduced last month, the headquarters has managed to maintain operations with 200 employees.
The company's chairman Chen Ming said logistics has become the biggest headache. "Transportation charges have risen sharply, but we are still making export deliveries regardless of the cost," Chen said.
Manufacturing has fallen far behind schedule, as raw materials cannot be delivered on time.
"Project execution has been significantly affected, along with the company's capital flow, as sales revenue fell by 50 percent in March and April," Chen said.
However, production at the company's plants in Jiashan and Jinhua, Zhejiang province, has not been affected by the latest outbreak of COVID-19.
Chen said that as infrastructure will be a major driver of China's economic growth this year, numerous highway LED lighting projects will be announced as soon as the pandemic is contained. He added that the company has seen orders rebound in Europe and the United States.
However, as it still has to pay employees' salaries at a time when its income is badly affected by delayed cash inflows, the company is still under heavy financial pressure. Chen has suggested that more-favorable bank loans be offered to small and medium-sized enterprises, or SMEs, to weather their current difficulties.
Shanghai Chengfang Property Co, which specializes in construction and property management, has confronted such challenges.
The company manages more than 10 industrial parks and office buildings in Shanghai, and many of its tenants are smaller-sized startups. Chengfang's chairman Cheng Zhihai said that since the start of this month, more than 20 such tenants have terminated their leases, as they cannot afford the rent.
"I totally understand their decision. Their income has been significantly affected over the past two months, but they still have to pay employees' salaries, loan interest and rent. The burden is huge," he said.
All the company's 1,400 employees, most of them construction staff members, have not worked since March 11.
Bills are piling up, and in addition to providing the workers' basic salaries, Chengfang is responsible for their accommodations, three meals a day, and disinfection work.
Cheng, who is also deputy head of Zhejiang Chamber of Commerce in Shanghai, said more flexible use of unemployment insurance would help the company and many others in the property sector with their current difficulties.
While companies pay unemployment insurance for their employees according to the laws and regulations, such coverage can only be redeemed when an employee is out of work, which must be proved by a contract termination.
Although the labor contracts of Shanghai Chengfang Property Co's construction workers are still in effect, these employees have been categorized as unemployed for at least the past two months.
If unemployment insurance could be redeemed at such a time of emergency, the burden on many SMEs would be greatly alleviated, Cheng said.
"The government has announced a series of favorable financial policies over the past few weeks, especially targeting SMEs. We look forward to the speedy implementation of these policies," he said.
During a news conference on May 8, Guan Xiaojun, deputy head of the Shanghai Municipal Financial Regulatory Bureau, said more-inclusive financial policies would be provided for SMEs, and additional fee reductions are planned. Meanwhile, such enterprises in Shanghai are allowed to extend loans without paying the principal, he said.
Late last month, the State Council announced that restaurants, retailers, travel agencies, civil aviation and transportation service providers could suspend payment of pension insurance premiums in the second quarter.