Bezos takes on Biden over inflation plan
By HENG WEILI in New York | China Daily | Updated: 2022-05-18 09:59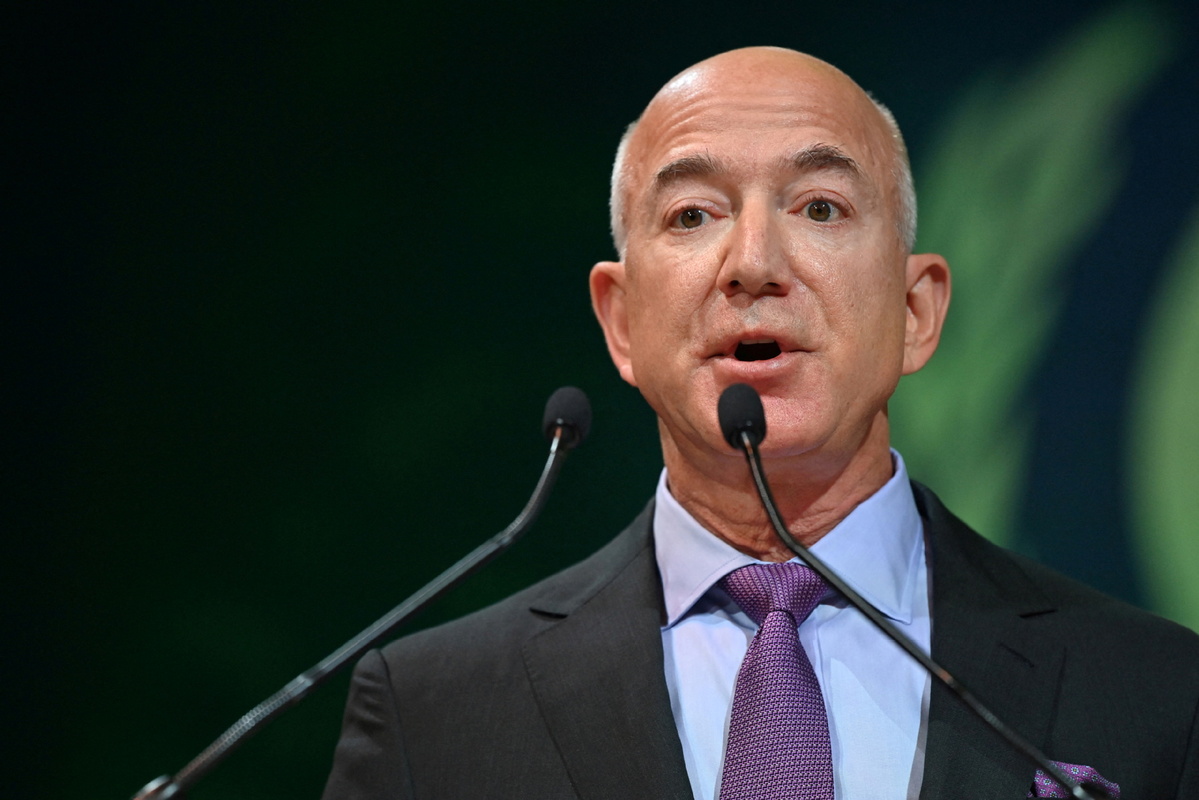 Amazon founder on Twitter slams White House over economic policy
One of the world's richest men, Jeff Bezos, has launched a social media assault on the United States President Joe Biden over the White House's policies to tackle rampant inflation.
Bezos, the founder of e-commerce giant Amazon, fired his opening salvo on Friday after Biden tweeted, "You want to bring down inflation? Let's make sure the wealthiest corporations pay their fair share."
In response to Biden, Bezos posted: "The newly created disinformation board should review this tweet, or maybe they need to form a new non sequitur board instead. Raising corp taxes is fine to discuss. Taming inflation is critical to discuss. Mushing them together is just misdirection."
The "disinformation board" is a reference to the recent creation of a unit in the US Department of Homeland Security to address what it considers misinformation.
Andrew Bates, the White House deputy press secretary, issued a statement on Sunday saying: "It doesn't require a huge leap to figure out why one of the wealthiest individuals on Earth opposes an economic agenda for the middle class."
Under a billionaire-tax plan introduced by the White House in March, Bezos would pay an additional $35 billion, The Washington Post reported based on an estimate from Gabriel Zucman, an economist at the University of California, Berkeley.
Bezos picked up the spat on Monday, tweeting: "Look, a squirrel! This is the White House's statement about my recent tweets. They understandably want to muddy the topic. They know inflation hurts the neediest the most. But unions aren't causing inflation and neither are wealthy people.
"Remember the administration tried … their best to add another $3.5 trillion to federal spending," Bezos said. "They failed, but if they had succeeded, inflation would be even higher than it is today, and inflation today is at a 40 year high."
The past two reports on the consumer price index, for April and May, showed inflation above 8 percent on an annual basis, levels last reached in the early 1980s.
The US president has encouraged increasing taxes on wealthy corporations as a means of fighting rampant US inflation.
"The idea would be that raising the corporate tax would reduce corporate spending and would reduce overall demand in the economy and put downward pressure on prices," Michael Strain, an economist at the American Enterprise Institute, told The Associated Press.
'Irrelevant disinformation'
Still, Strain and other economists caution that it would take many months for any rate increase to have an impact, and even then, it would not reduce inflation by much.
In an editorial on Monday, The Wall Street Journal wrote that Bezos may be giving Biden "too much credit in dismissing the president's tweet as mere irrelevant disinformation".
"The chilling possibility here is that Mr. Biden understands exactly what he's saying and that he intends to use confiscatory taxation to depress economic activity in a misguided belief that he can reduce demand and end inflation by crushing business. The president ought to remember the 1970s but apparently doesn't."
Brad Bannon, a pollster for Democrats, progressive groups and labor unions, called Bezos a formidable enemy as the publisher of The Washington Post and one of the wealthiest people in the US, Business Insider reported.
"The downside of going after Bezos is, he has the media platform and the money to influence public opinion against President Biden," Bannon said. "Biden might get on the wrong side of the generally liberal Washington Post, which often gives Democrats political cover."
Amazon rang up a $35 billion profit in 2021 but paid only 6 percent in federal corporate income taxes, using tax breaks, according to the Institute of Taxation and Economic Policy.
However, Carl Tannenbaum, chief economist at Northern Trust, an asset management firm in Chicago, said, "Of all the things I would do to rein in inflation, the corporate income tax is a long way down the list."
Agencies contributed to this story.