FDA approves Pfizer COVID booster for children 5-11
By MINLU ZHANG in New York | China Daily Global | Updated: 2022-05-18 10:07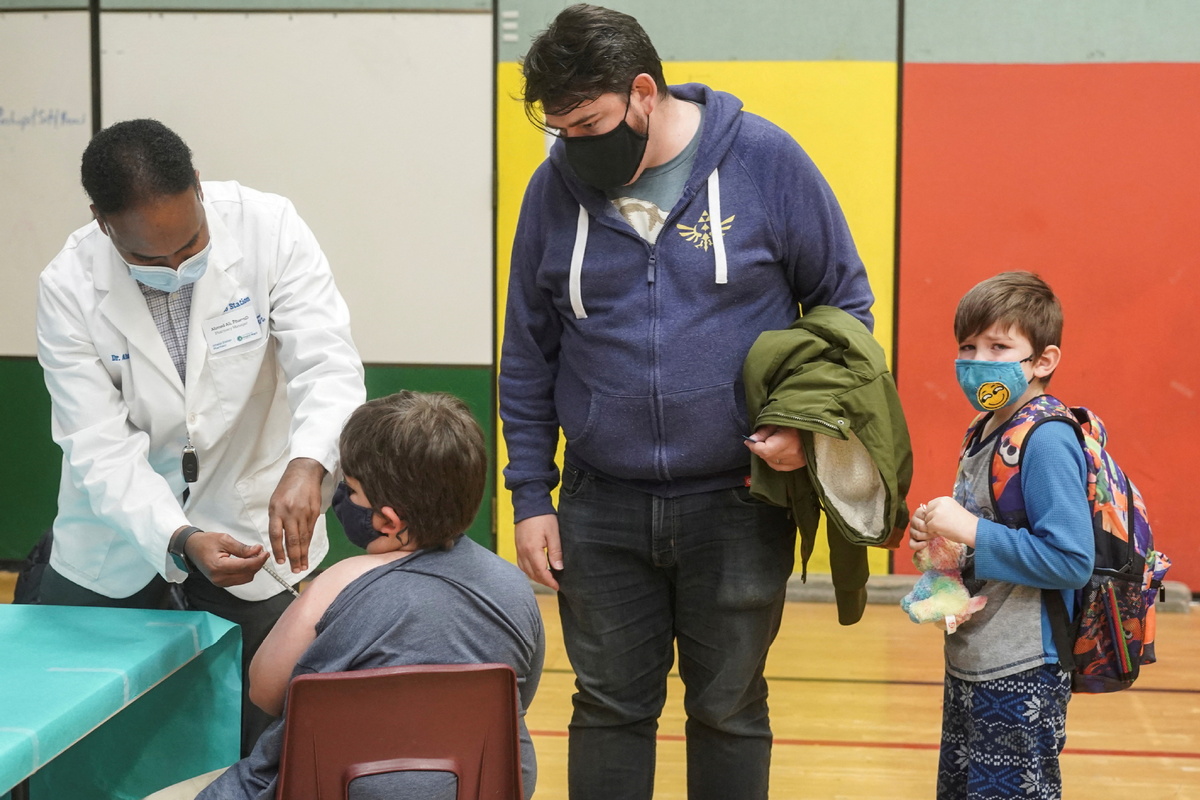 The US Food and Drug Administration on Tuesday granted emergency use authorization for a third shot of Pfizer/BioNTech's COVID-19 vaccine for children ages 5 to 11.
The booster dose is available to children at least five months after completion of their two-dose primary series.
The FDA determined that a third Pfizer shot can boost protection for children in that age group, and the benefits outweigh the risks, said Dr Peter Marks, head of the FDA division responsible for vaccines.
Pfizer requested the authorization at the end of April, citing company data that showed a third vaccine dose raised Omicron-fighting antibodies by 36 times in the age group.
"While it has largely been the case that COVID-19 tends to be less severe in children than adults, the Omicron wave has seen more kids getting sick with the disease and being hospitalized, and children may also experience longer term effects, even following initially mild disease," FDA Commissioner Dr Robert Califf said in a statement Tuesday.
The Centers for Disease Control and Prevention (CDC) must still formally recommend the booster dose before shots can go into arms. A CDC Advisory Committee on Immunization Practices will meet Thursday to discuss COVID-19 vaccine boosters.
The FDA didn't convene its independent panel of experts before authorizing the booster dose. Some committee members have grown frustrated that drug regulators had repeatedly pushed for booster-dose decisions without holding open public discussions, CNBC reported.
About 28 percent of children ages 5 to 11 have been fully vaccinated as of Tuesday, a rate much lower than the overall population, according to the CDC. As of April, 43.6 percent of eligible children, ages 5 to 17, have been fully vaccinated, according to federal data.
More than 93,000 additional child COVID-19 cases were reported in the past week, an increase of about 76 percent from two weeks ago, according to the American Academy of Pediatrics and the Children's Hospital Association. It was the fifth consecutive week of increases and the highest weekly total since late February.
Studies from the New York state Department of Health, and the CDC found that the effectiveness of two doses of Pfizer's vaccine for children ages 5 to 12 dropped substantially during the Omicron surge, falling to 12 percent from 69 percent by four to five weeks after the second dose.
Another CDC study found that two doses of Pfizer's vaccine reduced the risk of Omicron infection by 31 percent in children ages 5 to 11 and 59 percent in those aged 12 to 15.
Tuesday's decision means all American children age 5 and older can receive at least three vaccine doses. Children under age 5 aren't yet eligible for a primary vaccination series.
Those who are 50 and older, and people 12 and older who have certain kinds of compromised immune systems are eligible for two booster doses.
Pfizer-BioNTech's vaccine is the only COVID-19 vaccine authorized for younger children. Moderna has requested the FDA authorize its second COVID-19 booster shot for people age 18 and older, but a decision has yet to be made on that request.