China looks to clean hydrogen fuel to power future
By FAN FEIFEI | China Daily | Updated: 2022-05-18 10:24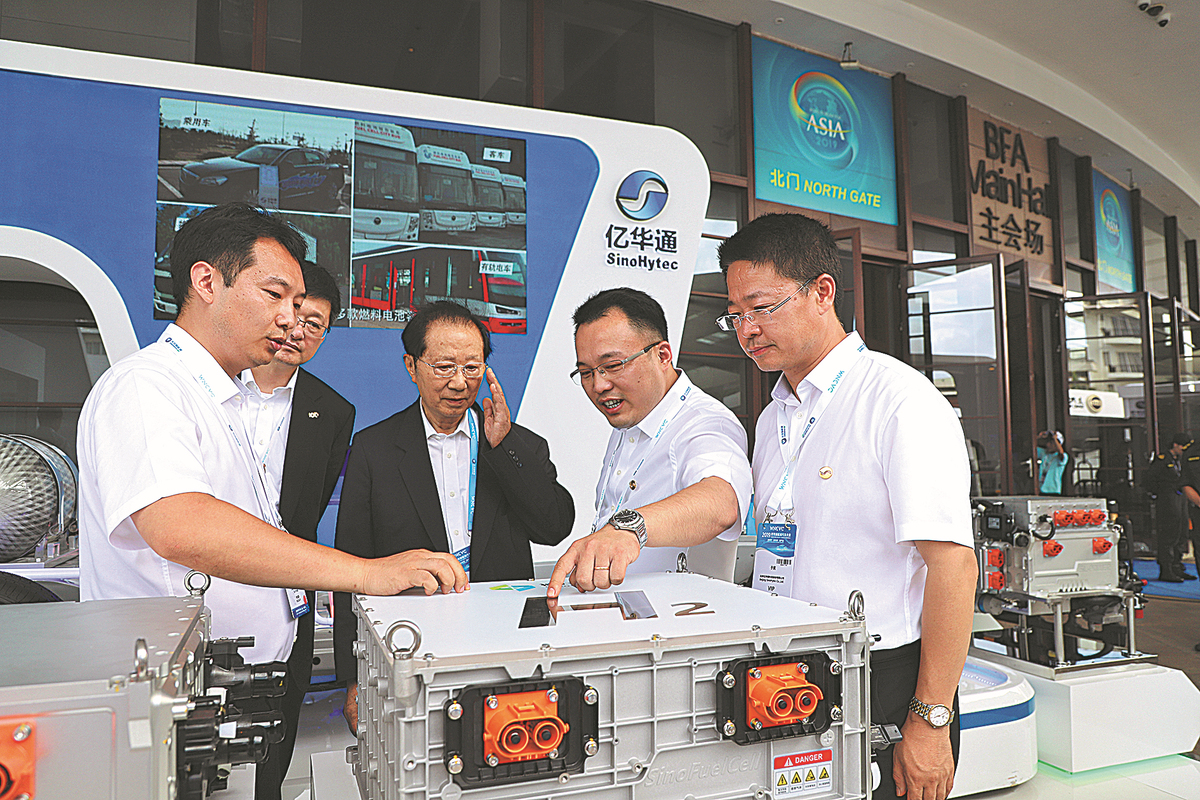 The company has worked with Chinese vehicle manufacturers such as Foton Motor and Shanghai Shenlong Bus Co Ltd to promote 2,000 hydrogen-powered fuel cell vehicles in 16 cities nationwide, including Beijing, Shanghai and Zhangjiakou, with the accumulated mileage exceeding 90 million km, the company said.
China is making hydrogen an important part of its plans as the energy source has become an important strategic choice for major developed economies seeking to accelerate their energy transformation.
The National Development and Reform Commission and the National Energy Administration have jointly released the country's first medium to long-term plan (2021-35) to promote high-quality development of the hydrogen industry.
By 2025, China plans to put in place a relatively complete hydrogen energy industry development system, with significantly improved innovation capability and core technologies and manufacturing processes basically mastered, according to the plan.
China plans to have around 50,000 hydrogen-fueled vehicles, with corresponding hydrogen fueling stations by 2025. By then, China aims to produce 100,000 to 200,000 tons of hydrogen generated from renewable energy sources a year, reducing carbon dioxide emissions by 1 million to 2 million tons a year, according to the plan.
By 2035, the proportion of hydrogen produced from renewable energy in end-use energy consumption is expected to significantly increase.
Lin Boqiang, head of the China Institute for Studies in Energy Policy at Xiamen University, said green hydrogen, which is generated from wind power and photovoltaic power, will greatly reduce carbon emissions and could be widely used in many sectors, including transportation, industry and construction.
China is the largest hydrogen producer in the world, with an annual output of about 33 million tons. The China Hydrogen Alliance predicts that by 2025, the nation's hydrogen energy industry will be valued at 1 trillion yuan. By 2050, it said, hydrogen energy is expected to account for more than 10 percent of its overall energy system.
In recent years, China has accelerated efforts to conduct independent R&D into the core technologies of fuel cells, which have been installed on commercial vehicles like city buses and delivery service cars as part of trial operations, said Chen Yisong, director of the Vehicle Engineering Department at Chang'an University.
Yu Min, deputy general manager of SinoHytec, said the plan for the hydrogen industry's development has identified the strategic position of hydrogen energy, given direction to hydrogen and fuel cell companies, expanded the scenarios for the use of hydrogen, and included talent and financial support for related enterprises.
"Hydrogen energy is playing a vital role in cutting carbon emissions and helping realize the nation's dual carbon goals, with wide applications in fields like energy storage, transportation and industrial energy utilization," Yu said. He added that the development of hydrogen energy is of huge importance in addressing global climate change, upgrading traditional industries, and advancing the technological revolution.
"In the next step, we will continue to increase the R&D input, make breakthroughs in core technologies of homegrown hydrogen fuel cell engines, speed up the commercialization of the country's hydrogen energy and fuel cell industry and expand application scenarios," Yu said.
He said the company will have a comprehensive layout in the industrial chain of hydrogen and fuel cell vehicles, with hydrogen fuel cell engines as the core business, and help achieve the country's carbon peak and neutrality goals.
Hydrogen fuel cell vehicles are expected to be a major technological development direction for new energy vehicles, Yu said. "At present, the hydrogen-powered vehicle market is dominated by Japan and South Korea, with Honda, Toyota and Hyundai being the main driving force to promote the commercialization of such vehicles. Hydrogen-powered vehicles in China are still in a trial operation stage," he said.
"The fuel cell vehicle industry has a somewhat long history in Japan, which is relatively advanced in aspects of fuel cell vehicle technology, talent development and industrial resources. We plan to carry out overseas R&D activities in Japan initially, with a focus on key technologies and R&D on raw materials," Yu added.
China should step up efforts to boost innovation and make breakthroughs in key technologies of major fields, such as hydrogen storage, transportation, refueling and fuel cells, said Ouyang Minggao, an academician at the Chinese Academy of Sciences and a professor at Tsinghua University.
The nation lags behind developed countries in terms of hydrogen fuel cell technologies, industries and talent, Ouyang said, calling for the establishment of a hydrogen innovation system to help enterprises and experts share information as soon as possible, more basic research on cutting-edge core technologies and cultivation of more talent.
"The manufacturing cost of China's fuel cell vehicles is declining rapidly, and the cost of fuel cells is expected to be significantly reduced, with performance and stability further enhanced in the next 10 years," Ouyang said.
He emphasized the application of hydrogen should be expanded in areas such as transportation, electric power, chemicals and metallurgy. "More efforts should be made to fully utilize hydrogen energy in green and low-carbon transitions and the green development of industries."