US job market hit hard by pandemic
By LIA ZHU in San Francisco | China Daily | Updated: 2022-05-19 09:43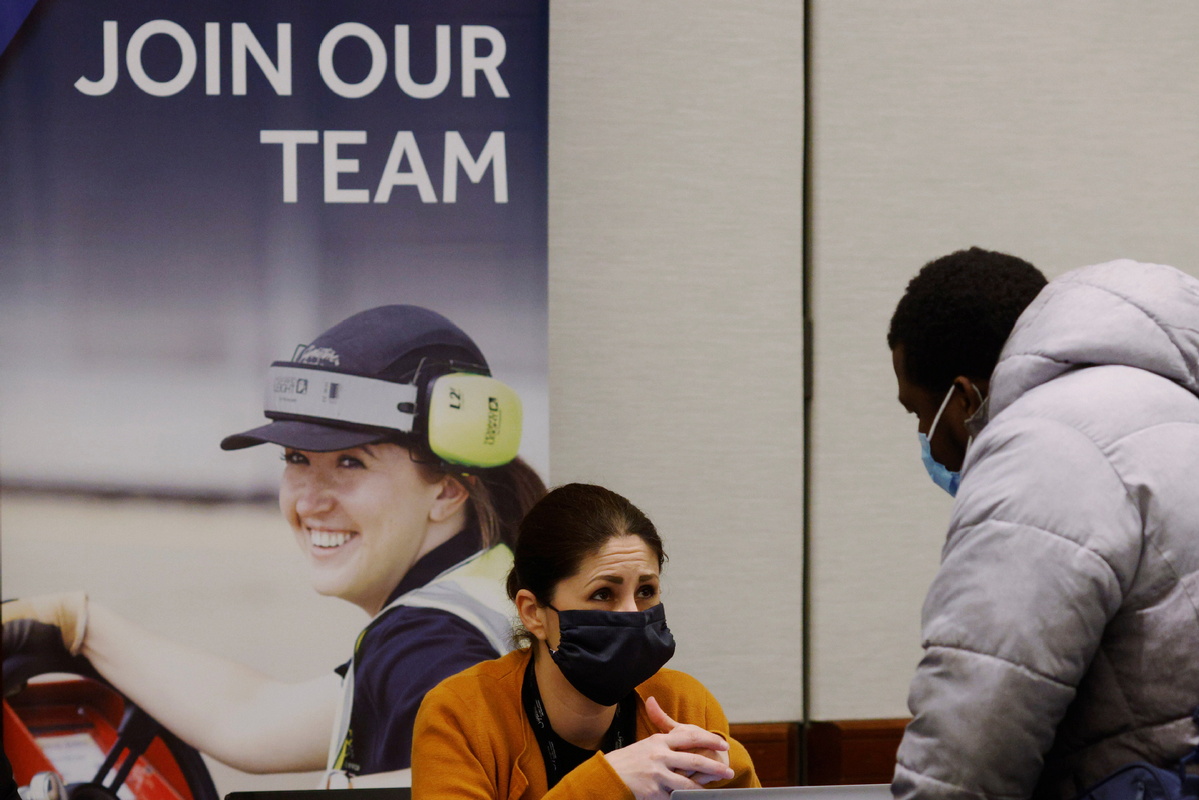 Now into the third year of the COVID-19 pandemic, the economy in the United States remains far from normal. The recovery process is taking longer than economists had initially expected, and people are struggling with the worst inflation in four decades.
The sudden emergence of the pandemic in the first quarter of 2020 hit the US job market hard and rapidly threw the country into a recession.
Those working in the leisure and hospitality industries were hit hardest by the pandemic. After the initial wave of closures in March 2020, they continue to face high unemployment-5.9 percent of the sector's labor force was unemployed in March, above the national rate of 3.8 percent.
The pandemic has also shifted work patterns with the arrival of "work from home". Experts said millions of people will likely never return to the office even when the pandemic is over.
US employees value two to three days of remote work every week as much as an 8 percent pay increase, and many would seek a new job if they are required to come back to the office permanently, according to research by Stanford University economist Nicholas Bloom.
The remote work trend has caused a dramatic plunge in office occupancy rates. They were running at 99 percent before COVID-19; now they range from 30 to 50 percent across several major US cities, according to office security company Kastle Systems, which tracks office occupancy.
In New York, the office occupancy rate was 98 percent in March 2020, but it plummeted to 4 percent in mid-April that year, and then it rose slowly to 33 percent in April 2022, according to Kastle.
Soaring costs
Meanwhile, people are fleeing some cities for more affordable locations. A recent survey co-conducted by Bloom found rental rates in the central business districts of the 12 largest US cities have fallen almost 20 percentage points, and those regions have seen net population and business outflows cumulating to about 15 percent of their pre-pandemic levels.
The primary reason for moving from coastal cities to inland is to avoid soaring living costs, especially for food and fuel. US consumer prices rose at an annual pace of 8.3 percent in April, staying at a four-decade high, following the record 8.5 percent in March.
From produce to gasoline and automobiles, inflation has hit every sector of the economy. A recent Gallup poll found that 70 percent of people in the US believe that national economic conditions are deteriorating.
Experts said shortages of supplies and workers, and supply chain issues, among other things, send inflation surging.
"We're still at the mercy of the virus, so it's still a bifurcated economy," said Liz Ann Sonders, chief investment strategist at Charles Schwab. "If you are not an asset owner, you are clearly on the losing end of the spectrum. That divergence could stay enormously wide."