As Australia moves on, COVID-19 cases rise up
By KARL WILSON in Sydney | China Daily | Updated: 2022-05-19 09:50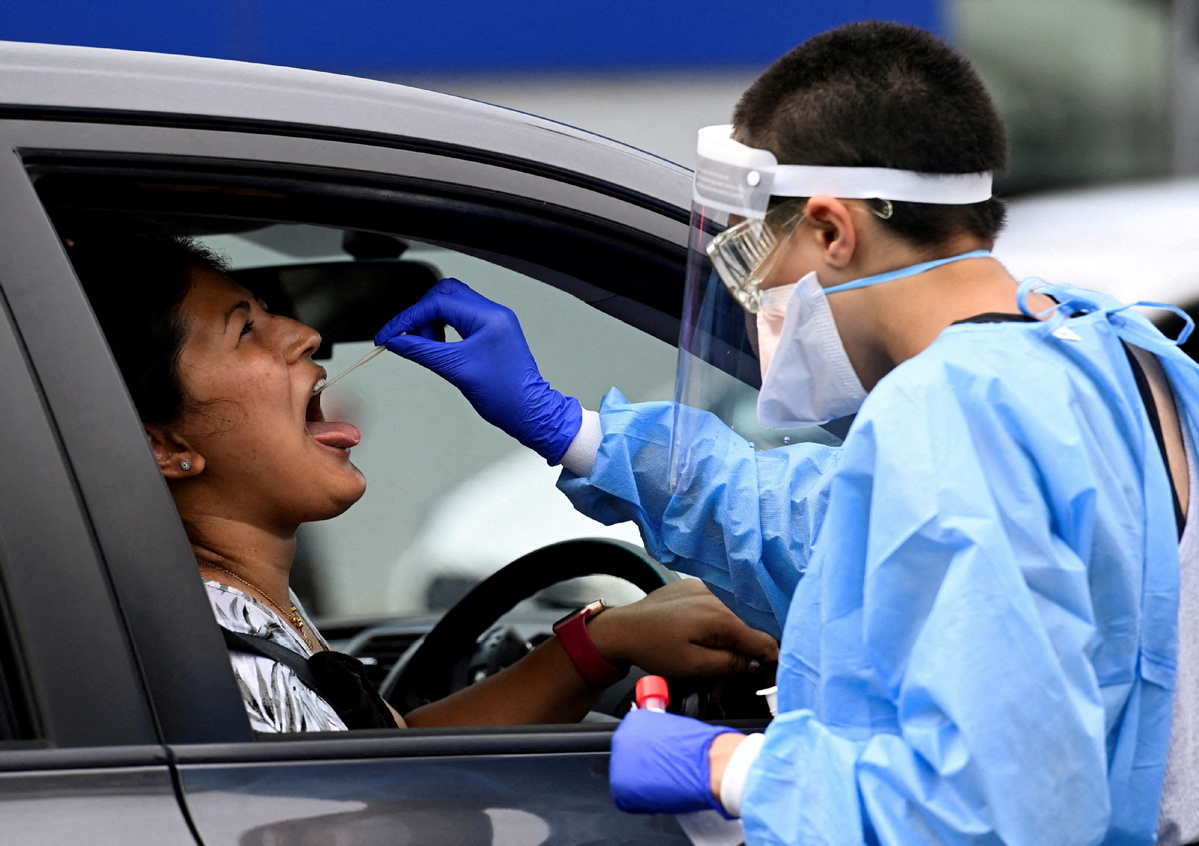 Lifting of measures, 'let it rip' approach see surge in fresh infections, deaths
No one in Australia talks about the COVID-19 pandemic anymore. It no longer dominates the news and has hardly received a mention during the general election campaign.
Public health measures such as lockdowns, social distancing, quarantine and contact tracing-measures applied to suppress the pandemic over the past two years-have been quietly removed, to the relief of the business community.
Much of this happened in the run-up to Christmas, as the Delta and Omicron strains were taking hold. The numbers of infections and deaths have since skyrocketed, even with one of the world's highest vaccination rates.
Despite the surge in cases, most state premiers have been determined to hold the line, allowing the virus to circulate in their communities, which critics have labeled the "let it rip" approach.
According to data from Johns Hopkins University Center for Systems Science and Engineering, the number of COVID-19 deaths in Australia totaled 7,926 as of early Wednesday. The number of cases was 6.76 million.
Western Australia, the last state in the Commonwealth to hold out against opening its borders, finally did so on March 3. Case numbers have risen from a few hundred daily to 25,000 daily cases as of Sunday.
Nationwide in January, 1,519 COVID-19 deaths were reported-49 a day, making it the leading cause of death in Australia, ahead of ischemic heart disease. A report by the Australian Bureau of Statistics revealed that there were 2,865 excess deaths, or 22.1 percent more than the historical average, in that month.
Exhausted medics
Health and eldercare workers are exhausted. Teachers are exhausted. Employers are finding it difficult to fill positions as workers self-isolate after contracting the virus.
General practitioners who have been on the front line of the pandemic response are now on the front line of the cleanup. There is two years' worth of missed checkups, delayed tests and mental health concerns.
Professor Catherine Bennett, chair of epidemiology at Deakin University in Queensland, told China Daily: "As we cannot stop exposure (to the virus), it is important we learn more about who is still getting very sick with their infections, and whether there are ways we can prevent that."
She urged looking at "how easily people can access antivirals and if certain subgroups are more vulnerable and need better information or support".
"With the virus here to stay, it's critical we keep working to reduce its burden and the deaths associated with it as much as we can," she said.
The case numbers since the start of the year have risen due to several factors, including the relaxing of restrictions, more transmissible variants with immune-evading capacities, waning immunity, fatigue in the population, and seasonal factors, according to Hassan Vally, associate professor in epidemiology at Deakin University.
"Importantly, however, we have an impressive vaccination coverage. And despite vaccine immunity waning, the vaccines hold up very well in terms of protecting against severe disease."
Vally said the future lies in targeting interventions to protect the most vulnerable and to make changes to society and the built environment, such as improving ventilation, to mitigate the spread of COVID-19.
Professor Adrian Esterman, chair of biostatistics and epidemiology at the University of South Australia, said he felt governments around Australia had stopped listening to public health advice.
"The majority of Australians just want the COVID-19 epidemic to be over, and our leaders are telling us it is over.
"As Jon Snow said in Game of Thrones, 'Winter is coming.' The flu season is on us, and laboratory confirmed cases are rising rapidly in Australia. This will also put increased pressure on our hospital system," Esterman said.