UK deploys new vessels to intercept migrants as Rwanda plan challenged
By EARLE GALE in London | China Daily Global | Updated: 2022-05-19 09:51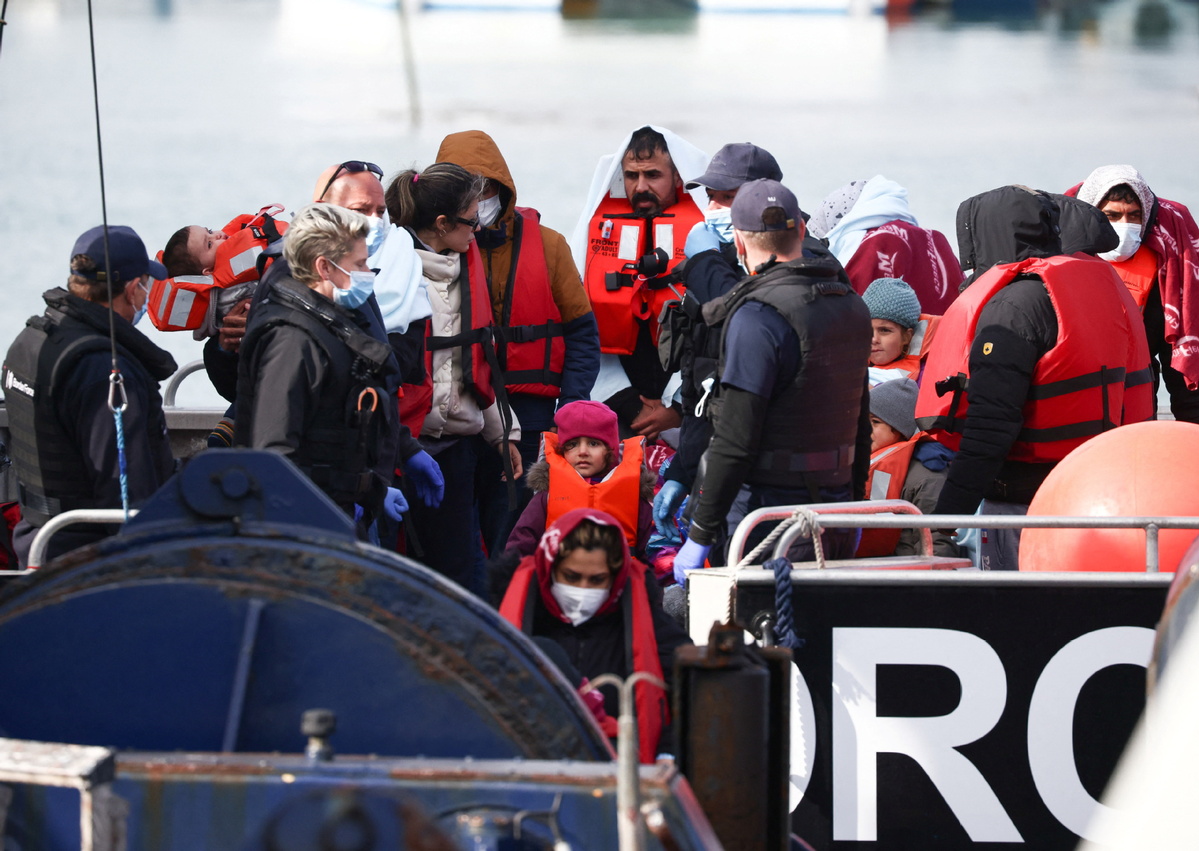 The United Kingdom is using a new kind of patrol boat in the sea that separates it from the European mainland, in a bid to cope with the growing number of people trying to illegally make the crossing.
So far, two of the vessels are patrolling the English Channel in search of migrants-both economic and those fleeing persecution-whose numbers have grown astronomically in recent years.
While economic migrants are required under UK law to formally apply for a visa in their country of origin, people fleeing persecution can, under international law, claim political asylum in the first safe country they reach.
But London has said it wants to take a harder line against economic migrants trying to slip into the country, and people fleeing persecution who have passed through other safe countries before getting to the UK.
The Daily Telegraph newspaper said on Wednesday the "ferry-style" vessels were needed because of the UK Home Office's recently unveiled policy of sending some migrants to the African country of Rwanda has not worked as a deterrent.
The British government, meanwhile, says the Rwanda policy will eventually start to have a deterring effect. It claims the large number of people trying to make the crossing are those who have already paid traffickers and cannot get their money back.
Lucy Moreton, from the Immigration Service Union, told The Telegraph: "It is a business. What (the traffickers) want is to get as many people to use their services. They will say anything or do anything in order to achieve that."
The Evening Standard newspaper noted that London's 120-million-pound ($150-million) Rwanda plan has been branded "cruel", "inhumane", and "wrong on every level" by campaigners.
Opponents are also challenging it in court on human rights' grounds.
The opposition Labour Party's shadow home secretary, Yvette Cooper, told the Evening Standard: " (The) plan is unworkable, incredibly expensive, and risks increasing people trafficking and smuggling rather than decreasing it."
But Prime Minister Boris Johnson has said he hopes the criticism will fade and the legal challenge will be quickly defeated, so the first plane of asylum seekers can leave for Rwanda by the end of the month.
So far this year, at least 9,000 people have been apprehended on the English Channel. The government is expecting 65,000 to try to make the crossing. Last year, 28,526 people were intercepted.
The BBC said around 150 migrants are known to have died in the last five years trying to complete the 34-kilometer journey.
The Daily Express newspaper said calm seas and warm weather contributed to around 300 asylum seekers trying to cross the Channel on Tuesday.
The new patrol boats, known as crew transfer vessels, can each carry 92 people. The previous patrol boats could only hold 28.