Dusty no more, temple's ancient books resurrected
China Daily | Updated: 2022-05-19 09:58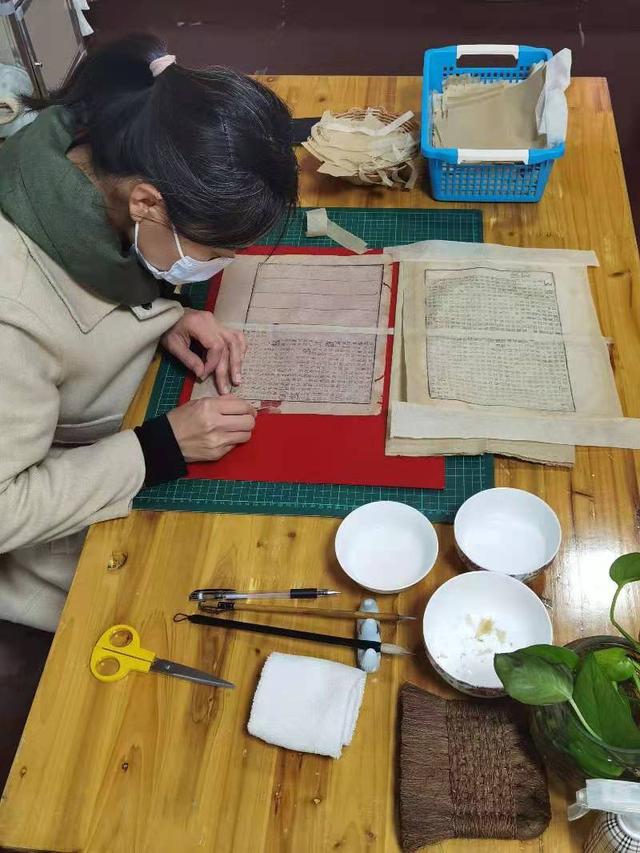 CHONGQING-Concentrating hard, Long Yingzhi carefully dips her calligraphy brush in starch paste and repairs the damaged pages of an ancient book using special paper as thin as a cicada's wing.
The 37-year-old and her team, who work at the ancient book restoration center at Huayan Temple in Chongqing municipality, carefully repeat these procedures for up to eight hours a day to revive these "sleeping" classics. "It's complicated and delicate work. With dozens of procedures necessary, it's difficult to repair a single page in just one day," Long said.
The Huayan Temple, which was built during the reign of Emperor Kangxi (1661-1722) in the Qing Dynasty (1644-1911), is home to over 50,000 ancient books, the earliest of which dates back more than 400 years.
Covering a wide range of subjects-from Buddhist sutras, Confucian classics, Taoist books and poetry collections to works on medicine, arithmetic, geography, history and novels-the books are precious historical records.
While pursuing her doctorate in classical philology at Sichuan University, Long often visited the temple for research and decided to work there after graduation.
"Although it's a niche job with a relatively low income, the collection and restoration of ancient classics is of immeasurable significance," Long said, adding that the damaged tomes have become very dusty over the years, and repairs are necessary to ensure the history and culture they contain is passed down to future generations.
"About half the books in the temple need to be repaired as a result of damage from moths, mildew, aging and other defects," said Master Daojian, Huayan's abbot. In 2010, the temple officially launched a project to save ancient calligraphy works and paintings.
"It is not only about preserving precious classics, but also about raising awareness of traditional culture through lectures and by recruiting volunteers," he added.
Sitting opposite Long was 28-year-old Song Yang, the youngest restorer at the center.
A native of Shandong province, Song majored in mathematics and once worked as an actuary before pursuing a doctorate in artificial intelligence in the United Kingdom.
"Through my family's influence, I have been obsessed with classical culture since childhood," said Song, who came to be trained and to work at the center last year after finding out by chance that the temple was recruiting restorers.
"By repairing these ancient books, we can communicate with the great people of the past and experience the richness of traditional Chinese culture," Song said. "My previous jobs were merely work, but what I'm doing here now really makes me happy."
Xinhua