The life of a mountain messenger
By ZHU LIXIN in Hefei | China Daily | Updated: 2022-05-19 09:58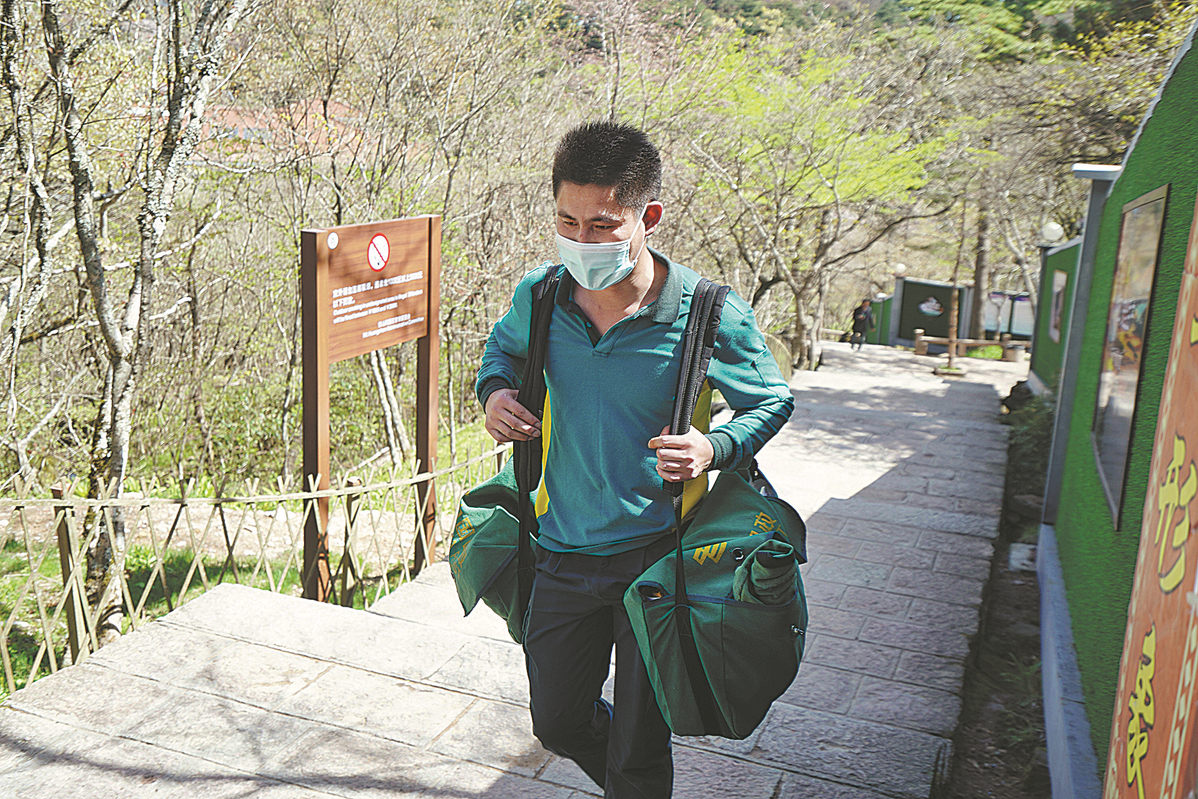 At 8 o'clock one morning, Xie Feijun arrived at the China Post office at the foot of the Huangshan Mountains in Anhui province.
Then, he began his journey upward. Slung across his shoulders were three bags, weighing a total of about 35 kilograms.
"If the tourist numbers hadn't dropped so much due to the epidemic, they would have weighed a lot more," the 30-year-old postman said.
With 88 peaks at an elevation of more than 1,000 meters, Huangshan, which is also known as Yellow Mountains, is thought by many to be worth a visit at least once in a lifetime.
Xie climbs the mountains nearly 300 days a year, though his visits are purely for work.
Before the recent May Day holiday, he was awarded the May 1 Labor Medal by the All-China Federation of Trade Unions.
"I was a migrant worker from 2010 to 2016 before I decided to return home, in large part to take care of my elderly parents," said Xie, who was quickly hired by China Post. "I was looking for a stable job. And whether it's sunny or windy, rainy or snowy, deliveries continue five days a week."
Xie's colleagues said that Huangshan's lone postman hasn't lost any mail or missed a delivery since he started. "The very first day, I carried four bags weighing more than 50 kg," said Xie, adding that although he'd felt exhausted, he reported for work the following morning.
His daily route covers 33 sites, including hotels and administrative offices scattered through the mountains, with the highest at an altitude of 1,860 meters.
Although there is a cable car to a tourist site with an elevation of about 800 meters above sea level, he has to walk 12 kilometers of mountain road and about 16,000 steps to get there and back.
In a hurry the day he spoke with China Daily, he seemed to have little time for conversations with reporters, though he did stop occasionally for a short rest.
Along the way, he met sanitation workers and porters-there have barely been any tourists of late. They greeted each other like old friends.
"Here comes Little Xie", they would say, or "Now you've come with the letters".
But his bags contained more postcards than letters, as well as heavier items such as newspapers, magazines, books and official documents.
Staff at hotels high in the mountains are often on duty for days at a time, so Xie brings them things they need for daily use.
"To me, this is as easy as lifting a finger," he said, adding that he is always happy to hear a word of thanks for his efforts. "Because of the epidemic, even postcards are rare nowadays."
Xie enjoys working in the mountains, especially Huangshan, which is considered by many people in China to be one of the country's most beautiful scenic spots.
Used to walking trails packed with people-before the pandemic-and carrying hundreds of postcards a day, Xie said that he hopes tourists will return soon and that he will be happy to collect postcards for them.
Wang Yue contributed to this story.