China's UN envoy urges tackling global food security together
By MINLU ZHANG at the United Nations | China Daily Global | Updated: 2022-05-20 10:36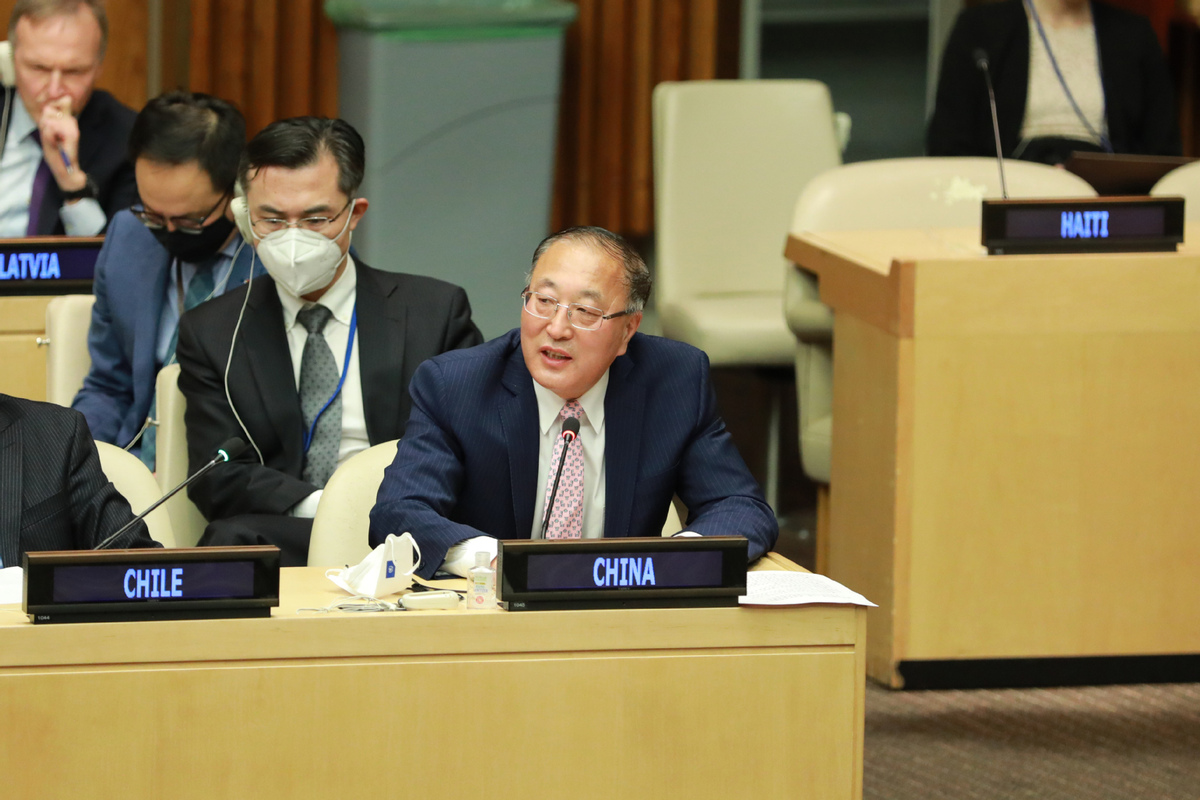 China's ambassador to the United Nations on Thursday urged the international community to address the global food security challenge together, ensure diverse food supplies and stabilize the food market.
"Food security is first and foremost a top priority, as it relates to people's well-being and livelihood. It is also a long-standing challenge facing the international community," Zhang Jun, China's permanent representative to the UN, told a UN Security Council open debate on conflict and food security.
"We need to stay calm and objective, take practical measures to holistically look at the food security issue, and address the bottlenecks and breakpoint of the supply chain in order to tackle the global food security challenge facing us all," Zhang said.
Zhang called on the international community to strengthen coordination and stabilize the global food market. "The current food crisis is caused by reduced supply, logistical disruption and in particular, rising prices," he said.
"To fill the supply gap, the international community needs to work together to seek diversified food supplies and maintain the smooth operation of agricultural trade internationally," he said, adding that "it is important to bring back to the international market agricultural products and fertilizers from Ukraine, Russia and Belarus.
"Weaponizing economic interdependence will only create man-made difficulties and amplify local risks," Zhang continued. "We call for speedy removal of the restrictions on food production and exports imposed by unilateral sanctions, so as to allow for a steady flow of food production and supply."
Zhang said that major food exporting countries and countries with large food enterprises "have a shared responsibility to combat hoarding for profiteering purposes, limit financial speculation, instill stability and confidence in the market and bring under control the steadily rising food prices.
"We need to scale up emergency assistance to help vulnerable countries weather the storm," he said. The international community, the developed countries in particular, should increase the provision of emergency food supplies and assistance and provide help to vulnerable groups, Zhang said.
"Many countries are under pressure on balance of payments due to rising food prices," he said, adding that international financial institutions and developed economies should strengthen policy and financing support to developing countries facing special difficulties.
"A certain country should adopt responsible monetary policies, taking into full account the spillover effects of its own interest rate adjustments, in order to avoid adding to the debt service burden of developing countries concerned, thus weakening their food purchasing power," said Zhang.
Zhang said the international community also needs to promote a deep transformation and enhance the resilience of the global food system.
"To strengthen the resilience of the global food system to withstand risks, it is important to help developing countries enhance their self-sustaining capacity, increase agriculture and rural inputs, accelerate progress in agricultural science and technology, improve agriculture infrastructure and expand food availability," Zhang said.
The three UN agricultural agencies and international financial institutions should play an active role to provide more support to developing countries, said Zhang.
"Developed countries should reduce trade and technical barriers, give more help to developing countries in terms of funding, technology, market access and capacity-building," he said.
Zhang said that China has always made food provision to its population a top priority in its national governance.
"With 9 percent of the world's arable land, we feed nearly one-fifth of the total global population. We have eliminated absolute poverty that has plagued the country for thousands of years," he noted.
The world today is facing multiple crises and "there is no greater crisis than the prevalence of hegemony and power politics, which poses serious challenges to international equity and justice", Zhang said.
UN Secretary-General Antonio Guterres, World Food Program (WFP) Executive Director David Beasley and Director-General of the UN Food and Agriculture Organization Qu Dongyu also attended Thursday's meeting.
Armed conflict creates hunger, as fighting destroys farms and factories, drives people away from their harvests, causes shortages and drives up prices, said Guterres, noting that 60 percent of the world's undernourished people live in areas affected by conflict.
Guterres called for investment in political solutions to end conflicts and prevent new ones. "There is enough food for everyone in the world," he emphasized. The issue is distribution, deeply linked to the conflicts in Ukraine, he said.
Beasley said the number of people marching to starvation increased from 80 million to 135 million before COVID-19. Because of the pandemic, the number rose to 276 million, then due to conflicts in Ukraine, it further increased to 323 million, he said.
When a country like Ukraine, which provides food for 400 million people, is out of the market, it creates market volatility, said Beasley.
"When a nation that is the breadbasket of the world becomes a nation with the longest bread line of the world, we know we have a problem," he said.
Qu said worldwide, "prosperity is being reversed. There is less food security, less health security, less income and greater inequality."
He stressed the importance of expanding food production at the country level by providing cash and critical inputs for cereal and vegetable production as well as protecting livestock with treatments, vaccinations, feed and water.
"Based on my professional knowledge and experience, we can feed the world sufficiently, sustainably with existing tools if we all play our part," said Qu.