CDC panel backs Pfizer COVID-19 booster for ages 5-11
By MINLU ZHANG in New York | China Daily Global | Updated: 2022-05-20 10:41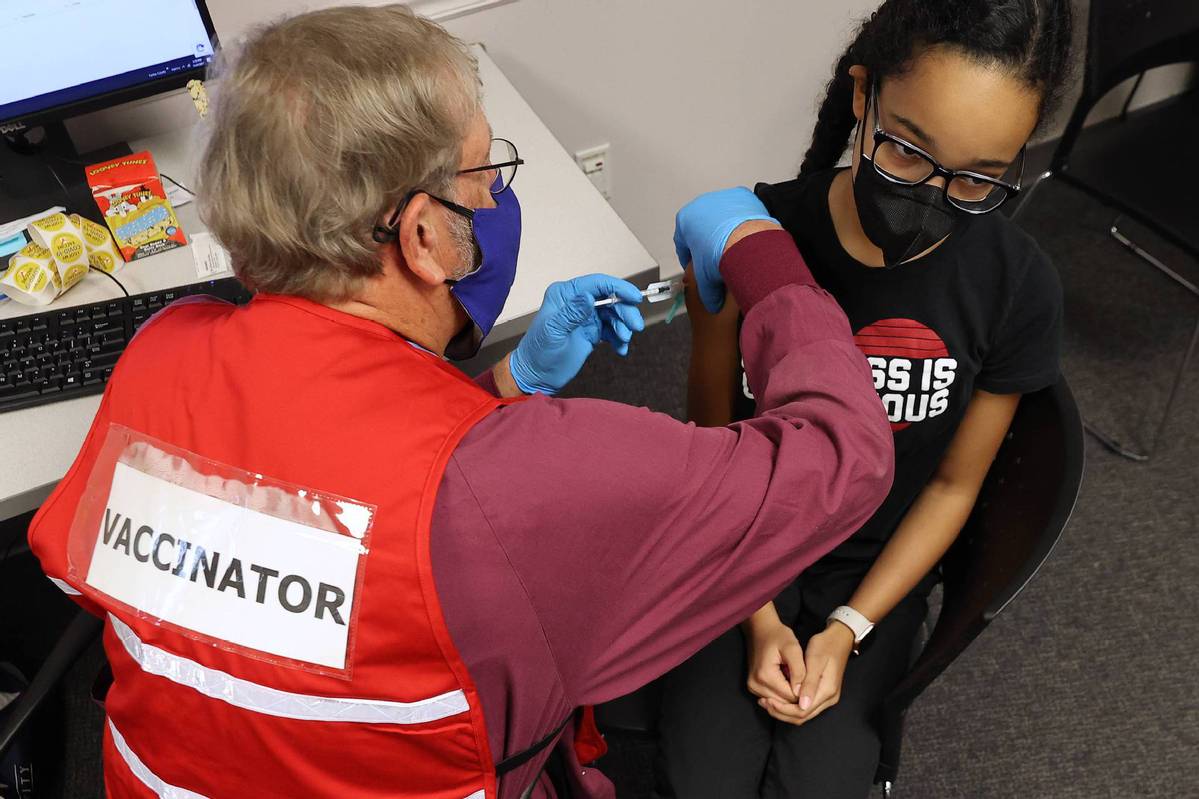 An advisory committee to the US Centers for Disease Control and voted Thursday to recommend a third dose of the Pfizer-BioNTech vaccine to children ages 5 to 11 as federal health officials said COVID-19 cases are approaching 100,000 a day in parts of the country.
The vote was 11-1, with one member abstaining. CDC Director Dr Rochelle Walensky, who has the final say over the agency's guidance on the booster shots, is expected to endorse the recommendation.
The decision also means immunocompromised children who have already received a third dose would be eligible to receive a fourth shot.
Two days ago, the Food and Drug Administration (FDA) authorized the booster shot for this age group. The booster dose would be available to children five months after completing their primary series of two shots, so children who received their second dose of the Pfizer vaccine before Dec 19 would be eligible for a booster.
Data presented during Thursday's meeting of the advisory committee showed 189 children ages 5 to 11 have died from COVID-19 during the pandemic, accounting for 2.5 percent of all child deaths in that age group.
About 28 percent of children ages 5 to 11 are fully vaccinated against COVID-19, a rate much lower than the overall population, according to the CDC.
Federal health officials on Wednesday warned that one-third of Americans live in areas where the COVID-19 threat is so high that people should "consider" masking up in indoor spaces — mostly in the Northeast and Midwest. But Americans elsewhere should also take notice, officials said.
The officials said that 32 percent of Americans live in areas with medium to high levels of virus transmission, compared with about 24 percent the previous week.
The increase in new infections — nearing 100,000 per day — comes as the nation heads into Memorial Day weekend when people will have large gatherings and travel.
The new case count is almost certainly an undercount, said health officials, given the widespread use of at-home tests for which results are often not reported to health officials.
Walensky said that the seven-day average of hospital admissions from COVID rose 19 percent over the previous week. About 3,000 people a day are being admitted with COVID, death rates, a lagging indicator, remained low, she said.
In New York state, 47 counties — 72 percent of the total of 62 counties — are currently deemed by the CDC as high risk for community-level COVID spread, which reflects 75 percent of the state's 62 counties.
The state's COVID hospitalizations are now nearing 3,000 as of Governor Kathy Hochul's latest report, the highest number since Feb 18 and more than double over the last month.
New York City Mayor Eric Adams said Wednesday that he doesn't plan to bring back mask mandates now, after the city entered the high alert level for the coronavirus this week.
"If every variant that comes, we move into shutdown thoughts, we move into panicking, we're not going to function as a city," Adams said at a news conference.
While officials stressed that the current hospitalization count is still less than five times what it was at Omicron's January peak, they cautioned that the country will be increasingly vulnerable to the coronavirus later in the year if Congress doesn't quickly approve new funding for more vaccines and treatments.
Last week, White House COVID-19 coordinator Dr Ashish Jha said that without additional funding, the virus would cause "unnecessary loss of life" in the fall and winter when the US runs out of treatments.
Meanwhile, The Wall Street Journal reported Thursday that local school districts are struggling to spend billions of dollars in federal pandemic-relief money before the funding expires.
According to data compiled by the US Department of Education, districts have yet to put 93 percent of money into the K-12 education system last year as part of a $1.9 trillion American Rescue Plan.
If they don't spend or direct funding by September 2024, the money will disappear from their budgets, the Journal reported.
The short-term nature of the money has made it harder to use, school officials said, because any new staff may have to be laid off when the money expires. Workforce shortages and supply chain issues also have posed challenges, officials said, the Journal reported.
Federal officials said Tuesday that districts could apply for more than a year's worth of time to finish spending on construction-related projects, mental health, tutoring and other third-party services.
The money is the largest-ever disbursement of federal funding for American schools and is meant to address learning loss, mental health problems and other issues in schools resulting from the pandemic.