China asks US to take nuclear disarmament responsibility seriously
By WANG QINGYUN | chinadaily.com.cn | Updated: 2022-05-20 21:59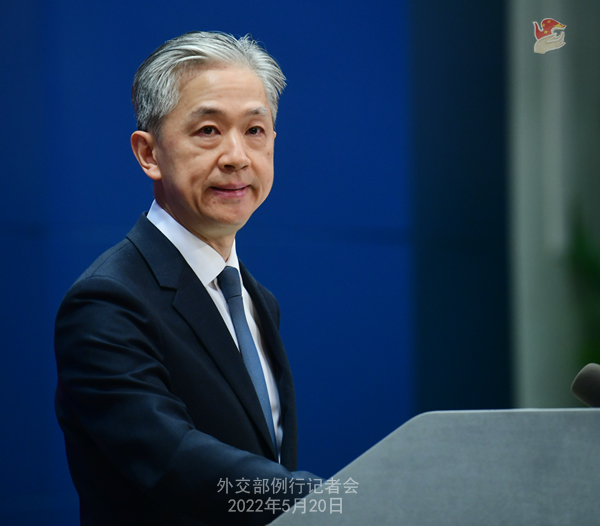 The United States should take its special and primary responsibility of nuclear disarmament seriously, Foreign Ministry spokesman Wang Wenbin said on Friday, calling out on Japan to fulfill its obligations based on the Treaty on the Non-Proliferation of Nuclear Weapons.
The US, which has the largest and most advanced nuclear arsenal in the world, has failed to implement seriously its nuclear disarmament duties and undermined global strategic stability, Wang told a daily news conference.
Wang's remarks came after Yomiuri Shimbun reported that the US and Japan will call on China to "improve the transparency of its nuclear force and promote nuclear disarmament" in a statement issued after talks scheduled on Monday between Japanese Prime Minister Fumio Kishida and US President Joe Biden.
China has always pursued a nuclear strategy of self-defense, and has always kept the scale of its nuclear force at the lowest level needed for maintaining its national security, Wang said, noting that the country always upholds the policy of no first use of nuclear weapons.
"Any country, as long as it does not use nuclear weapons against China, needs not worry about China's nuclear weapons," Wang said. "This is transparency in the most realistic sense."
The US, however, has disrupted the process of nuclear disarmament with a series of steps, including "investing a huge amount of money in upgrading its nuclear triad, developing low-yield nuclear weapons" and "keeping promoting the deployment of a global anti-missile system", Wang said.
The US should continue to cut its nuclear arsenal substantially in a verifiable, irreversible and legally-binding manner, the spokesman said.
Japan, on the other hand, is "hypocritical and self-contradicting" over nuclear disarmament, Wang said.
"Japan has long called itself a victim of nuclear weapons and talked about pursuing a world without nuclear weapons, while enjoying the US nuclear umbrella and objecting the US abandoning its policy that reserves the right to use nuclear weapons first," the spokesman said.
Also, China and the international community are seriously concerned about Japan's "nuclear sharing" with the US, an idea some Japanese politicians brought up recently in an attempt to break through Japan's Three Non-Nuclear Principles, Wang said.