Pfizer booster backed for US children aged 5-11
By MINLU ZHANG in New York | China Daily | Updated: 2022-05-21 13:02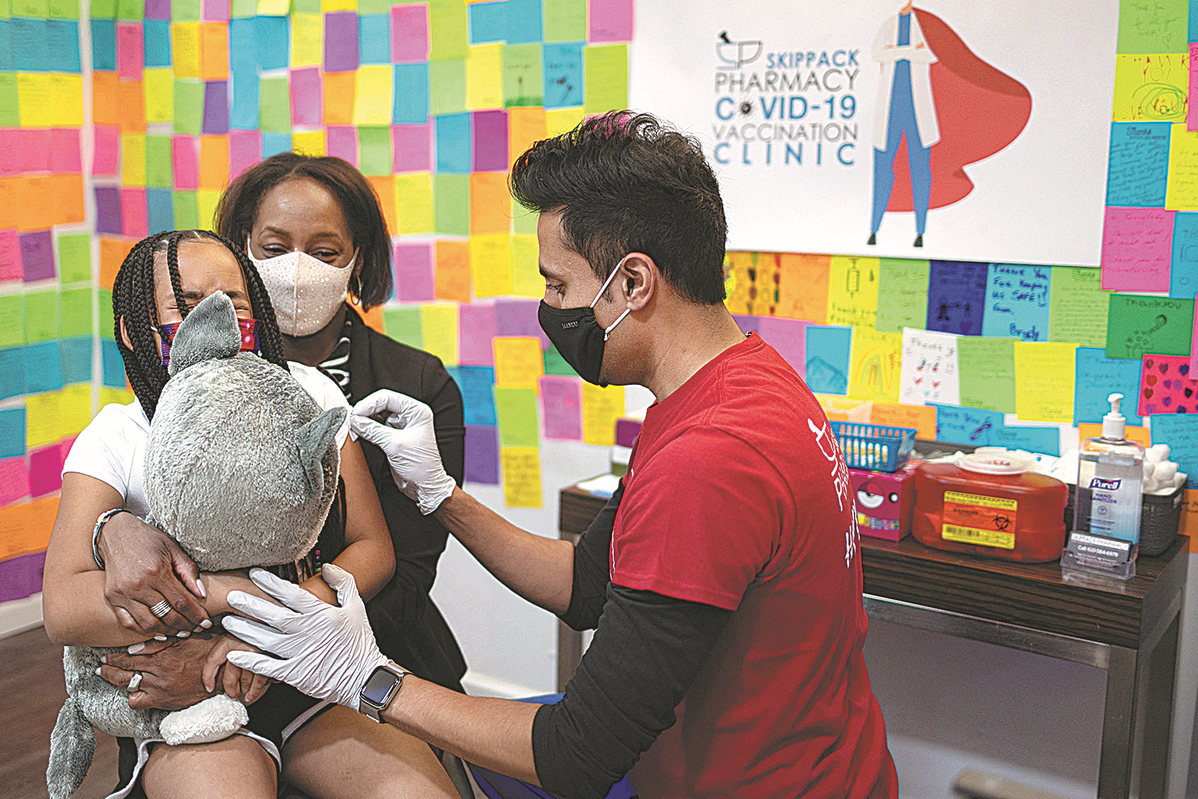 An advisory committee to the US Centers for Disease Control and Prevention voted on Thursday to recommend a third dose of the Pfizer-BioNTech vaccine to children aged from 5 to 11 as COVID-19 infections approach 100,000 a day in parts of the country.
The vote was 11-1, with one member abstaining. CDC Director Rochelle Walensky, who has the final say over the agency's guidance on the booster shots, is expected to endorse the recommendation.
The decision also means that children with compromised immune systems who have already received a third dose would be eligible to receive a fourth shot.
Two days earlier, the Food and Drug Administration authorized the booster shot for this age group. The booster dose would be available to children five months after completing their primary series of two shots. That means children who received their second dose of the Pfizer-BioNTech vaccine before Dec 19 would be eligible for a booster.
Data presented during Thursday's meeting of the advisory committee showed that 189 children aged 5 to 11 have died from COVID-19 during the pandemic, accounting for 2.5 percent of all child deaths in that age group.
About 28 percent of children in the age group are fully vaccinated, a rate much lower than that of the overall population, the CDC said.
Federal health officials on Wednesday warned that a third of people in the US live in areas where the COVID-19 threat is so high that people should "consider" masking up in indoor spaces-mostly in the Northeast and Midwest. But those elsewhere should also take notice, they said.
The officials said that 32 percent of people live in areas with medium to high levels of virus transmission, compared with about 24 percent the previous week.
100,000 cases per day
The increase in new infections-nearing 100,000 a day-came as the United States heads into the Memorial Day holiday weekend when people will have large gatherings and travel.
The new case count is almost certainly an undercount, said health officials, given the widespread use of at-home tests for which results are often not reported to health officials.
In New York state, 47 counties-72 percent of the 62 counties-are deemed to be at high risk for community-level spread of the virus.
The number of COVID-19 hospitalizations in the state is nearing 3,000, according to the latest report from Governor Kathy Hochul; it's the highest number since Feb 18.